For comments and suggestions please email us at support@espritmodel.com.
NEWS
Keep up to date with Team Esprit Model. Sign-up TODAY for instant updates, coupons and discounts.



What is Twitter: http://en.wikipedia.org/wiki/Twitter


Reichard Electric Sailplanes, Sailplanes and Hotliners back IN STOCK: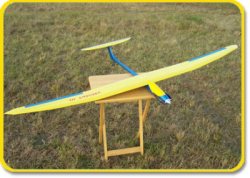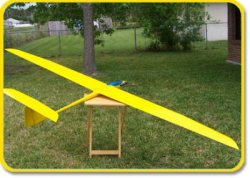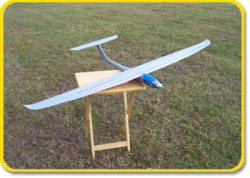 SCALE, 3D AIR NEWS
Taylorcraft 150 (ARF) (Pre-Order)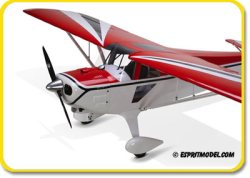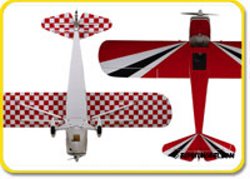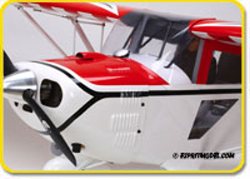 Hangar 9 have done an outstanding job in recreating the style and glamour of the 1930's with their superb clipped wing Taylorcraft, this aircraft with its 80.5" (2045mm) wing span combines stunning aerobatic qualities along with the inherent stability of a high wing aircraft to deliver near perfect scale like flying performance.
Apprentice 15e EPP (PNP/RTF)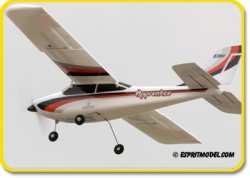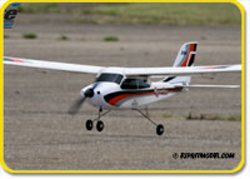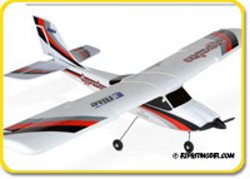 Apprentice 15e PNP/RTF is a high quality trainer with an excellent setup, taking the pilot from beginner to basic aerobatics all from this one-box purchase. Esprit Model carry fully line of spare parts.
Micro Sukhoi Su-26m EPP (BNF) (Pre-Order)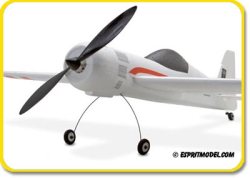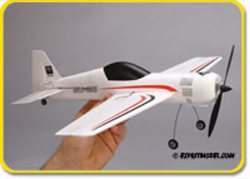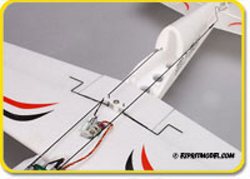 All you need to do to get flying with this fantastic model is to simply "Bind" the installed receiver to your 2.4Ghz transmitter and charge the flight battery pack, no additional work is necessary, it's that simple!
HELI NEWS

Turbine T-Rex 700 Helicopter (Esprit Model Custom Project):
Here is David's latest helicopter project. He is installing one of the new Wren 44 turbines into a T-Rex 700 Nitro airframe. With the listed 6.8 horsepower output, this helicopter is sure to be fun. So far the frame modifications are almost complete and the fan shroud is just about fitted.
Watch for more photos!!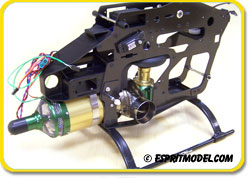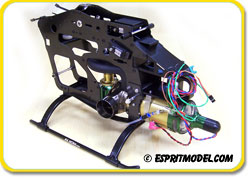 Inertia 860 Gyro w/LCD Programmer Combo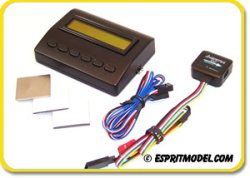 The Inertia 860 is a high performance 3D gyro for most demanding pilots. The Inertia 860 is designed to the highest standards of performance and provides you with maximum tune ability, whether you are just starting to hover or doing reversing piro chaos on the deck. With the high quality sensors and components used in the gyro you can guarantee that you will have rock solid tail each and every flight. Inertia 860 allows you change the setting with included LCD Programmer box. No more bringing your computer to the field!

Inertia products come with a 50% Crash Replacement Guarantee!

Features:
- One of the smallest high performance gyros on the market
- Exceptionally consistent yaw rates at blinding speeds
- Smooth and precise control with a locked in feel
- Ideal for both electric and nitro helicopters
- Lightweight design without additional amplifier/control box
- Comprehensive support for digital servos
- Can be powered directly from 2 cell Li-Poly batteries
- Innovative 5 wire harness design keeps power paths short
- High performance sensor for superior hold and accuracy
- Easy configuration with detachable LCD display



HOT NEW ADDITIONS
Propeller/Helicopter Blade Bag 35" (890mm)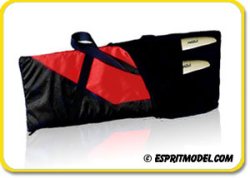 Hyperion EOS0720i NET3 Charger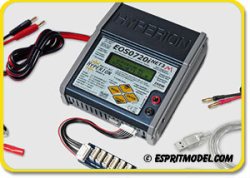 Hyperion is already known as a world-wide leader in advanced battery chargers, and they continue to push development forward. The newest 0720i NET3 and 0615i Duo3 provide a wide feature set, and unmatched power to suit 5C chargeable batteries like new Hyperion G3 Li-poly. And with built-in USB port and supplied cable, you will be able to install new firmware updates for added features and performance, as they become available.

Features:
- SYNC Charge Battery Capabilities up to 2 x 7S
- 12-Bit Balance Circuit Resolution for Superb Accuracy
- Built-In USB DataPort and Supplied USB Cable
- CYCLE mode for LiFePO4 and Li-Polymer
- Hardware support for PC Control & Logging Software
- Maximum Current Raised to 20A

SYNC two chargers are networked for max rates of 20A/500W output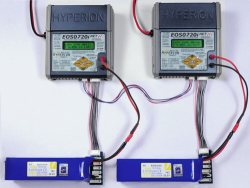 Hyperion G3 1800mAh - 5500mAh VX Battery Packs
Hyperion Generation 3 Lithium Polymer Packs are proving truly revolutionary in both performance and value. Compared to an average of the batteries on market last year, they provide up to up to 4x more cycles under the same discharge conditions. And that makes them a bargain price-wise.

But they also deliver the highest voltage and flattest discharge curves under load that we have ever seen, which makes them the best performer you can buy. And tests have shown that at the 70%-discharged point in flight, they are delivering as much as 40% more power than previous generation LiPo.

The fact that they can be safely charged at up to 5C rates - for charge times as low as 10 to 12 minutes - is just icing on a very tasty cake.

The G3 packs are made with a new Hybrid RS construction technology, super-fine substrate materials, rigorous ISO 9001 Quality Control, and final cell matching process, which all guarantee you not only this superb performance, but also tightly balanced and long-lasting packs.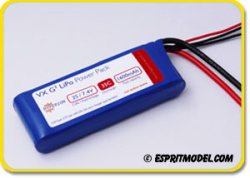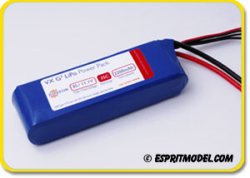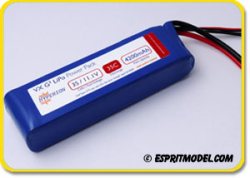 Spektrum AR6400 2.4GHz Ultra-Micro Receiver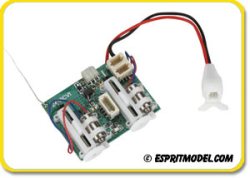 Spektrum AR6400 is a 6-channel ultra-micro receiver with integrated linear servos and electronic speed controller for single 3.7V operation. The AR6400 is designed for ultra-micro and ultra light foamy aircraft.

AR6400 is compatible with all Spektrum, JR, E-flite and ParkZone 2.4GHz DSM2 transmitters.