AIR NEWS
LF-Technik GyroBot 900 Wing World Premier

Ultra-Micro 4-Site EPP (PNP/BNF)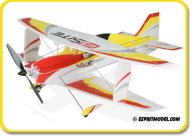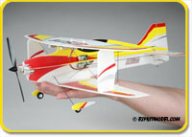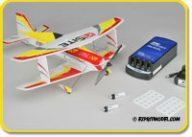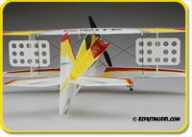 Ultra-Micro P-51D EPP (RTF/BNF)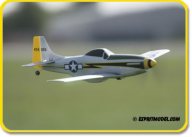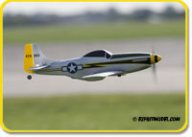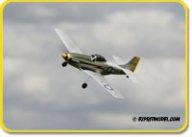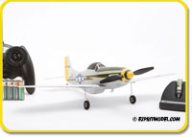 Show Piece, Unique EM Electra Jet EDF120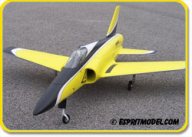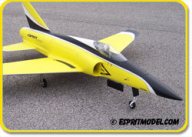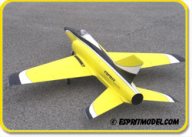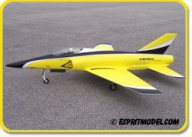 Esprit Model's Flag Ship, custom paint EM Electra Jet. This high performance and the state-of-the-art design have revolutionized all electric jet models. All composite, custom painted airframe is strong and light. With the BVM Electric VioFan, it is flight worthy at speeds exceeding 200mph (320 km/h), but stable slow flight and easy landings are where the Electra Jet really shines.

Absolutely unique, custom built from BVM composite kit and finished in Sikkens automobile paint with special silk-pearl clear coat.

More information:
http://www.espritmodel.com/index.asp?PageAction=VIEWPROD&ProdID=6163

Condition of item: NEW, model has been ONLY test flown!!!

E-JET NEWS
Sukhoi Su-34 Blue EDF65 (ARF/Kit) Trust Vector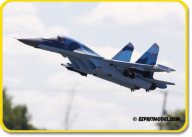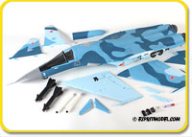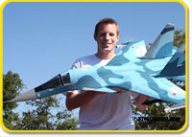 EDF Schubeler DS-94-DIA HST w/DSM 6740-600 motor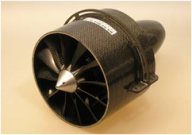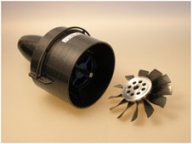 With the DS-94-DIA HST Schuebeler Composite launches a comletely new jet propulsion system. The system is based on a new 12-blade axial compressor wheel which is driven by the all new Schuebeler electronic commutated motor.

The 128mm axial compressor generates a surpassing compression ratio and can can be integrated much more efficiently in huge jet models than classic ducted fans. The rotational speed level is only 26.500 rpm at an impressive exhaust speed of 95m/s and a thrust of 10kg. This high thrust impulse is therefore generated by a high exhaust speed and a high inner efficiency of the axial fan stage. In figures that means you can integrate this fan in jets up to11 kg and an exhaust diameter of just 105mm. The design of the 12-blade axial compressor wheel is based on speed ratios which are similar to the ratios of a full scale turbofan. That results besides a high efficiency in a perfect optical scale appearence and a sound which can only be compared to full scale jet engines. A silent whispering and fizzling of the axial compressor at idle rpm is predominated by an impressive jetstream noise coming from the exhaust at full throttle.

An extraordinary challenge was the development of an electronic commuted DC motor that perfectly fits to the axial fan. The 12-blade compressor demands an impressive torque of 2,2 Nm at 26.500 rpm which can only be generated by a high torque motor of high diameter and shorter length. Consequently the new DSM 6740 Schuebeler motor has a diameter of 67 mm and a magnet length of 40 mm. This motor is fully integrated in the axialfan to assign a huge area for the main airflow. In addition to that the motor is perfectly.

Cooled and needs no efficiency decreasing internal ventilator. The motor is based on a two pole design to allow a flexible fit of the motor characteristics to the needs of the axial fan. Nevertheless the windings sit in a 12 slot stator to increase the torque and to avoid any winding deformation at high temperatures. The magnet is attached to a sheeted magnet holder and reinforced by a bandage made of IMS carbon fibre which allows a high rpm tolerance. The whole motor design was optimized in respect of excessive heat tolerance and of course a high efficiency even at high currents. The mechanical design of the Schuebeler DSM 6740 motor is based on established mechanical engineering and distinguishes itself by a shaft mount consisting of a fixed bearing and a prestressed floating bearing. Front- and endbell are fixed by 8 countersunk head screws, all surfaces are protected by hard anodizing. The result is a very high durability in combination with a low mechanical soundscape which allows the whispering of the axial fan to predominate even at idle rpm.

The conjunction between motor and axial fan is made by 4 handmade carbon stators which also guide the 3 motor phases through the UHM carbon sandwich shroud. The conversion of torque to power is accomplished by 12 handmade carbon rotor blades which sit form-closed in precision aluminum swivels.
HELI NEWS
KASAMA Shipment of Helicopters and Spare Parts is expected any Day!!!!!



HOT NEW ADDITIONS
| | | | |
| --- | --- | --- | --- |
| EDF StuMax SM110-45DF Fan | EDF StuMax SM110-52DF Fan | E-Flite Power BL480-4800 EDF Motor | EDF Delta-V 480 Fan |
| Flybarless Rotor Head 90 Compass 10mm (Odin) | Flybarless Rotor Head 500 Compass 8mm (Atom) | Thunder Power 4400mAh Pro Power 45C Li-Poly Battery Packs | EM30c 4500mAh Li-Poly Battery Packs |
| Miss WindS Bipe 50e (ARF) | WindS F3A 110e (ARF) | Sapac Struts (T-45/L-39 EDF70) | Castle Creation Voltage Regulator 20A Pro |
COMING SOON
» Full Line of YGE German Made Brushless Speed Controllers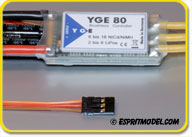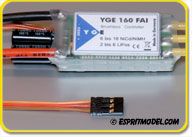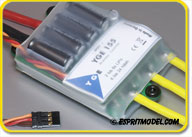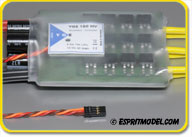 » Pulsar 3.6E Electric Sailplane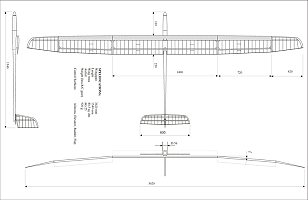 » A-10 Thunderbolt II EDF90 (875.00 Full Composite)
» Dassault Mirage 2000B EDF90 ($750.00 Full Composite)
» DH.100 Vampire EDF90 ($875.00 Full Composite)
» Mini Piper L-4 Grasshopper (ARF)
» Beechcraft Bonanza 15e (ARF)
» H9 DeNight Special 50 (ARF)
NEW EM-35c Li-Poly Batteries are scheduled to arrive late October 2009!!!!