Newsletter: 11/2009
For comments and suggestions please email us at support@espritmodel.com.
Twitter:

Sign-Up For Instant Updates,

Twitter:

Sign-Up For Instant Updates

Great Planes RealFlight G5 RC Flight Simulator

RealFlight G5
- Goes beyond its famous "At the Field" accuracy to also offer Combat Events.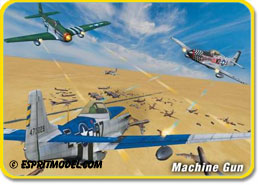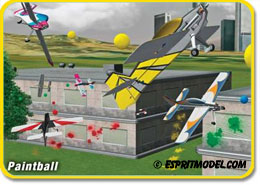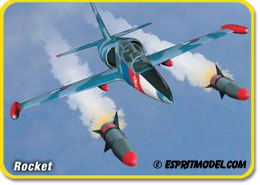 First Person Video
- Puts you in the pilot's seat and lets you enjoy views from the cockpit.

Manage Multiplayer sessions
- Using G5's Multiplayer and your Internet connection, you can fly with many other RealFlight pilots. Hook up with an instructor from your club or on the other side of the world and watch his aircraft and stick movements before trying them yourself.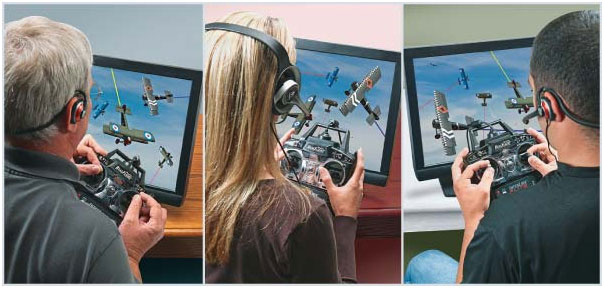 | | | | |
| --- | --- | --- | --- |
| Saito FG-14 Gas (82G) | Saito FG-20 Gas (125G) | Saito FG-30 Gas (180G) | Saito FG-36 Gas (220G) |
As an expert in reliable 4-stroke, Saito spent two years developing the best-built 4-stroke gas engine. The power-to-weight ratio of a Saito creates a one-of-a-kind flying experience. For you serious modelers, the long awaited arrival of a high-quality, powerful, and precision craftsmanship gas engine is here.
E-JET NEWS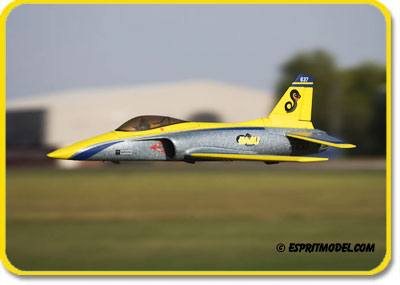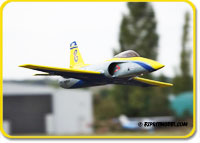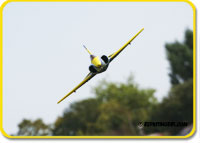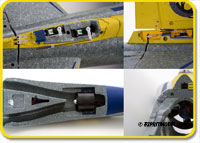 From on the deck high-speed passes to horizon-to-horizon slow rolls, the Habu Jet EDF70 is a true sport jet in every sense. Optimized airframe for both high speed precision and amazing low-speed stability, this model does it all. Habu EDF boasts a remarkably wide flight envelope and with its relatively light wing loading it has very forgiving slow speed handling. When it comes time to throttle back and enter the pattern, the Habu's remarkably wide flight envelope and forgiving slow speed handling will reward anyone used to flying faster sport planes with picture perfect nose-high touch downs and take-offs. Getting this Bind-N-Fly version airborne is about as simple as it gets. Just attach the wing and tail, charge the battery, bind the receiver to your full range DSM2 transmitter and you are flying. This is anything but the same old sport flying experience. If you are an intermediate to experienced pilot looking for high-speed jet thrills, the ParkZone's Habu EDF Jet is just what you are looking for.

The Habu Jet EDF70 is a full-throttle thriller capable of blistering speeds and precise aerobatics. At the heart of this spine-tingling performance is the phenomenal power of E-Flite BL15 3200Kv brushless ducted fan motor mated to an E-Flite Delta-V 15 ducted fan.


HELI NEWS

Introducing the ALL NEW Radikal G20! This highly anticipated helicopter (the smaller sibling of the Predator gasser) is capable of smooth F3C style flight yet has the power and agility for 3D aerobatics. Designed from the ground up with the latest manufacturing framework, we're proud to offer the latest generation of technologies which has been incorporated to produce a G10 framed helicopter being powered by the new Zenoah 20cc gasoline engine. With its high torque and its relatively low speed, the Zenoah offers smooth, vibration free operation. The Radikal G20 is capable of being top started with a 6mm hex style starter extension. We also offer a removable style pull-start option. With the advent of gas powered helicopters, expected long flight times are here to stay at the expense of merely pennies to fly. The gas powered engine produces absolutely no smoke offering endless capabilities for aerial photography/videography as well as scale fuselage applications.

The Radikal G20 is a whole new class of helicopter!


HOT NEW ADDITIONS
All Gold limited edition version of the FA-030S engine to commemorate the 50th Anniversary of Saito Complete with display stand and numbered commemorative card.




Saito FA Series
FA-30S AAC Gold
Type
4-Stroke
Displacement
.30 cu in (5.03cc)
Bore
.78" (20mm)
Stroke
.63" (16mm)
RPM Range
2,000 - 12,000
Output (HP/rpm)
0.5/9,800
Weight (engine only)
8.96 oz. (255g)
Crankshaft Thread
1/4"-28
Propeller Range
9x6 - 10x6
Included
Muffler, Glow Plug
Decal Sheet, Instructions
| | | |
| --- | --- | --- |
| Shoestring Racer 46 (ARF) | Futaba 2.4Ghz T8FGA/FGH | Hitec 2.4GHz Aurora 9 |
| Hitec 2.4Ghz Spectra Module | GP RealFlight Upgrade to G5 | Esprit/EM Decal Sheet |
| Heli Universal Flybar Lock | Transmitter Tray Hand Rests | YGE 155 8S OPTO Brushless ESC |
COMING SOON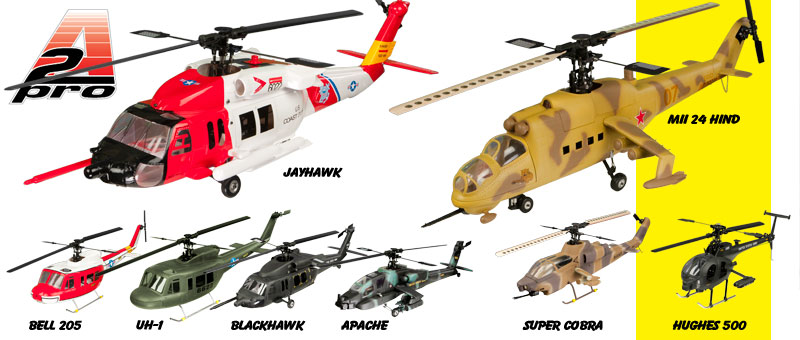 Introducing, A2 Pro's Scale Helicopter Series.
Have you ever dreamed of owning and flying a beautiful scale helicopter but were put off by the amount of work needed to complete the project? Now, anyone can fly scale because A2 Pro has done the hard work for you. These superbly detailed and finished models are delivered complete with pre-fitted mechanics. Just install your favorite power system and electronics and you will be airborne just a few hours after receiving the model.
Scale Helicopter Kits are Pre-Assembled, Pre-Painted and come with Aluminum Carrying Case!!!
(Mechanic included, No Motor/Radio/ESC)
| Name | Series | Price | | Name | Series | Price |
| --- | --- | --- | --- | --- | --- | --- |
| Blackhawk | 480 | $559.00 | | EC 145 | 450 | $389.00 |
| Bell UH1 | 480 | $529.00 | | Bell 230 | 450 | $389.00 |
| Bell 205 | 480 | $529.00 | | Mil 24 Hind | 450 | $439.00 |
| Apache | 480 | $599.00 | | Super Cobra | 450 | $439.00 |
| Hughes 500 | 350 | $339.00 | | | | |
E*Star Bleriot XI "La Manche" (Laser Cut Kit)
Feel the 100th Anniversary Bleriot flight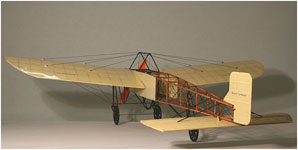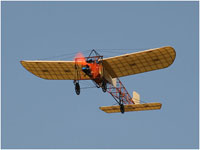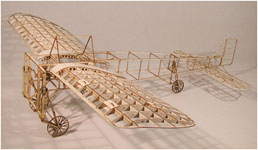 Wingspan: 1200mm (48")
Length: 1016mm (40")
Weight: 510-540g (18-19oz)



---
If you can not see the newsletter click here for HTML

Esprit Model 321.729.4287 has sent this email to you because your account preferences indicate that you want to receive Information about Special Promotions, Offers and Events. Esprit Model 321.729.4287 will NEVER request personal information in any email. (Passwords, Credit Card/Bank Numbers).

To unsubscribe from our database please click here.