Newsletter - HELI: 04/2010 I
For comments and suggestions please email us at support@espritmodel.com.

EM25c Series 25C Li-poly Batteries
EM2200mAh 3S 25C
$35.00
EM2600mAh 3S 25C
$45.00
EM3300mAh 3S 25C
$60.00
EM3700mAh 3S 25C
$70.00
EM3700mAh 6S 25C
$125.00
EM4500mAh 3S 25C
$80.00
EM4500mAh 6S 25C
$150.00

EM30c Series 30C Li-poly Batteries
EM2200mAh 3S 30C
$45.00
EM2600mAh 3S 30C
$55.00
EM3200mAh 6S 30C
$125.00
EM3700mAh 3S 30C
$75.00
EM3700mAh 6S 30C
$140.00
EM4500mAh 3S 30C
$90.00
EM4500mAh 6S 30C
$165.00
HELI NEWS


Heli-Chris Trex 700 Electric Frame Conversion Kit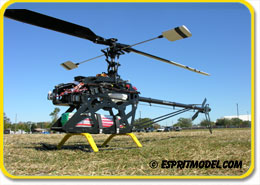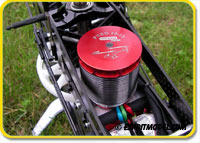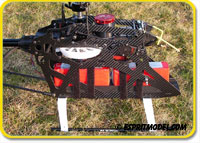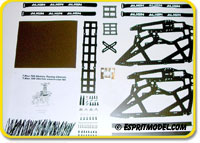 Designed and manufactured in Germany by Heli-Chris, this high-end T-Rex 700 Tuning Chassis is a second generation design featuring a slide in battery tray with automatic electrical connection. Capable of the most extreme contest, 3D, or sport flying this frame kit can also be used as the basis for a smooth running camera platform.

Special Features:

Extremely rigid carbon fiber frame
Battery is at a high position for optimum vertical CG
New battery tray slides in from rear without removing the canopy
Battery connection is automatic
Large battery space, 61mm width, 76mm height (expandable to 84mm)
Battery tray 340mm long, good for 15S Li-poly, or up to (30) LiFePO4 cells
Servo openings for standard sized servos
Lateral reinforcement plates greatly stiffen the frame in the area of the main shaft
Large motors like Actro, Plettenberg, Kontronik, Scorpion, and X-era fit without any problems
Pinion/main gear backlash is easily adjusted via slotted holes in the frame
Pitch range +/- 13° collective, +/- 8° cyclic
All parts need for the conversion are included
Included Parts:
(1) CNC Carbon Fiber Frame Parts w/Bearings
(1) Sandpaper to Chamfer the CF Frame (Very Important!!)
(1) CNC Aluminum Motor Mount Plate
(2) Canopy Mounting Bolts
(2) Plastic Angles for Pack Mounting
(4) Velcro Straps
(6) Aluminum Washers
(2) Sets of Extended Push-Pull Rods
(4) Aluminum Frame Mounting Blocks
(6) Motor Mount Plate Screws M3x10mm
(4) Motor Mounting Screws M3x10mm
(4) Motor Mount Screws M4x10mm
(12) Servos Installation Screws M2.5x12mm
(12) Servos Installation Locking Nuts M2.5
(16) Base Plate Screws M3x6mm
(100) Small Cable Straps
(1) Anti-Spark Resistor
(1) Complete Battery Board set
(1) Tube BELI-ZELL 10 SPEED (Gluing the battery trays)
(1) Illustrated Bilingual Manual (German/English)



SPECIALS


HOT NEW ADDITIONS

| | | |
| --- | --- | --- |
| Transmitter Balancer | Miniature Aircraft Fury 55 | Spartan Quark Gyro Metal Case |
| RAVE 90 ENV | New EM Flight Team Shirts | Soldering Station Magnetic |
| Heli Chris Electric 700 Kit | FunTech B300 Muffler Pipe Type X 3D (90) | RC Booya Black Mounts |
| Transmitter Stand | Scorpion HK 5035 Series Motor | Esprit Colored 2.4 Balancers |



Esprit Model is currently seeking a Full Time Retail Sales Rep, if you or someone you know are interested in joining our winning team, please shoot us an email at sales@espritmodel.com


---
If you can not see the newsletter click here for HTML

Esprit Model 321.729.4287 has sent this email to you because your account preferences indicate that you want to receive Information about Special Promotions, Offers and Events. Esprit Model 321.729.4287 will NEVER request personal information in any email. (Passwords, Credit Card/Bank Numbers).

To unsubscribe from our database please click here.