Newsletter - AIR: 07/2010 I
For comments and suggestions please email us at support@espritmodel.com.

RADIO NEWS

Futaba 2.4Ghz T8FGA/FGH Radio Systems
| | | |
| --- | --- | --- |
| | | When you improve upon all of the best that Futaba 9C technology has to offer, you have the new T8FG-one serious system for discerning R/C pilots. From the state-of-the-art receiver to the capacity to store memory, the T8FG has the features and functions to position itself far above the competition. And because it's from Futaba, you can fly with confidence, knowing that the industry's finest research and development is behind you. |

JR 11X 2.4GHz Radio Systems
| | | |
| --- | --- | --- |
| | | The JR 11X 2.4GHz comes with just about everything you would expect in a pro-class radio. Things like an extensive list of programming options, 30-model memory, a big backlit display and a eye-catching case worthy of its capabilities. The only thing it lacks is the one thing you will not miss - a pro-class price tag. The 11X is also surprisingly easy to use for a radio so advanced. Accessing functions and programming settings is simple with the intuitive roller button interface and big, backlit LCD screen. It also has an SD card slot for model storage, memory expansion and software updates. Most importantly, it comes equipped with the security and convenience of Spektrum 2.4GHz DSM technology. |

JR X9503 2.4GHz Radio Systems
| | | |
| --- | --- | --- |
| | | Combining Spektrum's industry-leading 2.4GHz DSM technology with proven JR 9503 transmitter programming with optimal features creates this impeccable radio. Additional features such as 50 model memory, model match, and back-compatible with all Spektrum receivers makes this model a great value. Furthermore, the highly requested throttle timer start up feature added to the advanced functions of the X9503 and a back light screen also increases visibility and readability on the display provides top of the line features to this already great radio. Enthusiasts can appreciate this JR radio regardless if a beginner or experienced hobbyist. |
Spektrum DX8 Radio Systems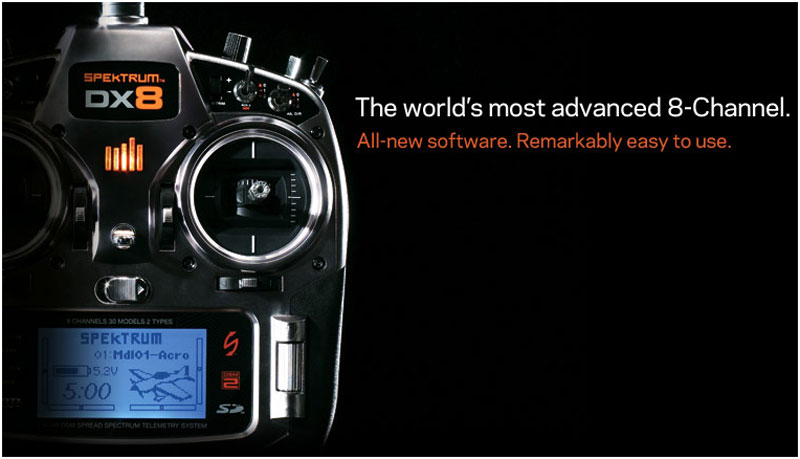 The DX8's powerful new Spektrum AirWare software was developed exclusively by Spektrum from the ground up. This software includes all the programming functions an expert pilot could want, but you don't have to be an expert to use them. The DX8's intuitive Simple Scroll™ interface lets you "roll and click" your way between menus with ease. And all the information is presented in crisp, clear detail on a big, backlit LCD screen.




Enhanced Wing Type Programming
When selecting a wing type for an airplane, Spektrum AirWare graphically depicts the type you've chosen and will automatically configure the necessary mixes for the pilot. This saves time and reduces the chances for error when programming complex control surface configurations.


Active Gyro and Governor Trim
Fine tune rotor speed and gyro gain while in flight using trim switches you assign.


Electronic E-Ring™
When programming the cyclic and pitch mixing for a helicopter, it is possible for the sum of the two mixing values to exceed the mechanical travel limits of the servos. This can cause them to be overdriven into a locked position. Spektrum AirWare's Electronic E-Ring prevents this by automatically limiting servo travel if the sum of the cyclic and pitch values exceeds servo limits.


Airtronics/Sanwa 2.4GHz SD-10G Radio Systems
The SD-10G was developed by Sanwa's best and brightest computer programmers in concert with the most experienced pilots from Sanwa Japan and Airtronics USA. >From F3J World Champions to 3D Helicopter Experts, from AMA Hall-of-Fames to Pattern Nats Champions, the team who planned and put together the SD-10G for you are some of the most dedicated and experienced modelers in the world today. This competition-level radio will be just at home in the hands of a glider pilot as it is in the hands of a freestyle aerobatic champion. We have worked with pilots for more than an year to ensure every detail, every nuance was developed for the modeler, both sport and competitor.

Hitec 2.4GHz Aurora 9 Radio Systems
Hitec is proud to introduce our new flagship radio the Aurora 9. The Aurora 9 is a "Pure Digital" 2.4GHz system offering an extremely low latency response time for that "connected" feeling. Featuring a large backlit 5" (127mm) Touch screen display, 30 Model memory, Assignable switches and Customizable programming menus, the Aurora is a true 3 in 1 radio with sophisticated programming for sailplanes, helicopters and all kinds of power planes. With all these features and a price that can't be beat, there is no doubt the Aurora 9 will become the radio of choice for the most sophisticated pilots.


Hitec, Futaba, JR and Spektrum 2.4Ghz Receivers!!!
| | | |
| --- | --- | --- |
| Spektrum AR6110e 2.4GHz Micro Receiver | Spektrum AR9100 2.4GHz Receiver | Spektrum AR9200 2.4GHz PowerSafe Evolution Receiver |
| Futaba R6004FF FASST 2.4GHz Receiver | Futaba R6106HFC FASST 2.4GHz Receiver CF | Futaba R6008HS FASST 2.4GHz Receiver |
| Hitec Optima 6 AFHSS 2.4GHz Receiver | Hitec Optima 7 AFHSS 2.4GHz Receiver | Hitec Optima 9 AFHSS 2.4GHz Receiver |
| Airtronics 92674 FHSS 7ch. 2.4GHz Receiver | Airtronics 92824 FHSS 8ch. 2.4GHz Receiver | Airtronics 92104 FHSS 10ch. 2.4GHz Receiver |
Hitec, Futaba, JR, Align Digital, Brushless and Analog Servos!!!
| | | |
| --- | --- | --- |
| JR DS3421MG Digital Servo | JR DS378MG Thin Wing Digital Servo | JR DS8711 Digital Servo |
| Hitec HS-5085MG Digital Servo | Hitec HS-5125MG Digital Servo | Hitec HS-7955TG G2 Digital Servo |
| Futaba S3111 Servo | Futaba BLS152 Super High Torque Brushless Servo | Futaba BLS251 Brushless Servo |
| ALIHSD51001 - Align DS510M Digital Servo | K10419A - Align DS510 Digital Servo | K10421TA - Align DS620MG Metal Gear Digital Servo |
| JR Servo MatchBox | Hitec Servo Tester/Programmer HFP-20 | Hitec PC/Field Servo Tester/Programmer HPP-21 Plus |

EM-Receiver and Transmitter Battery Packs!!!
Ready to plug, EM Transmitter 2600mAh 3S 11.1V Li-polymer Battery Pack with JST-XH Balancing Connector, Tx Leads with Universal/Futaba and JR/Spektrum Transmitter Connector.

Specifications:
Dimensions: 3 3/4" x 1 1/8" x 1" (95mm x 30mm x 25mm) Voltage/Capacity: 11.1V/2600mAh Configuration: 3 cells in Series

| | | | |
| --- | --- | --- | --- |
| EM Rx Battery Pack 900mAh 7.4V | EM Rx Battery Pack 1400mAh 7.4V | EM Rx Battery Pack 2200mAh 7.4V | EM Rx Battery Pack 3750mAh 7.4V |

---
If you can not see the newsletter click here for HTML

Esprit Model 321.729.4287 has sent this email to you because your account preferences indicate that you want to receive Information about Special Promotions, Offers and Events. Esprit Model 321.729.4287 will NEVER request personal information in any email. (Passwords, Credit Card/Bank Numbers).

To unsubscribe from our database please click here.