Newsletter - AIR/HELI: 09/2010 II
For comments and suggestions please email us at support@espritmodel.com.

GAUI 330X-S Quad Flyer $399.00 (Scorpion)
The 330X Quad-Flyer Design is Based on UAV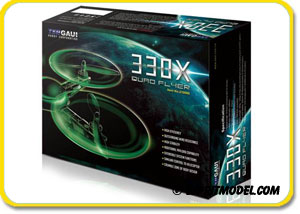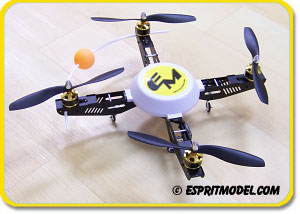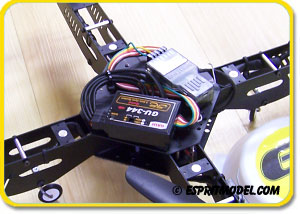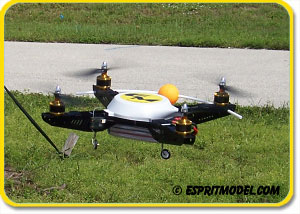 Flight Efficiency:
Standard Battery (2S 2000mAh) time of flight for more than 12 min, with a high-capacity battery, the flight time will be more than 20 min or more (available spreadsheet calculation)
Excellent Wind Resistance:
Efficiency and load of propeller are perfectly optimized, so the wind resistance will be better than general electric aircraft
High Stability:
Contains GU344 (three-axis stabilizing system) for the beginner or the FPV flying
Additional Payload Capabilities:
Payload up to 700g (including battery), easily install cameras and video recorder or other video system
System Extensibility:
Can be used with GPS positioning system and navigation system

Operation mode and flight characteristics with the same helicopter, but without complex transmission.
Collapsible body design, greatly reduce the damage rate, which can be repaired easily without adjustment.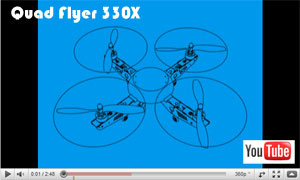 Curtis Youngblood Next-D Rave 90 ENV Nitro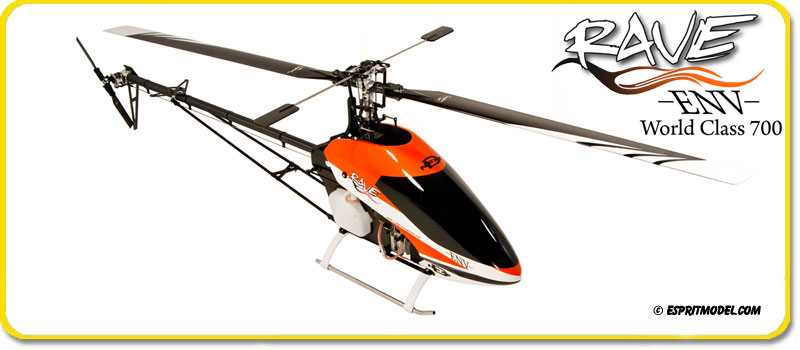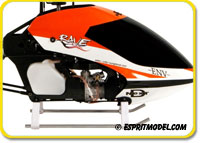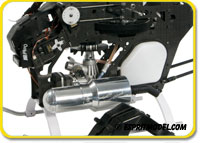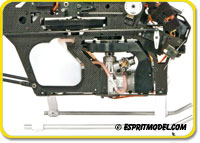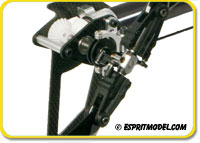 Multiplex FUNCOPTER ARF/RxR ($235.00/$395.00)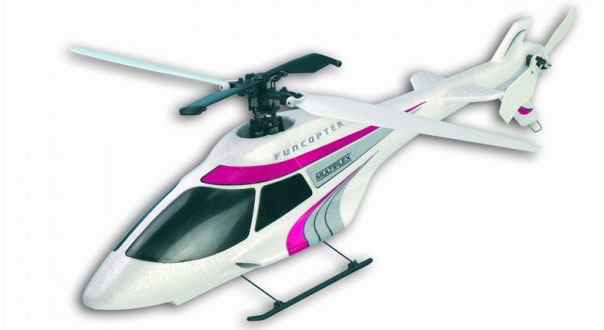 The FUNCOPTER is the perfect first or second step into the world of model helicopters. Above all it is the logical next move for any model flyer who has gathered some initial experience in flying co-axial helicopters, and is now looking for a new challenge. It's a great choice - and will not strain the modelling budget!

FUNCOPTER has to be your first choice in terms of both price and quality. Its impressive features are its resistance to crash damage, its patented folding rotor blades, and the blades mounting. All these advantages help to keep your outlay for replacement parts within easily affordable limits. The design of the machine is based on the proven, patented ideas incorporated in the LMH (Lite Machines Helicopters), combined with our own ideas to create an unusual helicopter which provides almost unlimited flying fun - especially if you are a relatively inexperienced pilot. The FUNCOPTER is supplied completely assembled and adjusted. The helicopter offers many fascinating features, not least its extremely quiet direct drive system (no gears) which produces a very unusual sound. The mechanical system is assembled from just a small number of parts, and is of straightforward construction. This makes the FUNCOPTER extremely easy to maintain and repair. The front fuselage is a slide-in component which can be disengaged with a push-button and pulled off as a unit; this provides unrestricted access to the interior and the battery compartment, making it fast and easy to replace the flight pack.

A simple four-channel radio control system is all that's needed to control the model; no mixers or other complex settings are required at the transmitter.

o With its consistent overall design the machine is ideal for beginners to helicopters
o Fixed pitch helicopter no adjustments required: full control using yaw, pitch-axis, roll and throttle functions
o Different blade holders for matching to different payloads (battery size)
o Easy to repair (simple construction, few parts, few screws)
o Retail packaging converts into convenient transport case
o Full-body fuselage with modern, attractive looks, easy to see in the air
o Fuselage made of ultra-robust EPP particle foam; heavy-duty plastic parts
o (Whisper-quiet) direct-drive power system
o Long flight times - up to fifteen minutes with 3000 mAh battery
o Robust, virtually indestructible construction: flexible rotor blades which fold upwards




Spektrum 2.4GHz DX8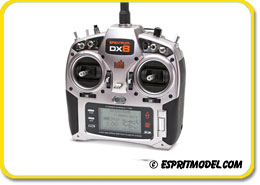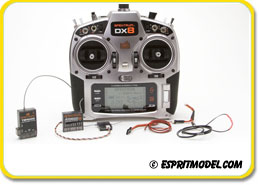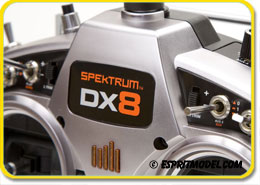 Combining Spektrum industry-leading 2.4GHz DSM technology with real-time telemetry in this DX8 represents a breakthrough in 8-channel sport-level radio systems. The telemetry module is expandable based on the module needs; the module is capable of supporting Quality of Signal (Antenna Fades, Frame Losses, Holds), Receiver Pack Voltage, RPM, Temperature and Flight Pack Voltage. Enthusiasts can add the safety of real-time telemetry and monitor vital aircraft stats right from their transmitter without any additional equipment. Keep your engine operating in the optimum temperature range, keep an eye on your battery voltage, and check out just how fast your aircraft is running all right from the large LCD readout of the DX8.


Spektrum AR8000 2.4GHz Receiver
Spektrum is committed to offering receivers to modelers in all categories within the hobby, and the AR8000 is no exception to that commitment. The AR8000 is packed with industry-leading features including an incredibly fast input-to-output response with an 11-millisecond frame rate when used with capable transmitters, 2048 resolution for ultra-smooth servo travel, and a compact footprint making it ideal for any application from extreme 3D to competition helicopter performance.
Signal Quality, Battery Voltage
The TM1000 Telemetry Module transmits important flight information to aircraft telemetry compatible transmitters. The module can provide important Flight Log information such as RF link performance and receiver battery pack voltage. The TM1000 Telemetry Module can also provide flight pack information which could include the flight pack battery for electric powered aircraft, or ignition batteries in gas engine powered aircraft. The module can provide temperature information, as well as RPM with RPM sensors available separately.
RPM
Pilots can use the RPM telemetry data to check the effectiveness of new mixture settings, new battery packs, or perhaps a new propeller/motor combination. The RPM sensor is sold separately.

---
If you can not see the newsletter click here for HTML

Esprit Model 321.729.4287 has sent this email to you because your account preferences indicate that you want to receive Information about Special Promotions, Offers and Events. Esprit Model 321.729.4287 will NEVER request personal information in any email. (Passwords, Credit Card/Bank Numbers).

To unsubscribe from our database please click here.