Newsletter - AIR/HELI: 11/2010 I
For comments and suggestions please email us at support@espritmodel.com.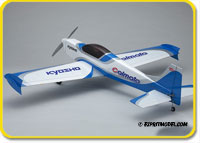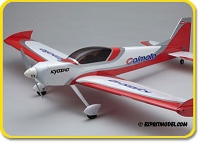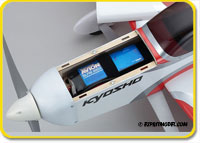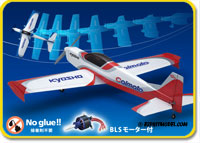 Brushless Motor, Propeller and Spinner included. No gluing is required to complete assembly!!!!
If you are ready to step up to a low wing aerobatic airplane, the Calmato ST1400 is the perfect choice. This optimally balanced design combines excellent stability with expert-level maneuverability. The large taper ratio of the main wing and precision fuselage deliver precise control response while the large control surfaces produce dynamic flight capability. However, while producing the flight performance expected of a dedicated aerobat, the Calmato ST1400 traces its lines so smoothly though the air, that it stands apart from other aerobatic airplanes.
The CALMATO has come to define what entry-level airplanes are all about. Many fliers owe their solo wings to the user-friendly electric power and friendly flight performance of this low-wing airplane.
Zora 1.5E (ARF)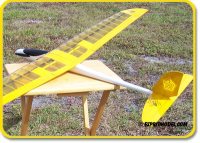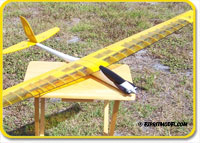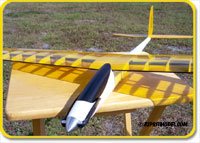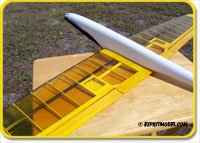 Great starter electric sailplane with easy building and smooth flights.
The Zora 1.5E is sport electric mini sailplane ideal for soaring or even slope flying. This fully built sailplane needs only basic assembly and motor/radio installation. The careful use of composites with competition balsa creates a good light structure that will hold its shape for a long time. This synergy of low weight and strong structure is very unusual in a production sailplane and can only be achieved with careful attention to design and construction. This is extremely light competition model.

Culex 2E LMR/F5J (ARF)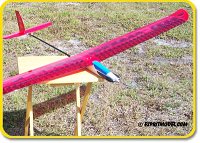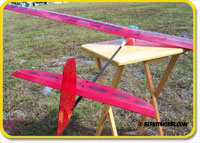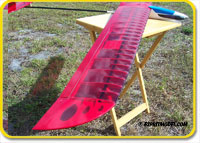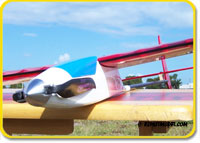 Great starter, competition F5J, LMR (Limited Motor Run) electric sailplane with easy building and stabile flying.
A beautifully hand-made custom competition F5J (LMR) model constructed using competition free-flight techniques. The wing is all balsa built-up with Carbon Fiber main spare and leading edge. Almost no plywood or hardwood is used. The fuselage is gel-coated fiberglass with carbon fiber tail boom. The hand-built tail is all balsa covered with Ultracote. All control surfaces are pre-hinged with hinge tape. This fully built sailplane needs only basic assembly and motor/radio installation. The Culex has been built to minimize weight and maximize strength.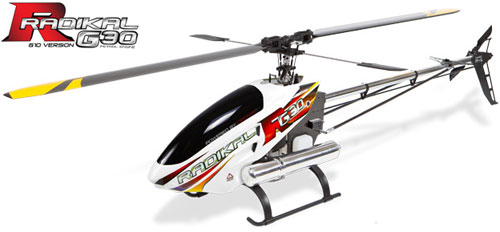 | | | |
| --- | --- | --- |
| CN1340 | Century Radical G30 G10 | $650.00 |
| CN1340C | Century Radical G30 Carbon | $750.00 |
| CN1340CE | Century Radical G30 Carbon SE | $850.00 |
Introducing the ALL NEW Radikal G30!
This highly anticipated helicopter (the larger sibling of the highly successful Radikal G20 gasser) is capable of smooth F3C style flight yet has the agility and can handle the power for 3D aerobatics. Designed from the ground up with the latest manufacturing framework, the G30 is the latest generation of gasser born of Radikal design thinking and the latest manufacturing technologies. The newly designed drive train gives unparalleled power transfer. This allows you to get amazing performance even with a 23cc engine. Finally, a gasser that has it all: great flight times, amazing power transfer and low weight.
The Radikal G30 is the new standard for gasoline powered helicopters!

PT high performance propellers from the Czech Republic feature hollow molded blades fabricated from unidirectional and bi-directional carbon fiber and epoxy.

While very light, they are super strong, with a solid center hub area allowing them to be drilled for multi-bolt hubs. The finish is a beautiful high gloss, clear epoxy gel-coat over black woven carbon fiber. All are factory balanced.

Lightweight molded Carbon Fiber construction reduces rotating mass for less drag and more efficiency.


Carbon Fiber Landing Gear replaces or upgrades your existing aluminum or wire gear. Made from molded, woven carbon fiber cloth and fiberglass composite for lighter weight, greater strength, and flexibility.

This is a great way to reduce weight and add strength to your landing gear.

| | | |
| --- | --- | --- |
| XOAR Propellers 3 Blade Electric | XOAR Propellers Glow/Gas | XOAR Propellers Electric |
| XOAR Propellers Glow/Gas Lance | XOAR Propellers WWII | XOAR Propellers Scimitar WWI |
| BB Fiberglass Spinners | BB Aluminum Spinners | XOAR Propellers Scimitar WWI |
| EM CF 5x5/30/3.2mm F5D | Carbon Fiber Folding Propellers | Aeronaut CAM Folding Propellers |
| RimFire 80-75-230 Motor 50cc | Servo Tray with Bellcrank | Great Planes RealFlight G5.5 |
Coming this Holiday Season, new ARF Airplanes and Pylon Racers!!!!!
Pulsar 4E Electro ARF ($1125.00)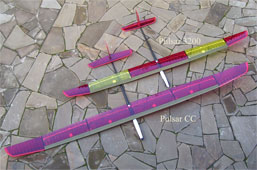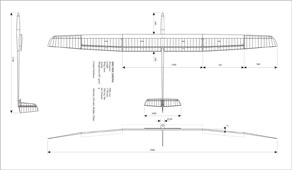 Multiplex FunJet Ultra EPP ARF ($110.00)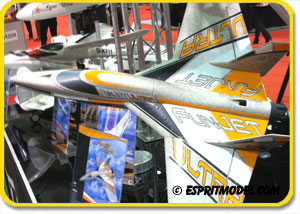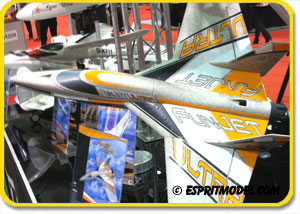 RLC Tazor EDF110 ARF ($1300.00)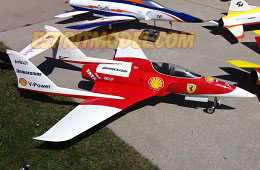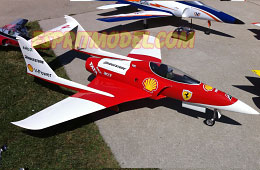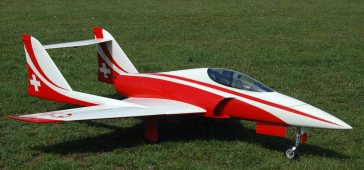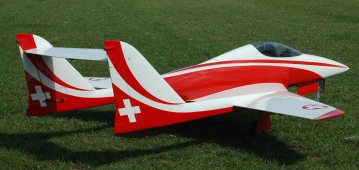 ---
If you can not see the newsletter click here for HTML

Esprit Model 321.729.4287 has sent this email to you because your account preferences indicate that you want to receive Information about Special Promotions, Offers and Events. Esprit Model 321.729.4287 will NEVER request personal information in any email. (Passwords, Credit Card/Bank Numbers).

To unsubscribe from our database please click here.