Newsletter - AIR/HELI: 12/2010 II
For comments and suggestions please email us at support@espritmodel.com.

Swift S-1 Deluxe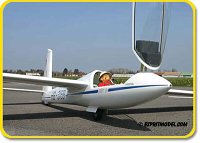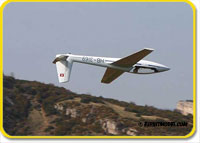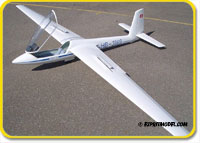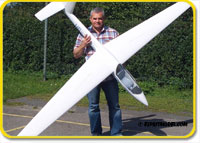 With its fiberglass fuselage and its carbon fiber reinforced, obecchi sheeted foam wings the Swift S-1 can handle full aerobatic routine. The careful use of composites with competition balsa, creates a good light structure that will hold its shape for a long time.

The Swift S-1, which first flew in 1991, is a development of Polish manufacturer Marganski & Myslowski located in Bielsko-Biala. Although it has been described as single-place all purpose sailplane, the Swift S-1 is optimized for aerobatic training with erect and inverted clearance of +10/-10 G with one person on board. The landing gear is retractable, and approach control is assisted by Schempp-Hirth airbrakes. This sailplane won the World Glider Aerobatic Championships in France, 1995. Shortly after the Championships ended, promotional flights were arranged to enable top pilots to fly this aircraft. The Swift has since had several successes at other international competitions.

Discus 2a Deluxe (ARF)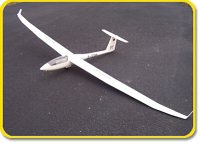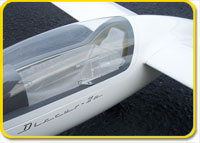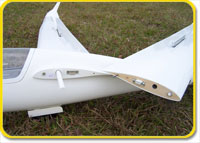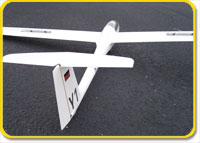 Sunracer Super Sport (ARF)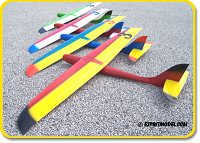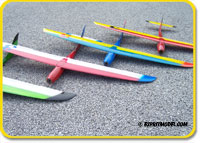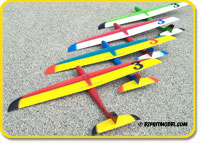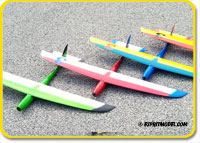 A compact precision composite hollow molded F5D pylon racer, that is totally prefabricated from the factory and virtually ready to fly. This is one of the most advanced and PRECISELY built models that we have ever seen. All surfaces are pre-painted in the molds for flawless external finish. The wing and stabilizer use live hinges for ailerons and elevator. Special built-in torque rods are pre-installed as well as pre-molded dual servo bays. Kevlar/Carbon Fiber fuselage with removable nose cone for easy battery installation.

Brand NEW version of our most popular pylon racer in very attractive color schemes. This model has been developed as full competition version with Kevlar/Carbon Fiber reinforced wing and fuselage.

Stinger Pylon Racer (ARF)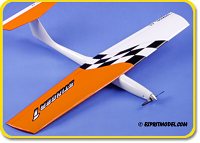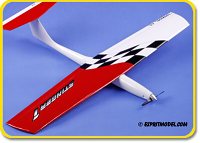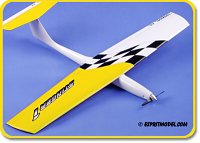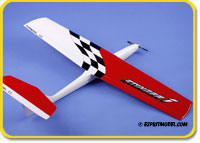 Edge Carbon Fiber Main Blades and Tail Blades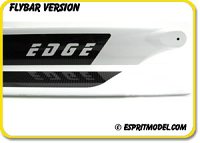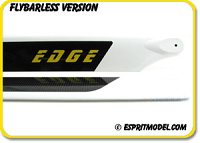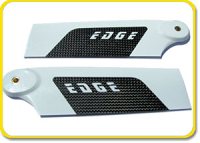 EDGE high performance CF rotor blades are new premium blades that have been specifically designed for today's model helicopters. EDGE rotor blades have been optimized for use with today's light weight, high powered models with increased cyclic pitch. While these blades are ideal for aggressive Flybarless 3D performance, they can also be used for more precision FAI & FC3 flying on traditional flybar machines.
Flybarless Edge blades may be flown on a traditional flybar helicopters for a smoother and less aggressive FAI/FC3 style cyclic response.
| Heli Blades | Type | Length | Chord | Root | Bolt | Application |
| --- | --- | --- | --- | --- | --- | --- |
| Edge 325 Flybar | CF | 325mm | 32mm | 4.5mm | 3mm | T-Rex 450 |
| Edge 423 Flybar | CF | 423mm | 42mm | 10mm | 3mm | Logo 400, Atom 500 |
| Edge 523 Flybarless | CF | 523mm | 50mm | 12mm | 4mm | Logo 500, Outrage 550 |
| Edge 553 Flybar | CF | 553mm | 52mm | 12mm | 4mm | Logo 500, Outrage 550 |
| Edge 603 Flybar | CF | 603mm | 55mm | 12mm | 4mm | Logo 14, T-Rex 600 |
| Edge 603 Flybarless | CF | 603mm | 55mm | 12mm | 4mm | Logo 14, T-Rex 600 |
| Edge 693 Flybar | CF | 693mm | 60mm | 12mm | 5mm | T-Rex 700, Predator, F3C |
| Edge 713 Flybarless | CF | 713mm | 60mm | 12mm | 5mm | T-Rex 700, Predator, F3C |

Captron HeliCommand Flybarless System HC3-SX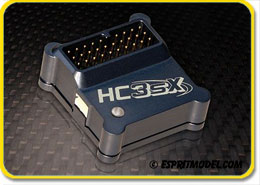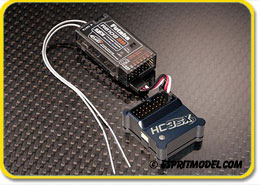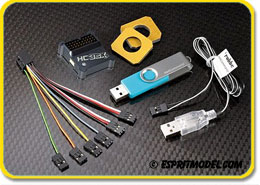 The HC3-SX is a high-quality, compact designed Flybarless system (Rigid) and replaces the mechanical flybar on the rotor heads of all current RC helicopters. Additionally this unit features the well-known and patented Horizontal mode (self-leveling), which brings the heli back to horizontal attitude anytime you let go off the sticks. Moreover, the system is equipped with several safety features, levelling the heli back even while in hard 3D-manoeuvres like Tic-Toc or PiroFlip with a speed never seen before. These brand new features enable a pilot to learn 3D flying in the most safe way ever, speaking of a kind of "real-flight simulator" on highest level. The stabilization sensitivity (gain) as well as engaging or disengaging this function can be controlled via an auxiliary channel from the transmitter while in flight.

The HC3-SX is equipped with a flash memory and can be updated to the latest software. System is open and can be software enhanced on helicopter at flying field at any time.


Captron HeliCommand Flybarless System HC3-X Base


It`S time to expand our x-Series
Check out our brand new HC3-Xbase, the little brother of the HC3-Xtreme and HC3-SX!

The HC3-Xbase is another Flybarless-System within our X-series at an interesting basic price, which opens the access of going flybarless to everyone. This FBL-System is a basic variant of the HC3-Xtreme to control flybarless helicopters with CCPM and eCCPM (120°) swashplate.

Set-up work is reduced to a minimum, by clear separation of the sensitivity settings for the head and tail gyros in independent auxiliary channels a well as the PC software's wizard.
The HC3-Xbase features direct connection to new single-cabled receiver systems: SP serial pulse/PWM output, Fu-taba S.BUS and Spektrum/JR-satellites (main receiver not applicable). Consequently, the motor/gas-servo output as well as a second ouput (e.g. for governor, lighting, retractable landing gear, etc.) are available directly on the HC.
Can be used as pure tail gyro without the need of additional accessories.
Direct USB connection for fast programming; the easy-to-use set-up software comes as standard (in case of HC3-Xbase for free download).
The connecting cables between the receiver and HC3-Xbase are plugged in on both sides.
Gold-plated circuit-board and the latest-generation MEMS gyros for all 3 axis.
The HC3-Xbase can be upgraded to the full functionality of the HC3-Xtreme online.
Captron HeliCommand Profi System
Autopilot for professional applications (e.g. aerial photography, filming, surveillance or monitoring), commercial and industrial or highly valuable helicopters.

Multiple novel control and measurement systems are included and offer an unprecedented degree of stabilisation, completely independent of the visible horizon.
Characteristics are the unmatched quality of stabilisation with a simultaneous control by the pilot, compact design and low weight; all this made in small affordable package.

With its sophisticated software, the system offers the highest reliability.

Coming this Holiday Season, new ARF Airplanes and Pylon Racers!!!!!
Stiletto Pylon Racer (ARF) $265.00 Full Composite, Wingspan: 990mm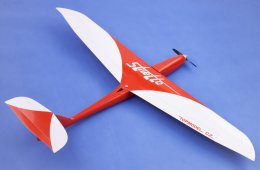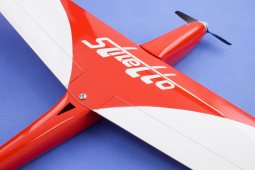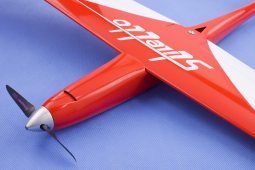 Kulbutin Electro (ARF) $325.00 Full 3S Electric Sailplane Wingspan: 71.5" (1820mm)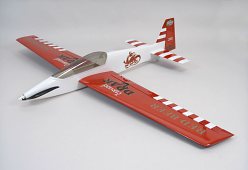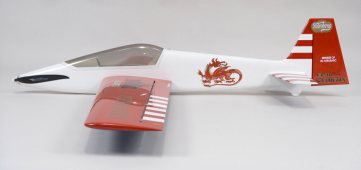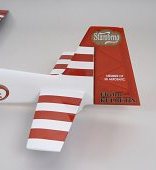 ---
If you can not see the newsletter click here for HTML

Esprit Model 321.729.4287 has sent this email to you because your account preferences indicate that you want to receive Information about Special Promotions, Offers and Events. Esprit Model 321.729.4287 will NEVER request personal information in any email. (Passwords, Credit Card/Bank Numbers).

To unsubscribe from our database please click here.