Newsletter - AIR/HELI: 01/2011 I
For comments and suggestions please email us at support@espritmodel.com.

Habu Jet 32 EDF80 (ARF)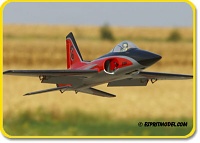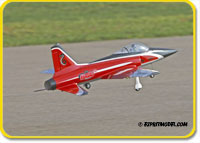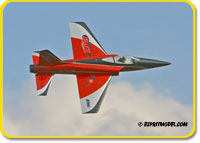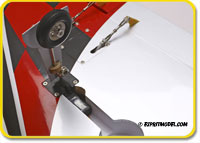 The airplane's geometry and airfoils are designed for a very wide speed range at minimum drag, allowing fast fly-bys as well as precise aerobatics. Landing speeds are very low, due to the airfoil design and very low wing loading.

The new Habu Jet 32 is a high performance ducted-fan jet airplane that will allow intermediate to advanced pilots the opportunity to transition from their foam jets to a high-quality and high-performance fiberglass sport jet models. The fuselage and intakes feature beautifully molded fiberglass construction with fully sheeted built-up balsa wings and stabilizers, fully covered in matching UltraCote for a superb finish. Additionally the wings and stabilizers are mounted to the fuselage using carbon fiber wing spar with aluminum sockets for high level of strength and quick and easy breakdown for transportation.

Suggested Equipment: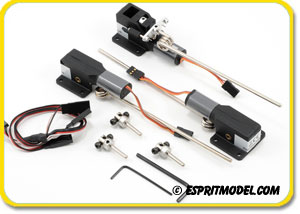 Discus 2c Deluxe (ARF)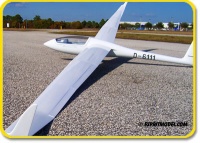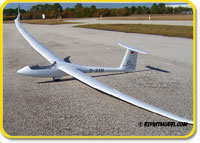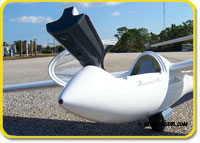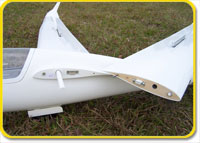 With its fiberglass fuselage and its carbon fiber reinforced, obecchi sheeted foam wings the Discus 2c can handle full day of soaring as well as limited aerobatic routine. The careful use of composites with competition balsa, creates a good light structure that will hold its shape for a long time.

Originally built in 2004 by Schempp-Hirth, the Discus 2c was produced to replace the previously successful Discus sailplane in the Standard Racing Class. A completely new wing has been designed in close cooperation with Dr. Karl-Heinz Horstmann (wing geometry, profile) and Professor Mark Maughmer (new type of winglet). To date, around 500 of the full-scale gliders have been produced. The fiberglass fuselage is finished flawlessly in white gel-coat. Both the rudder and horizontal stabilizer with elevator are fully hollow molded. The canopy is pre-hinged in a fiberglass frame and comes complete with a scale-like latch and vent.



MDM-1 Fox 2.75S/E (ARF) $395.00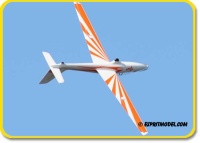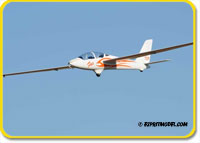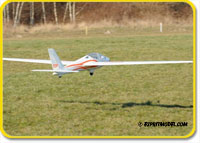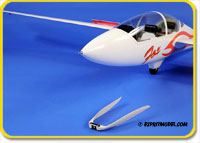 With its fiberglass fuselage and its fiberglass reinforced, balsa sheeted foam core wings the MDM-1 Fox can handle full aerobatic routine. The careful use of composites with competition balsa, creates a good light structure that will hold its shape for a long time.

The MDM-1 Fox, which first flew in 1993, is a development of the single-place aerobatic Swift S1. Although it has been described as two-place for all jobs, the MDM-1 Fox is optimized for aerobatic training with erect and inverted clearance of +9/-6 G with one person and +7/-5 G with two people. This model is an excellent choice for a first, scale sailplane due to its great handling characteristics, spoilers and its non-retractable landing gear. The MDM-1 Fox with its carbon fiber reinforced, fiberglass fuselage and foam core, balsa sheeted wings can handle full aerobatic pattern.



Avia 2.5E (ARF) $295.00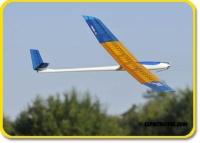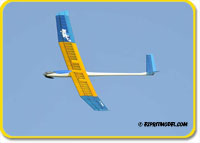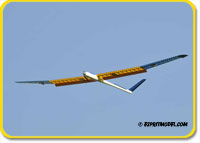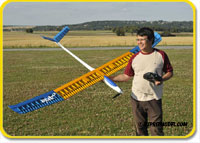 One of the most impressive European made sailplanes that we have ever seen, the Avia 2.5E flies as good as it looks. Gentle, smooth, and very long flights are the standards for this beauty. The careful use of composites with competition balsa, creates a good light structure that will hold its shape for a long time. The synergy of low weight and strong structure is very unusual in a production sailplane and can only be achieved with careful attention to design and construction. The entire model is constructed using free-flight techniques.



Macchi M.33 Flying Boat 50e (ARF) $345.00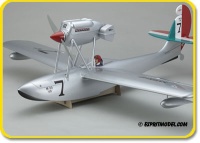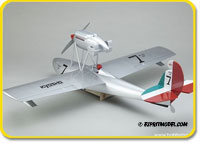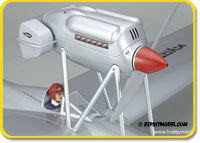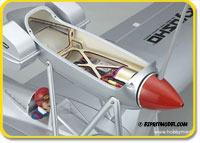 Competing at the peak of the biplane era, the cantilever monoplane design of the Macchi M.33 made its appearance in 1925 and while it finished a credible 3rd place, its innovative modern form is still talked about even today.

The Macchi M.33 was a single-seat, wooden, racing flying boat of very clean aerodynamic design for its time. Its cantilever wing was fairly thick and carried stabilizing floats on each side. Italy lacked competitive racing engines in 1925, so the M.33 was powered with a used 1923 Curtis D-12 engine rated at 507HP in a streamlined nacelle mounted on struts above the fuselage and driving a two-bladed tractor propeller. Despite the M.33's shortcomings, Italy entered two of them in the 1925 Schneider Trophy race hosted by the United States at Baltimore, Maryland.


Just Arrived: Rotormast V-22 Osprey $1695.00

Are you ready to transition? Introducing the incredible V-22 Osprey from Rotormast. Long the dream of modelers around the world, the Rotormast V-22 Osprey makes it easy to transition the world of tiltwing flight.

Based on a unique control unit, the ROTORMAST V-22 OSPREY is an outstanding design. With acrobatic flight capability and a fully gyro stabilized controller, the ROTORMAST V-22 OSPREY is intended for intermediate helicopter pilots or intermediate airplane pilots.


Special Features:
· Aerobatic profile or scale body
· Integrated V-22 controller provides seamless transition
· No moving control surfaces
· Fully licensed by Bell/Boeing

Specifications:
· Length: 980mm
· Height: helicopter:320mm / airplane:180mm
· Main rotor diameter: 645mm (x2)
· Flying weight: 2500g (profile body)

Included with standard profile kit:
(1) Profile Fuselage, Wings and Tail group
(1) Mechanics Sets
(1) Blade set
(1) ROTORMAST V-22 VTOL Controller
(1) Wiring set
(2) Conversion servos
(1) USB PC adapter cable
(1) Rotormast Box Wrench
(1) Accessories set

Included with scale kit (in addition to above):
(1) Scale Fuselage, Wings and Tail group
(1) Scale Spinner set with mounts and screws
(1) Scale nacelle covers with mounts and screws
(1) Scale conversion servo covers

Rotormast V-22 Osprey Setup Suggestions:

| | |
| --- | --- |
| Cyclic Servos (4) | Hitec HS-5085MG |
| Receiver | Futaba R617FS |
| Battery (2) | EM2200 4S |
| Motor | Scorpion HK 2221-8 |
| ESC (2) | Phoenix ICE Lite 50SB |
| Gyro (3) | Futaba GY520 |
| Pinion | 13T |
| Receiver Power | Castle Pro BEC |
| Blades | Stock |

New Year Clearance SALE!!!
Tons of New Items added to Clearance Web Page!!!
Deeply Discounted Prices,
up to 50-60% OFF!!!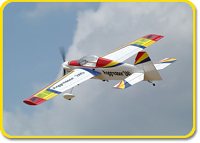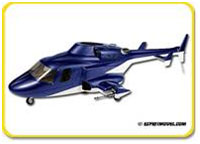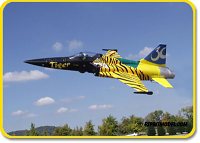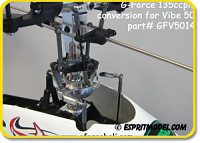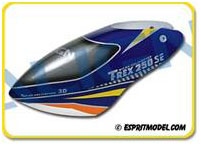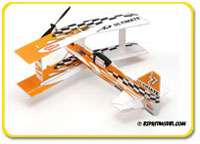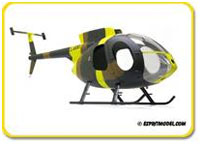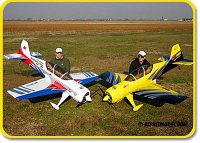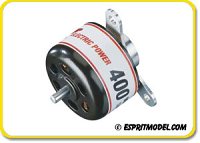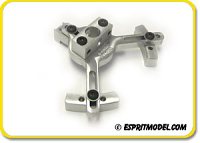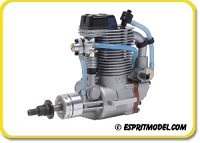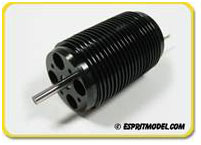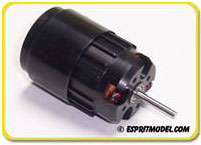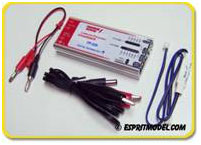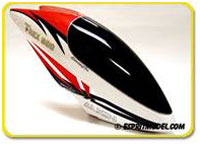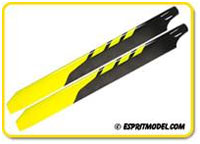 ---
If you can not see the newsletter click here for HTML

Esprit Model 321.729.4287 has sent this email to you because your account preferences indicate that you want to receive Information about Special Promotions, Offers and Events. Esprit Model 321.729.4287 will NEVER request personal information in any email. (Passwords, Credit Card/Bank Numbers).

To unsubscribe from our database please click here.