Newsletter - AIR/HELI: 03/2012 III
For comments and suggestions please email us at support@espritmodel.com.
Futaba T18MZ, New Flagship Full 18-channel Radio!!!
It's even more than the first Futaba 18-channel ever - it's the only radio in the world manufactured with ground-breaking FASSTest technology!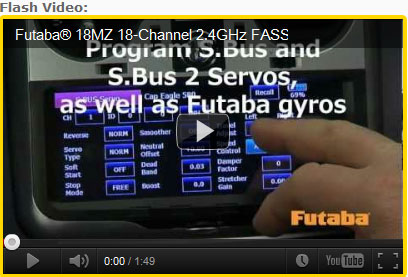 Officially Certified 3D Hobby Shop Extreme 3D Trainer!!!!
3DH/Yak 54 EPP IN STOCK!!!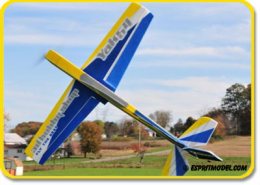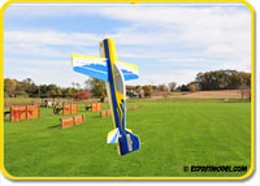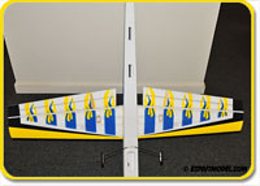 Either as your next step up from flat EPP foam planes, a fantastic practice plane, or your no-worries go-to hardcore aerobatics plane, the Yak delivers with super-low coupling, extremely easy 3D and good speed and handling in gusty winds. Give the Yak 54 a try, you will fall in love with it!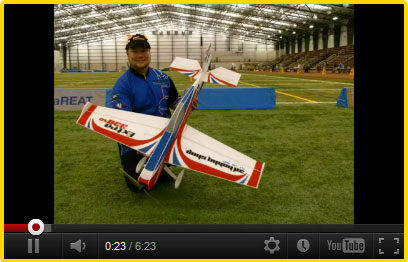 Imagine using one cable and one receiver to control up to 16 servos. Imagine being able to plug in battery packs anywhere you want. Imagine a system that simplifies setup, yet gives you more programming power at the same time.

You can operate on up to 8 channels using the 8 standard PWM inputs. Servo options are wide open, ranging from simple analog to S.Bus and new S.Bus2 servos.

You have access to up to 18 channels (16 proportional + 2 digital) through the 18MZ's two S.Bus2 ports. That means simpler, more foolproof setup and full support for S.Bus and S.Bus2 servos.



New LOWER Prices for all Jeti Brushless ESCs!!!
Same Quality for 10-20% Less!!!
Spin Pro 66 ($125)


Spin Pro 77 Opto ($195)


Spin Pro 300 Opto ($560)


Jeti ECO 25 ESC ($36)


Jeti SPIN controllers will give you unprecedented control of the programming for your brushless motors.
Any SPIN controller can be used either in airplanes, sailplanes, fix pitch or 3D helicopters (constant RPM).


Advance 40 Pro ($75)


Advance 70 Pro SB ($115)


Advance 90 Pro Opto ($220)


Programming Card ($8)


Jeti makes one of the easiest to use brushless motor controllers with the most features. It is very easy for you to set up the different functions. The controllers automatically detect the number and type of batteries to set the low voltage motor cutoff point even for Lithium batteries.
New LOWER Prices for MKS Servos... IN STOCK!!!
| | | |
| --- | --- | --- |
| MKS Ds6125-H Thin Servo | MKS Ds95MG High Speed Servo | MKS Ds6125-Mini Wing Servo |
| | | |

The Jeti Model AFC connectors eliminate the flashes often witnessed when connecting controllers and battery packs. Available in 4mm and 5.5mm variants the female plug sports a SMD resistor that does away with the usual flashed that occur during connection and that can harm the surface of both the male and female plug. The sets contain two male connectors, a usual female and an AFC female connector together with red and black shrink wrap.

Replace your existing connectors or install inline between your existing connector and speed controller for eliminating connecting flash spark.



3DH ARF Airplanes Back IN STOCK!!!!!
3DH/41 Edge 540 30e (ARF)

3DH/42 AJ Slick 30e (ARF)

3DH/47 Extra 300 40e (ARF)

3DH/46 Yak 55 40e (ARF)

3DH/65 Vyper 60e (ARF)

3DH/62 Osiris 50e (ARF)

3DH/71 AJ Slick 90e (ARF)

3DH/72 Extra 330 90e (ARF)


Special:

Reichard CZ ARF Sailplanes
Now up to 20% OFF for Selected Models!!!
| | | |
| --- | --- | --- |
| Magic 2E F5J (ARF) $220.00 | Magic Special 2E F5J (ARF) $236.00 | Maxx 2E F5J (ARF) $220.00 |
| | | |
Brand New Web Site Section for Sailplanes!!!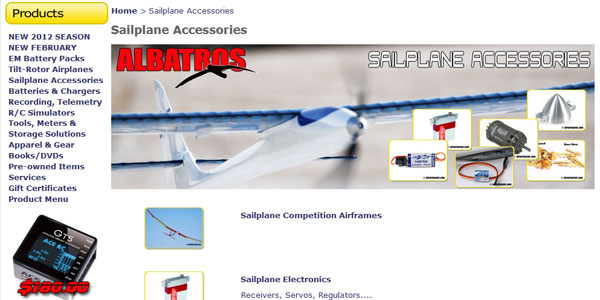 ---
Esprit Model 321.729.4287 has sent this email to you because your account preferences indicate that you want to receive Information about Special Promotions, Offers and Events. Esprit Model 321.729.4287 will NEVER request personal information in any email. (Passwords, Credit Card/Bank Numbers).

UNSUBSCRIBE:

Registered Users:
Click here

Unregistered Users:
To unsubscribe from our database please send empty email to newsletter@espritmodel.com with subject: UNSUBSCRIBE your email or click here.