Newsletter - AIR/HELI: 08/2012 III
For comments and suggestions please email us at support@espritmodel.com.

Stop By for Your Daily News Fix!!!
Brand New EM Blog!!!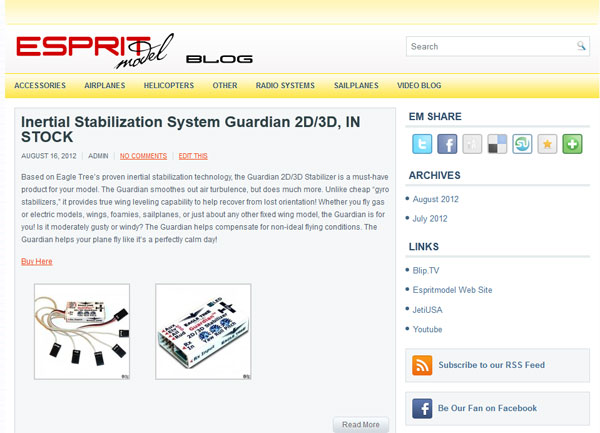 Jeti Duplex 2.4Ghz DC-16 Radio System with
Full Telemetry
$1090.00

!!!!
UNLIMITED FLEXIBILITY & TOTAL PROGRAMMING FREEDOM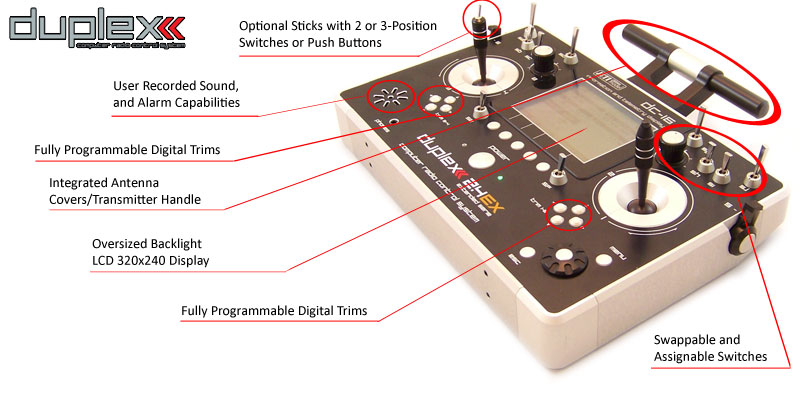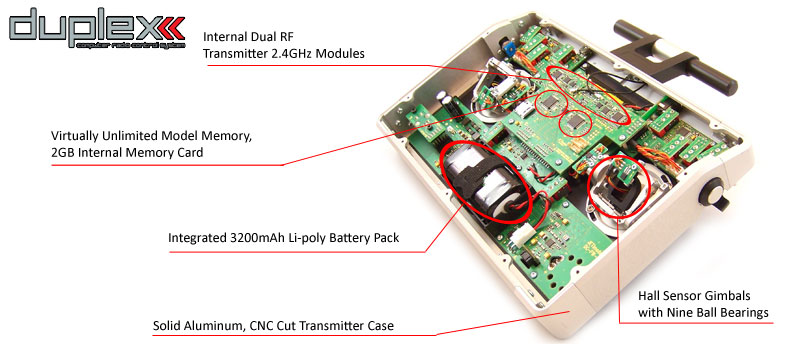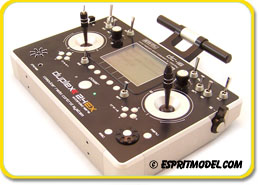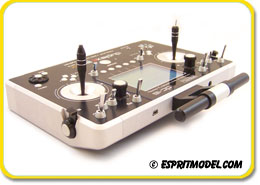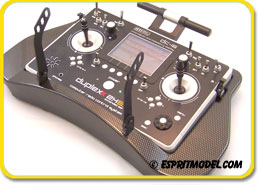 Probably the most important feature of Jeti's transmitter is the gimble stick and switch function assignment flexibility. For the first time you are free to fully customize your radio. You can swap switches or sticks (Mode 1-4) and the on-board computer will recognize your changes and assign functions any where you like. Other important functions are: programmable Sounds/Alarms and Voice Commands. This feature was specifically designed to keep you informed while also keeping distractions to a minimum.

Special Features:
- Integrated Li-polymer battery pack
- Metal construction using CNC cut aluminum frame parts
- Fully customizable switch and stick assignments
- Built-in speaker, headset jack, mini USB port
- Large 320x240 display with backlight
- Fully digital 16-channels with digital trims
- Full Duplex telemetry sensor support for real-time data
- Sound, voice and alarm capabilities
- 2GB internal memory


DG-1000 Super Scale Sailplane, IN STOCK!!!!!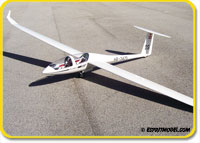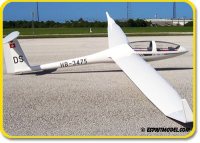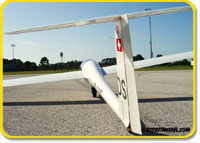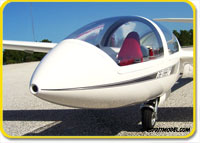 DFS Reiher II Super Scale Sailplane, IN STOCK!!!!!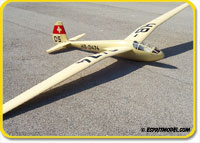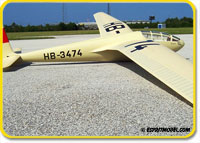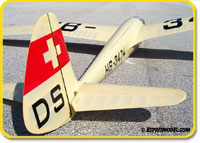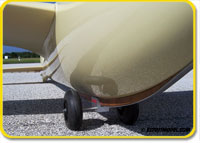 The Reiher prototype was first flown in 1937. Hans Jacobs and the DFS designed and built a sailplane that emphasized aerodynamics and a thinner wing profile promising better penetration without sacrificing performance in thermals. Several issues were immediately apparent upon the maiden flight of the Reiher prototype which led to the quick evolution of the Reiher Mark II. The Let Model's scale version of this beautiful sailplane comes with the fiberglass fuselage and flawless finish in white or beige gel-coat. The canopy is removable with fiberglass frame and comes complete with a scale-like latch. The cockpit is completed with instrument dashboards and fiberglass seats, just like the actual plane. Releasable launch wheels as well as tow release are also installed.

This modern, scale model of full size DFS Reiher II with its fiberglass fuselage and its composite reinforced, obecchi sheeted foam core scale wings flies as well as full size sailplane originally built in 1937. The careful use of composites with competition wood creates a good light structure that will hold its shape for a long time.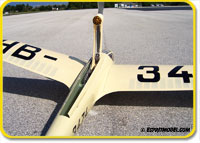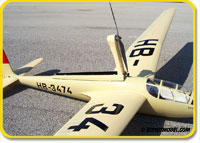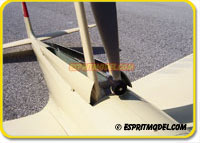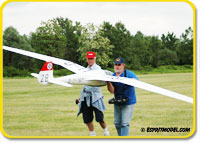 Get
15-25% OFF

HeliCommand Flybarless Systems
HC3-SX, HC3-XBase, Xtreme and 3A/3D/Rigid !!!
Next 72 hours ONLY (

Limited Stock)



HC3-XBase Now Only:

$189.00 (Sold for $250.00)

The HC3-SX is a high-quality, compact designed Flybarless system (Rigid) and replaces the mechanical flybar on the rotor heads of all current RC helicopters. Additionally this unit features the well-known and patented Horizontal mode (self-leveling), which brings the heli back to horizontal attitude anytime you let go off the sticks.

The all-round precision is outstanding, whether it is the extremely dynamic maneuvers (F3N flying style), aerobatics (F3C), or hovering stability. All maneuvers are performed with directional stability, i.e. with no disruptive influences at all, and with maximum stopping performance. This is achieved with minimum need for adjustment thanks to the intelligent and optimized control algorithms.


Align 450 Pro DFC Super Combo, IN STOCK!!!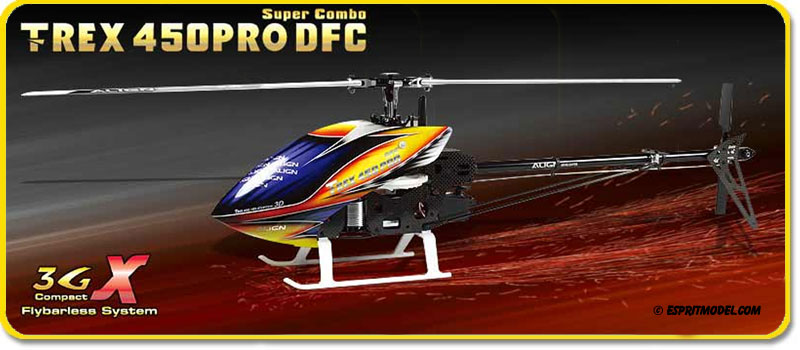 Align offers the most complete high-performance, high-quality helicopters in the industry. The NEW T-Rex 450 Pro DFC Super Combo boasts a 400-size airframe, but with a performance level far beyond the equivalent size of glow helicopter. Align continues to set a new standards in both quality and price. The new T-Rex 450 Pro DFC Super Combo continues this tradition which was first established with its predecessor the T-Rex 450.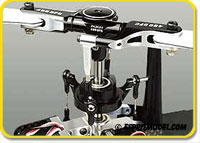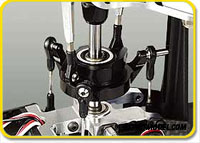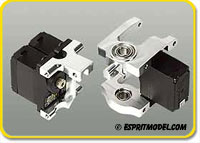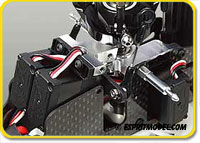 Pulsar Pro 3.6E RES & REF Sailplanes, IN STOCK!!!
Nicest & Most Advanced Pulsars yet!!!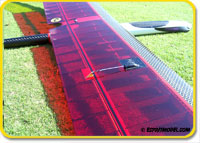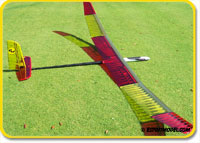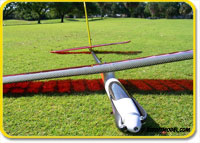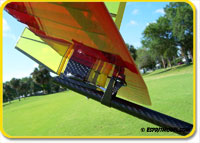 The Pulsar 3.6E Pro RES is the latest and largest addition to the ever-growing Pulsar family of hand-made electric sailplanes. Built at our request, this model is the competition version of the 3.6m Pulsar. The Pulsar 3.6 models use the AG25 modified airfoil designed by Dr. Mark Drela specifically for 3m and larger thermal duration planes. Just like its smaller cousins, the entire model is constructed using free-flight techniques. The wing is a balsa built-up Carbon Fiber and Kevlar D-box design that utilizes carbon fiber faced balsa ribs and carbon fiber trailing edge. The open section of the wing, as well as the tail parts, are covered with UltraCote. The fuselage is made of white gel-coated 2.4GHz friendly fiberglass/Kevlar with carbon fiber tapered boom and removable carbon fiber canopy.
New Pulsars Pro 3.2S/3.6S RES/REF, IN STOCK!!!!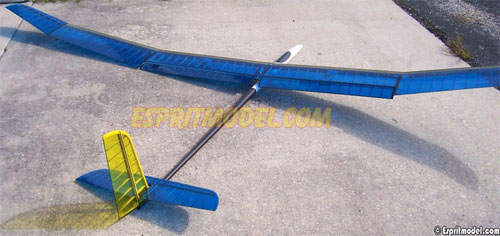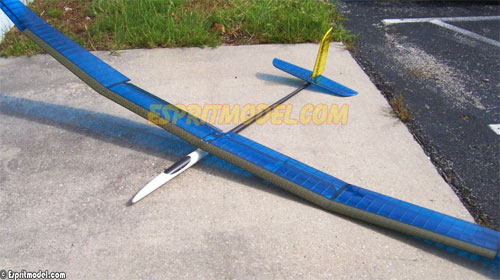 New Pulsars Pro 3.2S/3.6S RES/REF, IN STOCK!!!!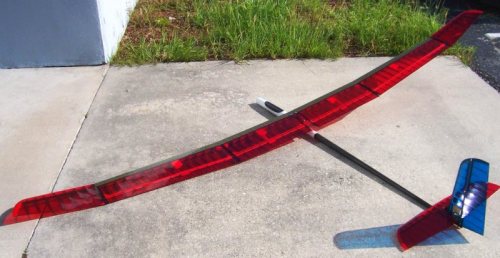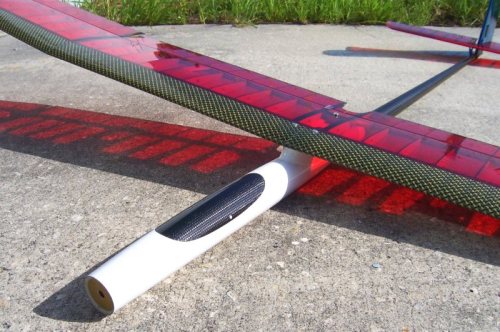 SPECIAL:

Get $100.00-$130.00 OFF!!!!

Looks like it's time for an upgrade. Hard to believe, but we were also surprised that our Pulsar manufacturer was able to improve already excellent airplanes. We just received the whole new shipment of Pro Pulsars, and it's time to make space in the warehouse.

Because of this we have decided to discount older models, and make our friends very happy!!!!
| | | |
| --- | --- | --- |
| Pulsar 3.2E REF | Pulsar 3.2E RES | Pulsar 3.2S RES |
| Pulsar 3.2S | Pulsar 3.6E RES | Pulsar 4E |
PT high performance propellers from the Czech Republic feature hollow molded blades fabricated from unidirectional and bi-directional carbon fiber and epoxy.

While very light, they are super strong, with a solid center hub area allowing them to be drilled for multi-bolt hubs. The finish is a beautiful high gloss, clear epoxy gel-coat over black woven carbon fiber. All are factory balanced.

Lightweight molded Carbon Fiber construction reduces rotating mass for less drag and more efficiency.
KBDD Extreme Edition Main Blades MCPX

KBDD is legendary for their incredibly durable high performance tail blades, dampers and paddles. Now they have applied their world class expertise to main blades for micro-copters. The Blade MCPX gets a upgrade with the availability of the Extreme Edition Main Blades. Tired of constantly replacing your stock blades? Want better performance? KBDD has made a main blade you will find hard to break. These blades can take a beating and still fly. The KBDD legend continues
KBDD Extreme Edition Tail Blades
| | |
| --- | --- |
| | KBDD Dream Design Tail Blades are created using a complex combination of materials which provide the perfect mix of strength and flexibility. The blades have a large surface area yet weigh very little. The compounds and design utilized allow the blades to have excellent holding power. KBDD tail blades offer the performance of carbon fiber but are much more durable and cost far less. |
Based on Eagle Tree's proven inertial stabilization technology, the Guardian 2D/3D Stabilizer is a must-have product for your model. The Guardian smoothes out air turbulence, but does much more. Unlike cheap "gyro stabilizers," it provides true wing leveling capability to help recover from lost orientation! Whether you fly gas or electric models, wings, foamies, sailplanes, or just about any other fixed wing model, the Guardian is for you! Is it moderately gusty or windy? The Guardian helps compensate for non-ideal flying conditions. The Guardian helps your plane fly like it's a perfectly calm day!

To stabilize your model, just mount the Guardian in a level orientation (it can even be mounted upside down), connect it to your servos and receiver with the included cable, tune it to your plane with a small screwdriver, and set optional features with your radio sticks. No computer or additional equipment is required for stabilization.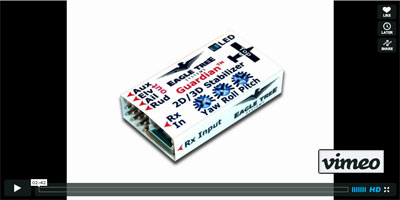 Jeti Electronic Switches with Magnetic Key, IN STOCK!!!!
Time to Ditch your Mechanical Radio Switch!!!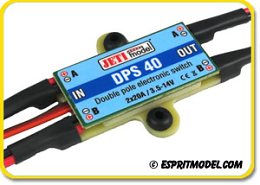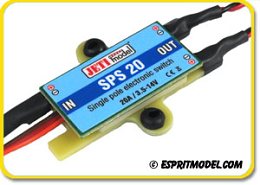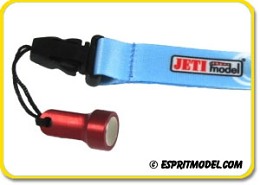 The SPS 20 and DSP 40 from Jeti is a single pole electronic switches operated with the included magnetic key. The advantage of an electronic switch is that it offers a virtual unlimited on/off cycle, unlike mechanically operated switches.
Jeti Brushless ESCs, IN STOCK!!!
Spin Pro 66 ($109)


Spin Pro 77 Opto ($169)


Spin Pro 300 Opto ($495)


Jeti ECO 25 ESC ($36)


Jeti SPIN controllers will give you unprecedented control of the programming for your brushless motors.
Any SPIN controller can be used either in airplanes, sailplanes, fix pitch or 3D helicopters (constant RPM).


Advance 40 Pro ($75)


Advance 70 Pro SB ($95)


Advance 90 Pro Opto ($195)


Programming Card ($8)


Jeti makes one of the easiest to use brushless motor controllers with the most features. It is very easy for you to set up the different functions. The controllers automatically detect the number and type of batteries to set the low voltage motor cutoff point even for Lithium batteries.

---
Esprit Model 321.729.4287 has sent this email to you because your account preferences indicate that you want to receive Information about Special Promotions, Offers and Events. Esprit Model 321.729.4287 will NEVER request personal information in any email. (Passwords, Credit Card/Bank Numbers).

UNSUBSCRIBE:

Registered Users:
Click here

Unregistered Users:
To unsubscribe from our database please send empty email to newsletter@espritmodel.com with subject: UNSUBSCRIBE your email or click here.