New Features of the Jeti 1.06.08 Software!!!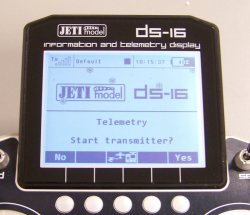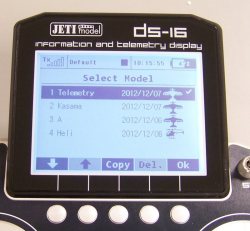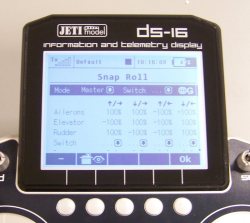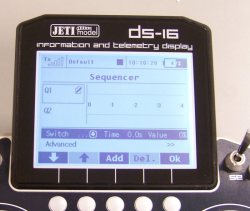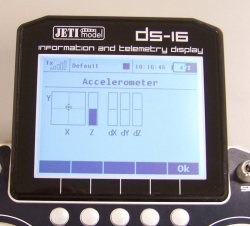 This is just the "Quick Preview" of the updates that are coming with the new 1.06.08 version of the Jeti Duplex DC/DS-16 software. Like always there is something to look forward to.

1) Weather forecast (Not really)
2) Direct access to model selection from initial screen
3) Snap Roll mixer
4) Sequencer
5) Accelerometers (Just DS-16)

(Full Story)


---
Early Christmas, Big Savings from Futaba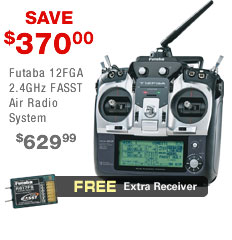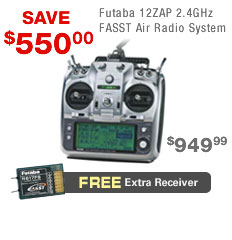 Early Christmas is here, Futaba would like to surprise you. Save up to $550.00 on your new T12Z 12 channel radio or up to $370.00 on new T12FG 12 channel radio and it gets even better. Buy radio and get an extra FREE receiver.

(Full Story)


---
The Family is Complete, All Pulsars Pro are On the Web Site!!!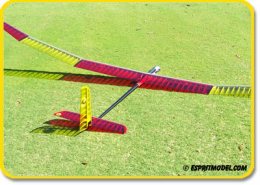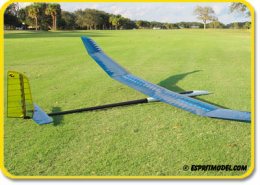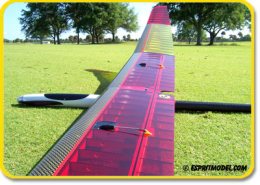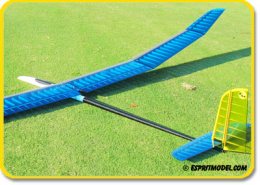 The Pulsar 3.2 and 3.6 Pro Competition are the latest addition to the ever-growing Pulsar family of hand-made competition/sport sailplanes. Built at our request, this models are the improved version of the older Pulsars. All models use the AG25 modified airfoil designed by Dr. Mark Drela specifically for 3m and larger thermal duration planes. Just like its smaller cousins, the entire model is constructed using free-flight techniques.

(Full Story)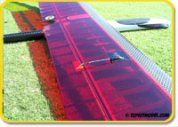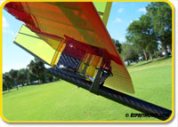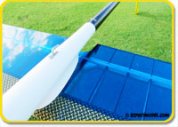 ---
(45) Sizes of Aeronaut CAM Electric/Glow Propellers, In Stock!!!!!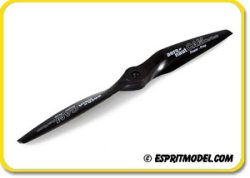 A new range of propellers from well known German manufacturer Aeronaut. Propellers can be used for glow engines and electric motors. All designs are based on the outstandingly successful range of Cam Carbon folding propellers.

From 7x7 up to 18x10!!!

(Full Story)


---
PT Electric Carbon Fiber Extreme Lite Propellers, In Stock!!!!!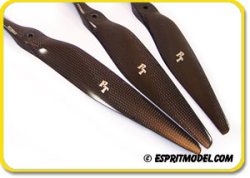 PT Electric Lite high performance propellers from the Czech Republic feature hollow molded blades fabricated from unidirectional and bi-directional carbon fiber and epoxy. The Carbon Extreme Lite line of propellers is 40-45% lighter that standard electric propellers.

Extreme strength and extra lightweight molded Carbon Fiber construction reduces rotating mass for less drag and more efficiency.
(Full Story)


---
(74) Sizes of Xoar Electric White Propellers, In Stock!!!!!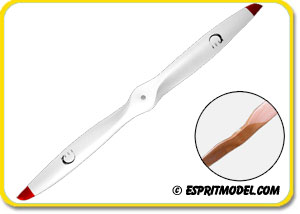 Xoar's hand crafted propellers are designed for the best performance and efficiency in both gas and electric applications.
From 10x4 up to 28x12!!!
(Full Story)

---
With Jeti Duplex DS-16 "You Are the Master"!!!
Check out our newest introductory video of the Jeti Duplex DS-16 Radio. You are going to see few samples of Telemetry, Voice Announcements and Software Updates. We even set up the system that it will literally worship you, check out the 1:50 of the video. The DS-16 is ready to serve: "Good morning master, I am Jeti DS-16 and I am ready to serve You"

We made it possible using www.Ivona.com "Text-To-Speech" engine.


Look Who is Talking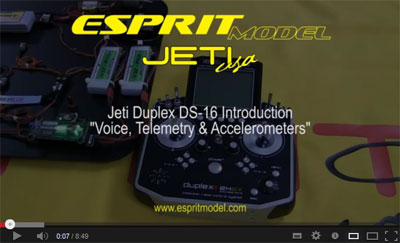 ---
Jeti Duplex DS-16 Radio is Finalized for Production!!!
Looks like we have settled all the details. Final version of the Jeti Duplex DS-16 is even better than expected. For better reception we have decided to go with two RF modules and three antennas. One of the modules has 2x antennas, this way all broadcasting angles are covered. The LCD case is made of smooth black plastic, this way there are no shielded spots.

More information (links):
* Jeti Duplex DS-16 Instruction Manual (.pdf)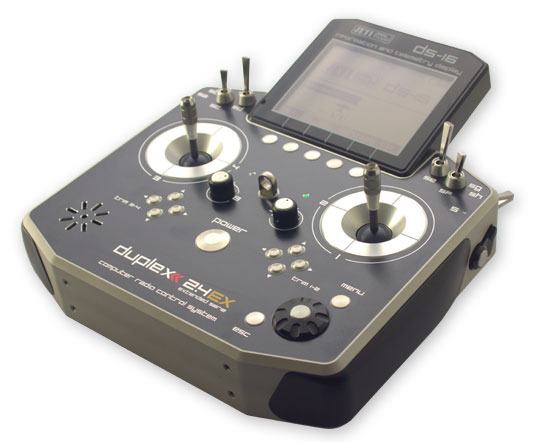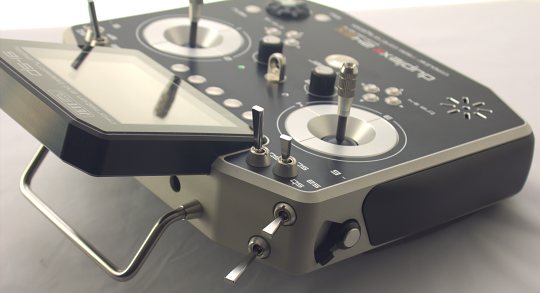 ---
Jeti Duplex 2.4GHz DC-16 Radio System, IN STOCK!!!
- Full Telemetry
- Computer Synthetized Voice
- Dual RF Module
- Unlimited Model Memory
- Voice, Alarm, Play Back Music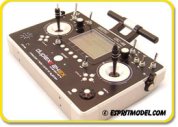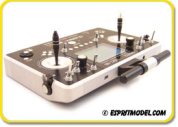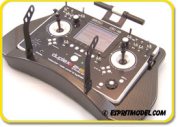 Probably the most important feature of Jeti's transmitter is the gimble stick and switch function assignment flexibility. For the first time you are free to fully customize your radio. You can swap switches or sticks (Mode 1-4) and the on-board computer will recognize your changes and assign functions any where you like. Other important functions are: programmable Sounds/Alarms and Voice Commands. This feature was specifically designed to keep you informed while also keeping distractions to a minimum.
Special Features:
- Integrated Li-polymer battery pack
- Metal construction using CNC cut aluminum frame parts
- Fully customizable switch and stick assignments
- Built-in speaker, headset jack, mini USB port
- Large 320x240 display with backlight
- Fully digital 16-channels with digital trims
- Full Duplex telemetry sensor support for real-time data
- Sound, voice and alarm capabilities
- 2GB internal memory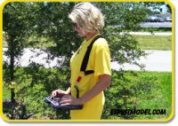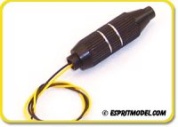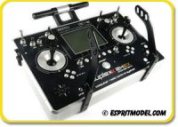 ---
Duplex 2.4GHz Receiver PPM Output
Our line of R11, R9, R7, R6, R6i and R5/5i receivers have very elegant solution for PPM signal output. This feature is mostly used by helicopter pilots for the Flybarless units. Our Duplex 2.4GHz receivers can be switched from standard channel servo output mode to PPM and Telemetry out using JetiBox Programmer Unit.

(Full Story)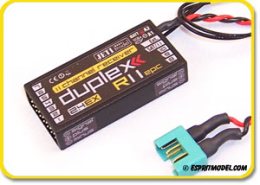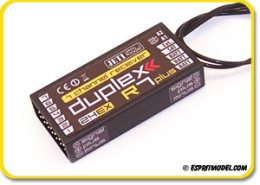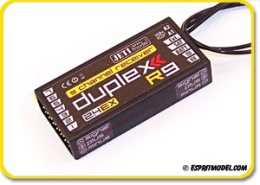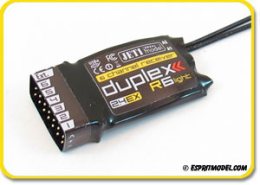 ---
Creating Custom Audio Files & Custom Voice Announcements!!!
Voices and audio samples are generated using online Text-To-Speech engines. All files are free for general use; distribution and modifications are allowed. If you are going to use these samples in your own application or want to create other additional sound files, please refer to the websites and terms of use of these generators.

Read file on you DC/DS-16 sd card \Voice\Voices.txt

Language: CZ
Generator: http://www.acapela-box.com
Voice: Eliska

Language: EN
Generator: http://www.ivona.com/en/recordings
Voice: Jennifer

Language: DE
Generator: http://www.ivona.com/en/recordings
Voice: Marlene

Language: FR
Generator: http://www.ivona.com/en/recordings
Voice: Celine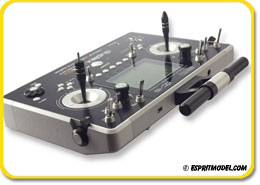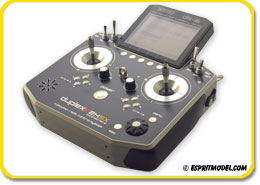 ---
Jeti Electronic Switches with Magnetic Key, IN STOCK!!!!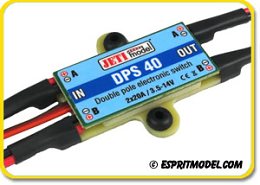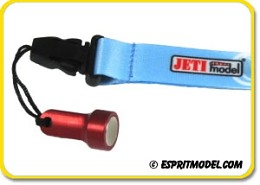 The SPS 20 and DSP 40 from Jeti is a single pole electronic switches operated with the included magnetic key. The advantage of an electronic switch is that it offers a virtual unlimited on/off cycle, unlike mechanically operated switches.

(Full Story)



---
Jeti Duplex 2.4Ghz Telemetry Interactive Page!!!