Our 11th Anniversary Gift from Your Friends at Esprit Model!!!
Get
11% OFF

any In Stock Items!!!*
(Will be Better at 100th Anniversary :)

Next 24 hours ONLY

Coupon Code:

A112013

(Expires January 4, 2013 at 24:00 EST US)

We would like to express our gratitude and appreciation to all of our customers we have had the pleasure to do business with. Esprit Model would not be the leader without our highly competent and innovative business partners and supporters. We are very proud to be your favorite Hobby Shop and we would like YOU to be part of our 11th Anniversary Celebration.

In the last 11 years the hobby and business environment has changed dramatically. In today's business world we can communicate, learn, and talk 24/7. Help and good advice is only a click away. With these words on this beautiful day we can look confidently into the future. With your support and cooperation our future looks brighter than ever.

We are always looking for a fellow pilots, hobbyist, and partners who would like to contribute and improve Esprit Model's legacy. Ok that's enough, Let's Go Flying!

Thank you, Lucy Blaha
CEO, Esprit Model

Our History:
2001 September: First, Initial Idea about Esprit Model
2002 Official Company & Web Domain Name Registration
2002 Our First Expo Indoor Show: WRAM in NY
2003 Relocating to Florida for the Opportunity to Fly Year-Round in the Sunshine State
2004 Adding Helicopters to Our Airplane and Sailplane Portfolio
2004 As First Retail Outlet, Adding Lithium Polymer Battery Packs to Our Line
2005 Upgrading the Esprit Model Website to include On-Line Ordering
2006 Opening the Esprit Model Retail Store, Expending Our Line of Products
2007 Supporting the New Trend: Spektrum & Futaba 2.4GHz Radio Systems
2008 Moving to our New Store and Adding Warehouse (Breaking our All Time Sales Record)
2009 Upgrading Esprit Model's Website to Second-Generation E-Commerce
2010 Adding New Manufactures to Our Portfolio and Expanding our International Customer Base
2011 Esprit Model Continues Adding More Employees to Our Team
2012 Adding Jeti Model Brand of ESCs, Telemetry & Radio Systems to Our Line
2012 Jeti USA, FCC Certification of Jeti Duplex 2.4GHz Radio Systems
2012 Upgrading Esprit Model's Website to 3rd Generation E-Commerce (Web 2.0)


* We Reserve right to exclude certain Items from this promotion due to Manufacturer/Distributor MAP Policy.

---
Esprit Model & Jeti USA for the First Time at the West Coast!!!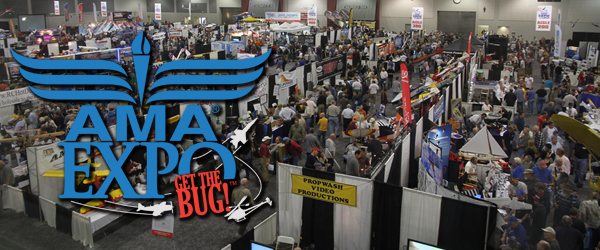 Only 7 Days Until AMA Expo 2013, Ontario, California!!!
Stop by to see us at the AMA Expo, Ontario, California, January 11-13, 2013 (Booth 411-413).
We packed 4x Creates and additional 3x Huge Boxes full of presents and surprises.
Expo 2013 is bigger and better than ever with more than 100 exhibitors featuring 222 booths. This includes 18 new exhibitors showcasing and selling the latest in model flying products. The swap shop is bigger too with 34 tables of great finds and one-of-a-kind items. Add special guest speakers, an AMA membership meeting, FAA forum, flying demos, and exhibits such as a Spruce Goose scale flying model with a 25-foot wingspan and you have a great Expo experience just waiting for you!
---
Jeti Duplex 2.4GHz Radio Systems!!!
In the words of one of our customers:
Without a doubt, the DC-16 is the finest radio now on the market from a quality of construction and programming perspective. There's virtually no plastic anywhere. The quality of machining, the precision of the stick assemblies, the size of the display is truly outstanding and the ease, simplicity, flexibility power and elegance of the programming is second to none.


---
---
New Jeti Spin Pro SHED (Slim/Hotliner/Electric Ducted Fan) controllers will give you unprecedented control of the programming for your brushless motors. All includes Switching BEC that allows you to run up to 8 servos. Any SPIN controller can be used either in airplanes, sailplanes, fix pitch or 3D helicopters (constant RPM).

SPIN controllers can be quickly programmed without a computer; the SPIN BOX is all that is needed. SPIN controllers have a Data Logging function that lets you check and fine tune the setup of your airplane or helicopter. Readings for Peak controller temperature, Maximum current, Minimum current, RPM, Motor run time and many other parameters are recorded and can be viewed right on the SPIN BOX after a flight. This allows you to make adjustments immediately and fly again to see the results.