Our Gift from Your Friends at Esprit Model!!!
Time to Get Ready for New Flying Season!!!
Get
10% OFF

any In Stock Items!!!*

Next 48 hours ONLY

Coupon Code:

SPRING2013

(Expires March 17, 2012 at 24:00 EST US)




* We Reserve right to exclude certain Items from this promotion due to Manufacturer/Distributor MAP Policy.


---
Jeti Duplex 2.4GHz Radio Systems!!!
In the words of one of our customers:
Without a doubt, the DC-16 is the finest radio now on the market from a quality of construction and programming perspective. There's virtually no plastic anywhere. The quality of machining, the precision of the stick assemblies, the size of the display is truly outstanding and the ease, simplicity, flexibility power and elegance of the programming is second to none.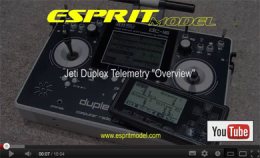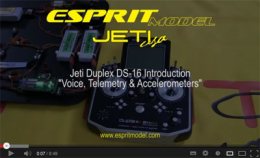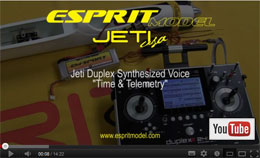 Jeti Duplex DC/DS-16 "Servo Sequencer"
Check out our newest video of the Jeti Duplex DS-16 Radio. You will see servo/function programmable sequencer in action as well as the way how to make it reality. We are programming scale bomb dropping sequence of the B-25, from door opening to releasing scale bombs and back to door closing with simple flip of the switch.



---
---
New Jeti Spin Pro SHED (Slim/Hotliner/Electric Ducted Fan) controllers will give you unprecedented control of the programming for your brushless motors. All includes Switching BEC that allows you to run up to 8 servos. Any SPIN controller can be used either in airplanes, sailplanes, fix pitch or 3D helicopters (constant RPM).

SPIN controllers can be quickly programmed without a computer; the SPIN BOX is all that is needed. SPIN controllers have a Data Logging function that lets you check and fine tune the setup of your airplane or helicopter. Readings for Peak controller temperature, Maximum current, Minimum current, RPM, Motor run time and many other parameters are recorded and can be viewed right on the SPIN BOX after a flight. This allows you to make adjustments immediately and fly again to see the results.



---

The Jeti Model AFC connectors eliminate the flashes often witnessed when connecting controllers and battery packs. Available in 4mm and 5.5mm variants the female plug sports a SMD resistor that does away with the usual flashed that occur during connection and that can harm the surface of both the male and female plug. The sets contain two male connectors, a usual female and an AFC female connector together with red and black shrink wrap.

Replace your existing connectors or install inline between your existing connector and speed controller for eliminating connecting flash spark.