Jeti Duplex 2.4GHz DS-16 Transmitter with Telemetry!!!
Without a doubt, the DS-16 is the finest radio now on the market from a quality of construction and programming perspective. There's virtually no plastic anywhere. The quality of machining, the precision of the stick assemblies, and the size of the display is truly outstanding and the ease, simplicity, flexibility power and elegance of the programming is second to none.
Alex Larionov, Russia

I would like to thank everyone, owners, management and staff, at Esprit for the vision and effort to bring the DS-16 to the shores of the USA. I picked up my DS-16 two days ago and could not be any happier with the radio or the service. I look forward to shopping at Esprit for my RC hobby needs. Please convey to everyone on the team my thanks and my hopes that your business efforts are rewarded in pursuing the American dream. Now, back to playing with my new DS16.
Howard, Florida, USA

Just to let you know my radio (Jeti DC-16) arrived at the door at 10:00 this morning. The pictures do not do any justice, it is a beautiful piece of workmanship. Keep up the good work, the modeling community needs people like you.
Regards
Richard ,Ottawa, Canada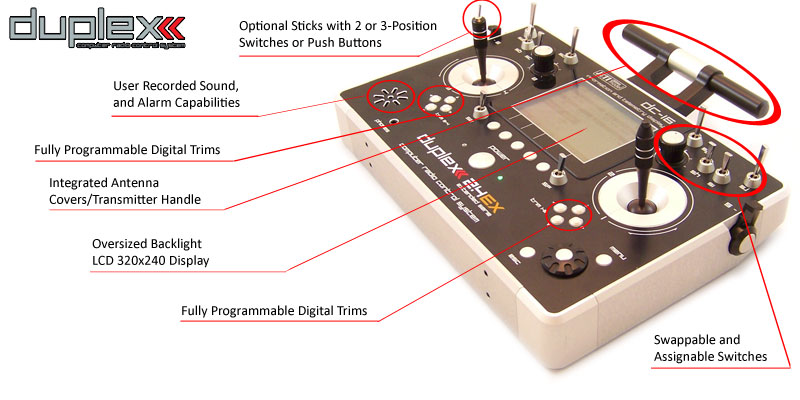 ---
Jeti Duplex 2.4GHz Dual Path, True Redundant RF Link!!!
Unlike satellite receivers, Dual Path provides a true redundant RF link. Utilizing the Duplex transmitter's twin independent RF modules in Dual Path mode you bind each RF module to a separate receiver. These receivers can then be used in several ways. For example:

Both receivers feeding a Jeti Central Box or other servo distribution systems such as the Powerbox.
Both receivers connected to the same set of servos via Jeti EnLinks
Using one receiver for each half of the model

---
Jeti Duplex 2.4GHz Device Explorer, True Wireless Programming Link!!!
Using the Duplex transmitters Device Explorer allows you to access the full range of Duplex receivers, sensors, and Mezon ESC's, all directly and wirelessly from the transmitter. No computers, no program boxes, no power resets. Simply use Device Explorer, change the setting, and fly.

Simply change Receivers Setting, set Fail-Safe or Output Pin assignment - All Wirelessly
See values, reset to factory setting - All Wirelessly
Program whole range of sensors, receivers and Mezon ESCs - All Wirelessly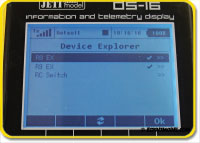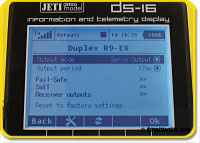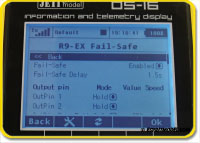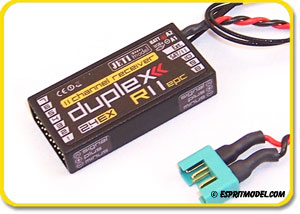 ---
True 21st Century Precision & Quality!!!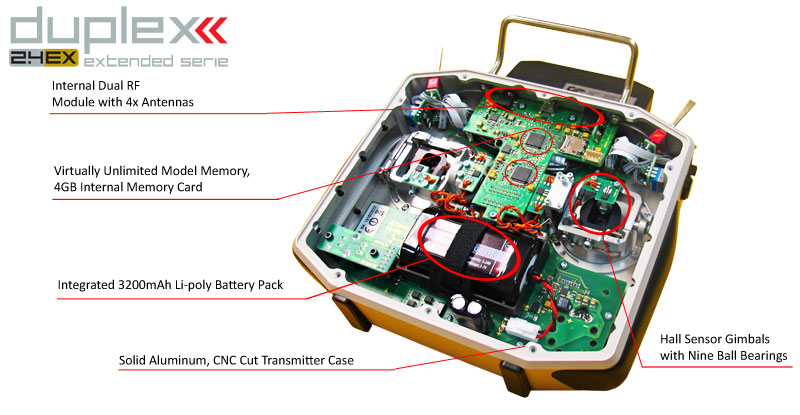 ---
Sebastian Vettel, James Moy, DJI S800 & Jeti DC-16 Radio System at Formula 1 Grand Prix Race in Monaco 2013!!!
Sebastian Vettel is a German Formula One racing driver, currently driving for the Austrian racing team Red Bull Racing. He is the current World Champion, having won the championship in 2010, 2011, and 2012.

http://en.wikipedia.org/wiki/Sebastian_Vettel