Jeti Telemetry Sensors, Monitors & Programmers, IN STOCK!!!
(Full Story)
---
Jeti Full Metal Transmitter Gimbals with 9 Ball Bearings & Hall Sensors !!!
(Full Story)
---
Telemetry Data of the Jeti DC/DS-16 Software!!!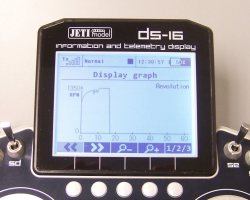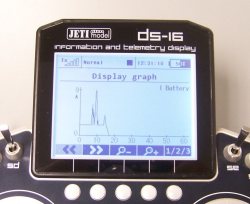 We have capabilities to display all logged telemetry data directly on the transmitter LCD screen.
(Full Story)
---
New Jeti DC/DS Transmitter Accessories, IN STOCK!!!
(Full Story)
---

Genius Grumania G-Trim single stick four-button trim configuration has been such a great idea. The handling is very simple and absolutely straightforward. From now on you are able to trim models in both directions simultaneously.

Made of black anodized aluminum, sold in Pairs.

(Full Story)



---
Jeti Duplex Power Management "Wireless Switch & Central Box"
Check out our newest video of the Jeti Duplex Power Management Unit. You will see the fully programmable Jeti Duplex Central Box power distribution unit and revolutionary Wireless Power Switch fully integrated into the 2.4GHz radio system. For first time your receiver can be turned ON/OFF with simple flipping of the switch wirelessly from the Jeti DC/DS-16 transmitter.


#### Revolutionary Wireless Receiver Switch ####
The Central Box features (15) Programmable Servo Output Channels. (3) Sensor Inputs, (2) Protected Power Input Connectors, and (1) Wireless or Magnetic Switch Connector.
(Full Story)
---
Creating Custom Audio Files & Custom Voice Announcements!!!
Voices and audio samples are generated using online Text-To-Speech engines. All files are free for general use; distribution and modifications are allowed. If you are going to use these samples in your own application or want to create other additional sound files, please refer to the websites and terms of use of these generators.



---
Jeti Duplex 2.4GHz Dual Path, True Redundant RF Link!!!
Unlike satellite receivers, Dual Path provides a true redundant RF link. Utilizing the Duplex transmitter's twin independent RF modules in Dual Path mode you bind each RF module to a separate receiver. These receivers can then be used in several ways. For example:

Both receivers feeding a Jeti Central Box or other servo distribution systems such as the Powerbox.
Using one receiver for each half of the model
---
Jeti Duplex Device Explorer, Wireless Programming Link!!!
Using the Duplex transmitters Device Explorer allows you to access the full range of Duplex receivers, sensors, and Mezon ESC's, all directly and wirelessly from the transmitter. No computers, no program boxes, no power resets. Simply use Device Explorer, change the setting, and fly.

Simply change Receivers Setting, set Fail-Safe or Output Pin assignment - All Wirelessly
See values, reset to factory setting - All Wirelessly
Program whole range of sensors, receivers and Mezon ESCs - All Wirelessly
---
Jeti Duplex 2.4GHz Telemetry Overview!!!!
One of the attractive features of the Duplex 2.4GHz line of products is it's full integration with all Duplex telemetry sensors. You can easily observe up to 40 different parameters in real-time directly on the transmitter. Or, by using the JetiBox Profi you can see your data in parallel mode giving you and your copilot valuable real-time information (see video).

(Full Story)



---
Jeti Mezon Lite 90 & 120 ESCs with Telemetry!!!

(Full Story)

Jeti MEZON ESC's advanced design and software are capable of unmatched precision and efficient motor management. With DUPLEX integration all data is measured in real time. Mezon ESCs were designed with a revolutionary BEC circuit capable measuring the exact battery capacity used and lets you set up a motor cut off point based not only on cell voltage but also on overall battery pack capacity. This function, combined with Jeti DUPLEX system, offers you full telemetry capabilities with the possibility of saving your data for further analysis.


---
Jeti Duplex 2.4Ghz Telemetry Interactive Page!!!
---

To ALL our Friends Out There Thank You for Showing your Esprit Team Support!!!

July 31st - August 4th, 2013!!!
Award Ceremony!!!
We would like to congratulate to the lucky winner of the revolutionary Jeti Duplex DS-16 2.4GHz radio system. The raffle drawing was held the August 3, 2013 at the IRCHA Jamboree 2013 Awards Ceremony.

We wish many happy flying hours to the Lucky Winner. And best of luck to the IRCHA staff for such an outstanding event.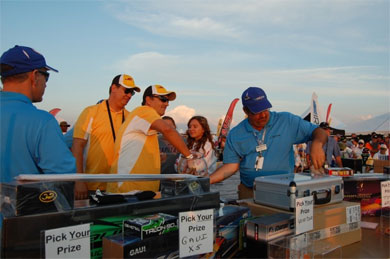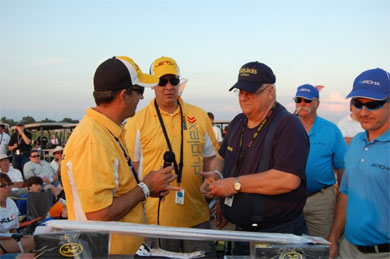 Award Ceremony!!!
We were so happy to see all of you guys supporting Team Esprit and Jeti USA. Thank you to every one of you. Without your support we would not be where we are today.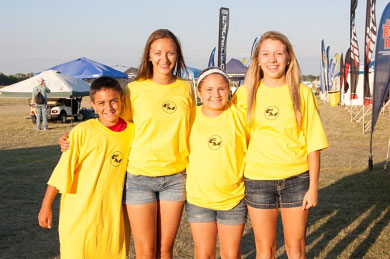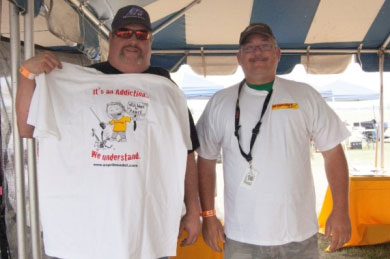 IRCHA - A Sight to Behold
We are back from Muncie, Indiana! Esprit Model and Jeti USA would like to thank everyone that made IRCHA 2013 the best yet. A special thanks to all our customers who showed their support. We cannot wait until next year! See you then.
Although pictures cannot even begin to describe the sight at the IRCHA Jamboree 2013, here are some pictures we thought captured the sights as best as possible.