Jeti Telemetry Sensors, Monitors & Programmers, IN STOCK!!!
(Full Story)
---
Telemetry Data of the Jeti DC/DS-16 Software!!!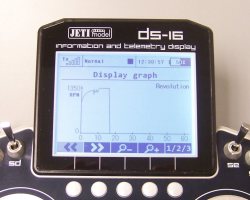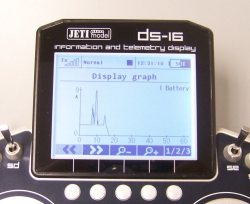 We have capabilities to display all logged telemetry data directly on the transmitter LCD screen.
(Full Story)
---
Jeti Full Metal Transmitter Gimbals with 9 Ball Bearings & Hall Sensors !!!
(Full Story)
---
New Jeti DC/DS Transmitter Accessories, IN STOCK!!!
(Full Story)
---

Genius Grumania G-Trim single stick four-button trim configuration has been such a great idea. The handling is very simple and absolutely straightforward. From now on you are able to trim models in both directions simultaneously.

Made of black anodized aluminum, sold in Pairs.

(Full Story)


---
Jeti Dual Redundant Switch DSM 10, IN STOCK!!!

The DSM 10 from Jeti is dual input redundant electronic switch designed to operate with included magnetic key. The advantage of an electronic switch is that it offers a virtual unlimited ON/OFF cycles, unlike mechanically operated switches. The redundant DSM 10 switch automatically monitors and switches between two power supplies (Rx Batteries) keeping your system operational.

(Full Story)


---
Jeti AFC Anti-Spark Connectors 4, 5.5, 8mm Good up to 300A!!!
---
Jeti 2.4GHz R4L and R4iL Receivers with Telemetry, IN STOCK (Only $49.00)!!!

Jeti R4 Duplex 2.4GHz receiver comes with limited telemetry. You can monitor Receiver Voltage and Signal Strength data using the Duplex JetiBox Profi or Jeti 2.4GHz Transmitters.

(Full Story)



Get Instant Savings for any In Stock Items!!!
Order today and save up to $150.00 instantly! Place at least a $100.00 order for a limited time and you will see instant savings from your total. All you have to do to claim your savings is to use Discount Code while you are placing your on-line order.
Up to $150.00 OFF!!! Up to $150.00 OFF!!! Up to $150.00 OFF!!!
Next 48 hours ONLY
(Expires November 10, 2013 at 24:00 EST US)

Save $5.00 off your $100.00 Order!




Save $10.00 off your $200.00 Order!




Save $20.00 off your $300.00 Order!




Save $30.00 off your $400.00 Order!




Save $45.00 off your $500.00 Order!




Save $90.00 off your $1000.00 Order! (Best)




Save $150.00 off your $1500.00 Order! (Best)



Discount Code:

01OFF


Discount Code:

02OFF


Discount Code:

03OFF


Discount Code:

04OFF


Discount Code:

05OFF


Discount Code:

06OFF


Discount Code:

07OFF







---
The Jeti Duplex 2.4GHz DC-16 "Limited Edition" Carbon Line Computer Radio System, $1495.00
The DC-16 Carbon represents Jeti's new flagship, State-of-the-art, transmitter that sets a new standard for the RC Industry. Jeti's final touches and finishes are outstanding. The front panel of the system is made of genuine Carbon Fiber with UV stabilized acrylic clear coating as well as aluminum frame which is finished in multi-layer automotive paint.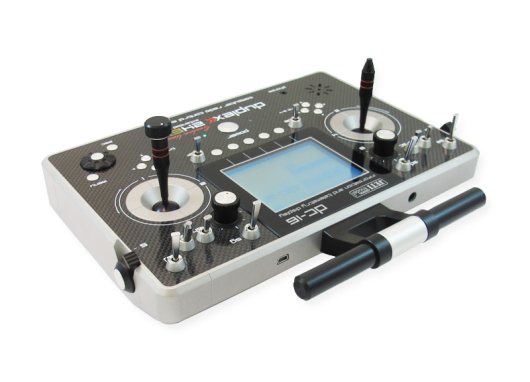 ---
---
Jeti Duplex Power Management "Wireless Switch & Central Box"
Check out our newest video of the Jeti Duplex Power Management Unit. You will see the fully programmable Jeti Duplex Central Box power distribution unit and revolutionary Wireless Power Switch fully integrated into the 2.4GHz radio system. For first time your receiver can be turned ON/OFF with simple flipping of the switch wirelessly from the Jeti DC/DS-16 transmitter.

The Central Box features (15) Programmable Servo Output Channels. (3) Sensor Inputs, (2) Protected Power Input Connectors, and (1) Wireless or Magnetic Switch Connector.

(Full Story)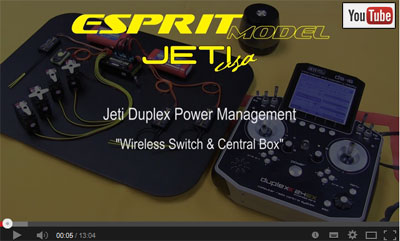 ---
Servo Balancer for Multi Servo Wing Surfaces!!!
The function of the servo balancer is designed for large models that have control surfaces driven by mechanically linked servos. Since each servo can be preset from the factory in a different way and mounting servos into the model is not always accurate, it is now possible to set servo travel algorithmically to ensure minimum mechanical stress during the movement of the controls.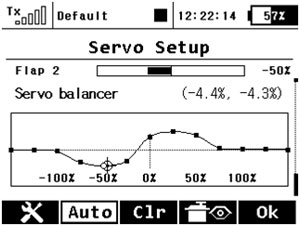 ---
Advanced Options for Gyro Settings!!!
Now it is possible to make up to three independent functions for controlling gyro gain. By default, gyro No. 1 is always active. The others are activated in the Model --> Basic Properties menu together with the Governor function.

In the Gyro settings menu it is possible to edit up to three main values for each gyro function in all flight modes separately according to the position of the main control/switch.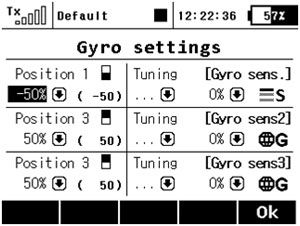 ---
PPM Input Port for External Devices!!!
The DC-16 now comes fully equipped to deal with the demand of FPV head trackers with its PPM input port. The port can support up to 8 channels of throughput and is compatible with all Fat Shark and Carl Zeiss FPV Goggles. As always with the Jeti line of transmitters you can assign any of the PPM channels to any function of the transmitter, making the DS-16 and DC-16 one of the best transmitters available for FPV. (The head tracking module for Fatshark and Carl Zeiss must be purchased separately in order to utilize these features.)

The transmitter can handle up to 8 channels of the PPM input signal. The signal should be present on the pin No. 1 (the DC/DS-16 user manual calls this pin as reserved). To prevent any damage, you need to use the 3V logic level and protective elements on the input. Within the application you can assign any of the PPM channels to any function of the transmitter - use a standard control input selection dialogue. The PPM input is not linked with the trainer system in any way and works separately. Possible use in cooperation with head-tracking systems etc.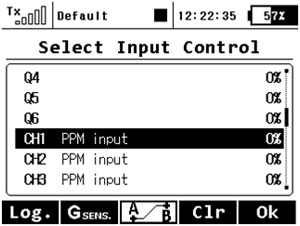 ---
Jeti Duplex 2.4GHz Dual Path, True Redundant RF Link!!!
Unlike satellite receivers, Dual Path provides a true redundant RF link. Utilizing the Duplex transmitter's twin independent RF modules in Dual Path mode you bind each RF module to a separate receiver. These receivers can then be used in several ways. For example:

Both receivers feeding a Jeti Central Box or other servo distribution systems such as the Powerbox.
Using one receiver for each half of the model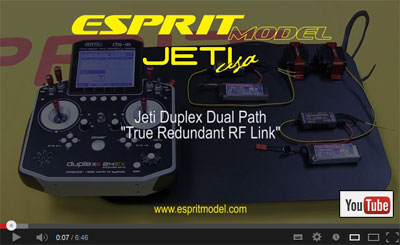 ---
Curtis Youngblood Stingray, IN STOCK!!!



The Stingray is a collective pitch fully aerobatic quad-copter that allows for 3D flight. With the ability to move in forward, backward, and sideways directions, and complete maneuvers such as, but not limited to, loops and rolls, the possibilities of FPV become limitless. Made with everyone in mind, the stingray also offers a stable and smooth beginner flight to those just starting.

The first of its kind, the stingray creates the ability to have a fully aerobatic FPV and general sport/competition flying previously not possible in sustained maneuvers on multi-rotor machines.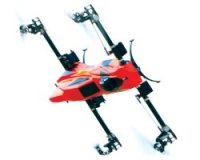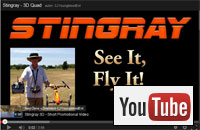 ---