Jeti Telemetry Sensors, Monitors & Programmers, IN STOCK!!!
(Full Story)
---
Telemetry Data of the Jeti DC/DS-16 Software!!!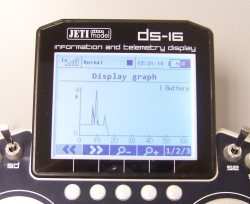 We have capabilities to display all logged telemetry data directly on the transmitter LCD screen.
(Full Story)
---
Jeti Full Metal Transmitter Gimbals with 9 Ball Bearings & Hall Sensors !!!
(Full Story)
---
New Jeti DC/DS Transmitter Accessories, IN STOCK!!!
(Full Story)
---
New Jeti Competition Phasor Race 2014, 2026, 2035 Geared Motors, IN STOCK!!!

The Phasor Race design represents the best combination of high performance and durability. The whole line of Jeti Phasor motors targets mainly professionals and competition FAI F5B, F5F, F5J pilots looking for uncompromised precision and quality. The Jeti motors are made using 20mm, 4-pole rotors wrapped in Kevlar and designed to withstand up to 70,000 RPM.

(Full Story)


---
Jeti Dual Redundant Switch DSM 10, IN STOCK!!!

The DSM 10 from Jeti is dual input redundant electronic switch designed to operate with included magnetic key. The advantage of an electronic switch is that it offers a virtual unlimited ON/OFF cycles, unlike mechanically operated switches. The redundant DSM 10 switch automatically monitors and switches between two power supplies (Rx Batteries) keeping your system operational.

(Full Story)


---
Jeti AFC Anti-Spark Connectors 4, 5.5, 8mm Good up to 300A!!!
---
Jeti 2.4GHz R4L and R4iL Receivers with Telemetry, IN STOCK (Only $49.00)!!!

Jeti R4 Duplex 2.4GHz receiver comes with limited telemetry. You can monitor Receiver Voltage and Signal Strength data using the Duplex JetiBox Profi or Jeti 2.4GHz Transmitters.

(Full Story)


---
Jeti Voltage Regulator SBEC 40 5-8V/40A w/Magnetic Switch !!!
The SBEC 40 from Jeti is a switching BEC designed to operate with included magnetic key. The advantage of an electronic switch is that it offers a virtually unlimited ON/OFF cycles, unlike mechanically operated switches.
(Full Story)
Our Gift from Your Friends at Esprit Model!!!
Get
10% OFF

any In Stock Items!!!*
---
Jeti USA & Esprit Model $100.00 Promotion!!!
Limited Time ONLY, Buy Jeti DS-16 or DC-16 Radio System and Receive $100.00 Gift Certificate from Us for Your Future Purchases. (The Gift Certificate will be Shipped with your Radio).*
(Expires January 31, 2014 at 24:00 EST US)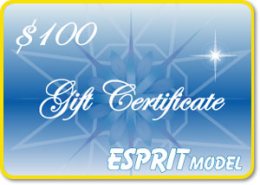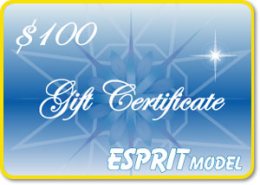 *This offer is not retroactive
---
The Jeti Duplex 2.4GHz DC-16 "Limited Edition" Carbon Line Computer Radio System, $1495.00
The DC-16 Carbon represents Jeti's new flagship, State-of-the-art, transmitter that sets a new standard for the RC Industry. Jeti's final touches and finishes are outstanding. The front panel of the system is made of genuine Carbon Fiber with UV stabilized acrylic clear coating as well as aluminum frame which is finished in multi-layer automotive paint.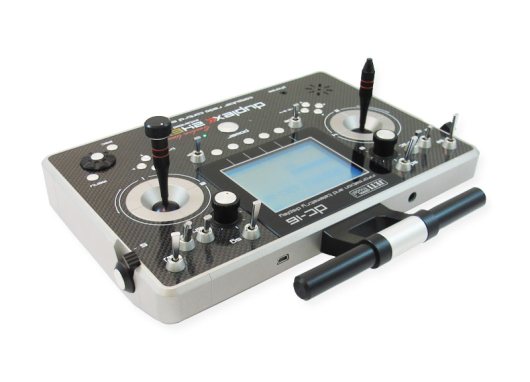 ---
---
Jeti Duplex Power Management "Wireless Switch & Central Box"
Check out our newest video of the Jeti Duplex Power Management Unit. You will see the fully programmable Jeti Duplex Central Box power distribution unit and revolutionary Wireless Power Switch fully integrated into the 2.4GHz radio system. For first time your receiver can be turned ON/OFF with simple flipping of the switch wirelessly from the Jeti DC/DS-16 transmitter.

The Central Box features (15) Programmable Servo Output Channels. (3) Sensor Inputs, (2) Protected Power Input Connectors, and (1) Wireless or Magnetic Switch Connector.

(Full Story)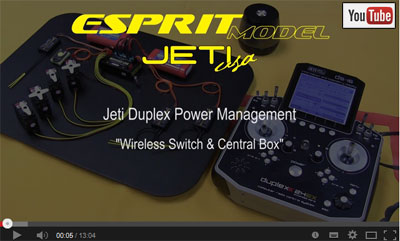 ---
Jeti Duplex 2.4GHz Dual Path, True Redundant RF Link!!!
Unlike satellite receivers, Dual Path provides a true redundant RF link. Utilizing the Duplex transmitter's twin independent RF modules in Dual Path mode you bind each RF module to a separate receiver. These receivers can then be used in several ways. For example:

Both receivers feeding a Jeti Central Box or other servo distribution systems such as the Powerbox.
Using one receiver for each half of the model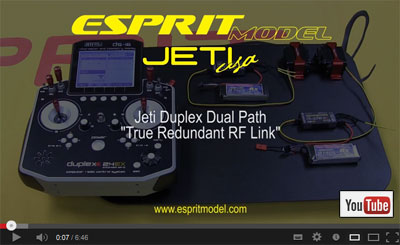 ---
Jeti Central Box 200 Power & Signal Distribution System!!!
The Central Box 200 is a switchboard designed for the complete management of servos in a model with an emphasis on safety. The Central Box has a unique design that provides overload protection at each servo output. The Central Box can manage up to two batteries and fully supports the Jeti EX telemetry system. Up to two receivers with serial (PPM, EX Bus) output as well as two power batteries can be connected at the same time to the Central Box for complete Power & RF signal redundancy.

With Jeti Duplex 2.4GHz DC/DS transmitters, the full potential of the Central Box can be used, such as an easy way to wirelessly configure the Servo Outputs, EX Telemetry, Fail-Safe Setting or Fast Servo Response.

Included:
(1) Jeti Central Box 200
(1) Magnetic Switch
(1) Magnetic Key


Fail-Safe Setting
Switches ON/OFF of the Fail-Safe function. If the Fail-Safe function is deactivated, there is no signal generated in any Central Box outputs at the signal loss. If you activate the Fail Safe function, you can also select how the Central Box responds at signal loss for each of the individual outputs.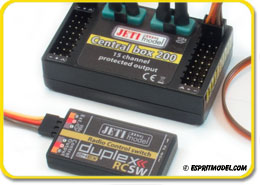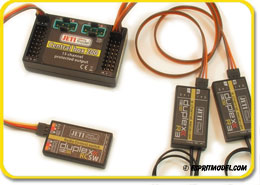 ---
Servo Balancer for Multi Servo Wing Surfaces!!!
The function of the servo balancer is designed for large models that have control surfaces driven by mechanically linked servos. Since each servo can be preset from the factory in a different way and mounting servos into the model is not always accurate, it is now possible to set servo travel algorithmically to ensure minimum mechanical stress during the movement of the controls.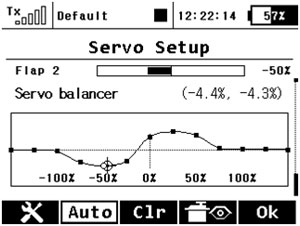 ---
Advanced Options for Gyro Settings!!!
Now it is possible to make up to three independent functions for controlling gyro gain. By default, gyro No. 1 is always active. The others are activated in the Model --> Basic Properties menu together with the Governor function.

In the Gyro settings menu it is possible to edit up to three main values for each gyro function in all flight modes separately according to the position of the main control/switch.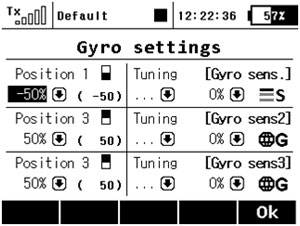 ---
PPM Input Port for External Devices!!!
The DC-16 now comes fully equipped to deal with the demand of FPV head trackers with its PPM input port. The port can support up to 8 channels of throughput and is compatible with all Fat Shark and Carl Zeiss FPV Goggles. As always with the Jeti line of transmitters you can assign any of the PPM channels to any function of the transmitter, making the DS-16 and DC-16 one of the best transmitters available for FPV. (The head tracking module for Fatshark and Carl Zeiss must be purchased separately in order to utilize these features.)

The transmitter can handle up to 8 channels of the PPM input signal. The signal should be present on the pin No. 1 (the DC/DS-16 user manual calls this pin as reserved). To prevent any damage, you need to use the 3V logic level and protective elements on the input. Within the application you can assign any of the PPM channels to any function of the transmitter - use a standard control input selection dialogue. The PPM input is not linked with the trainer system in any way and works separately. Possible use in cooperation with head-tracking systems etc.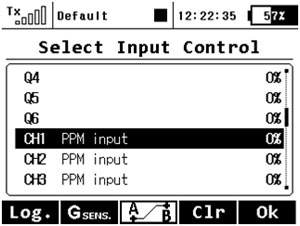 ---