Let's Be Honest, in Today's World, it's All About the Deal!!!
Get
11% OFF

any In Stock Items!!!*
---
Jeti USA Expand Your Universe Trade Up Program!!!
(Jeti USA & Esprit Model Buy Back Program for Spektrum/JR* DSMX
& Futaba S-FHSS/FASST & FASSTest Receivers)
Expended to Futaba S-FHSS/FASST & FASSTest Receivers!!!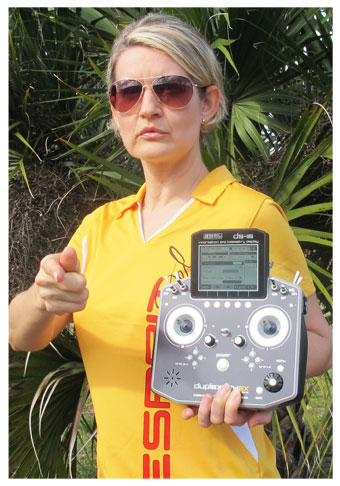 We all know how hard it is to move from something familiar to something new and unknown. Even if that new and unknown radio system enhances your experience, allows for future expansion, incorporates many built in safety features and delivers the possibility of taking your experience or performance to another level, the choice to make the change can be difficult. We all know that many times change is not just matter of our choice but also a matter of hard reality. The system that we currently use already represents a substantial investment and no one wants to lose it. We understand. Because of this we at Jeti USA strongly believe that it's finally time for you to have a radio system that will last for years to come. We are here and ready to help you make the change.

Our rules are very simple. Jeti USA in cooperation with Esprit Model will buy back your Futaba, Spektrum or JR DSMX receivers which are currently being sold with a Gift Certificate for 50% of the receiver's street price. This Gift Certificate can be used towards the purchase of any Jeti Radio System products. All that we require is that the used receivers are in clean, fully working conditions.*

But enough said, look what this customer had to say about Jeti (Direct Quote from a Public Forum):
Well I've been a Jeti fan for quite a few years now . This came about after fitting a TX module in to a MC24 TX belonging to a team member for him to use in airframes for F5D pylon comps. At that time Jeti 2.4 had only been available for a few short weeks but even so when we asked Jeti for alterations to their RXs, namely longer RX aerials to reach outside the fully carbon F5D airframes, Jeti responded within a week supplying new hardware with 400mm twin aerials FOC! Their response impressed me and there customer service just got even better over time.
I am now looking forward to years of being able to fly with the confidence that I've chosen probably the best RC equipment available to date by far.

* This offer is not retroactive and can be canceled at any time.
* Spektrum and JR Brands are registered trademarks of Horizon Hobby, Inc and JR Americas, Inc.
* Eligible receivers: AR12120, AR12020, 9310, 9110, 9020, 8000, 6210, 610, 400
* Eligible receivers: Futaba R2006, R2008SB, R6008/6014HS, R617FS, R6206SBW, R6208SB, R7003/7008SB


---
Have a Look at the New, Revolutionary Features of upcoming V3.00 Jeti Transmitter Software Update!!!

Telemetry Controls (Advanced Properties ? Telemetry Controls)


This feature takes the abilities of the Duplex telemetry system to the next level. Not only can you display telemetry data, record it to your SD card or have it voice announced, now it is possible to control specific model functions using sensors inputs. This way, some tasks that previously required manual adjustment via visual estimation or alarms can now be automated.

Up to 8 controls labeled MX1 - MX8 are available, depending on the type of transmitter and equipment. Telemetry controls offer functionality in two modes:
· The Switch mode enables you to create a virtual two-position switch using the value of one telemetry parameter. This switch is always active based on the fulfillment of defined logical conditions.
· The Proportional Control mode enables you to transform a certain range of sensor values into a fully proportional control. It can automatically and smoothly control any kind of function using telemetry feedback.

Examples for the possible use of the telemetry controls
· If the model speed is less than X m/s, flaps will be raised automatically.
· If the current is larger than X amperes, the motor run timer starts.
· If the motor temperature is higher than 80 °C, the maximum throttle will be limited by the mix.
· If the on-state of the limit switch is detected, the sequencer automatically starts. (eg after opening the landing gear doors, the main gear will be deployed).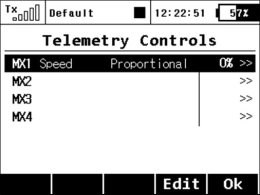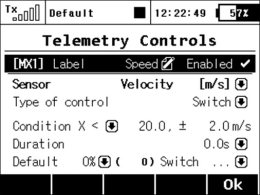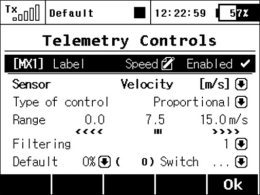 ---

The Toledo Show: R/C Model Expo is North America's largest and longest running R/C model expo. This three day event showcases all types of R/C models including planes, cars, and boats. Along with the all the exhibitors there is a R/C model competition, speakers, swap shop, and an auction. This event is fun for the whole family.
This is How Our Team Looks Like at The Show & After a Long Hard Work Day at Toledo!!!
(Let us introduce Danny, your Jeti and BavarianDemon Specialist)