Get 18% On All Remaining Spektrum Radios, Spektrum/JR DSMX Receivers, Telemetry Sensors & Accessories!!!

Only Few Pieces LEFT!!!
---
Esprit Model Expand Your Universe Trade Up Program!!!
(Esprit Model Buy Back Program for Spektrum/JR* Receivers)
Due to Incredible Success we Have Decided to Expand Our Buy Back Upgrade Program. Trade your Old Receivers for Modern, 21st. Century 2.4GHz Graupner or Jeti Radio System with Voice, Data Logging & Digital Telemetry!!!

We all know how hard it is to move from something familiar to something new and unknown. Even if that new and unknown radio system enhances your experience, allows for future expansion, incorporates many built in safety features and delivers the possibility of taking your experience or performance to another level, the choice to make the change can be difficult. We all know that many times change is not just matter of our choice but also a matter of hard reality. The system that we currently use already represents a substantial investment and no one wants to lose it. We understand. Because of this we at Esprit Model strongly believe that it's finally time for you to have a radio system that will last for years to come. We are here and ready to help you make the change.

Our rules are very simple. Esprit Model will buy back your Spektrum or JR DSMX receivers which are currently being sold with a Gift Certificate for 50% of the receiver's street price. This Gift Certificate can be used towards the purchase of any Graupner or Jeti Radio System products. All that we require is that the used receivers are in clean, fully working conditions.*

But enough said, look what this customer had to say about Jeti (Direct Quote from a Public Forum):
Well I've been a Jeti fan for quite a few years now . This came about after fitting a TX module in to a MC24 TX belonging to a team member for him to use in airframes for F5D pylon comps. At that time Jeti 2.4 had only been available for a few short weeks but even so when we asked Jeti for alterations to their RXs, namely longer RX aerials to reach outside the fully carbon F5D airframes, Jeti responded within a week supplying new hardware with 400mm twin aerials FOC! Their response impressed me and there customer service just got even better over time.
I am now looking forward to years of being able to fly with the confidence that I've chosen probably the best RC equipment available to date by far.

* This offer is not retroactive and can be canceled at any time.
* Spektrum and JR Brands are registered trademarks of Horizon Hobby, Inc and JR Americas, Inc.
* Eligible receivers: AR12120, AR12020, 9310, 9110, 9020, 8000, 6210, 610, 400, R1222921,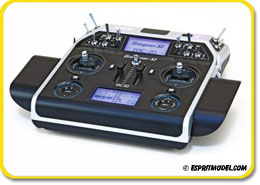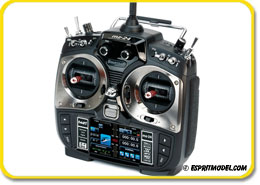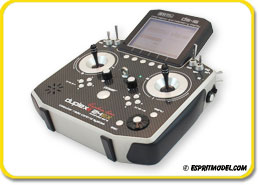 ---
JR Specialty, Wide-Voltage Digital Airplane & Heli Servos,
Coming Soon!!!

JR wide-voltage low-profile digital servos are an excellent choice for an airplane's aileron or as the steering servo for a car. The extreme accuracy of JR digital precision gives a resolution of 5900 steps per 120 degree of travel and zero deadband. A durable composite-metal gear train composed of hard-anodized aluminum and hardened steel and brass gears provides backlash-free operation.

Another sophisticated benefit of the new wide-voltage servos is the Slow Start function. When your system is switched on, instead of the servos instantly finding center as quickly as possible, Slow Start assures that on initial power up that the servo returns to the neutral position very slowly. The benefit is that you will see longer life from the internal servo gears and less wear and tear on the linkages of the control surfaces.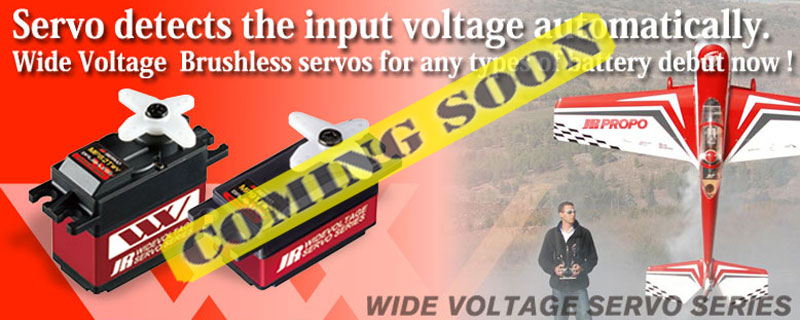 ---
Real JR DMSS Radios Systems with Telemetry,
Coming Soon!!!

True 14 Channels, JR's finest gimbals ever, and an unbelievably affordable price, the new JR XG14 the best choice in Professional Class System.

Using specifically developed JR DMSS technology, the all-new XG14 radio system provides a reliable 2.4GHz radio link with the ability to control popular model types within the airplane, helicopter or glider categories. In addition, the XG14 offers an Intelligent Output System for enhanced control accuracy and advanced telemetry functions to display critical flight data when you need it most.

Dual Modulation Spectrum System (DMSS) 2.4GHz protocol offers a secure radio link that combines DSSS and FHSS capabilities into a wideband transmission system and includes high-speed response and high resistance against RF noise. One benefit of DMSS* is the JR Intelligent Output System (IOS), which automatically selects control signals that need to be transmitted at exactly the same time and delivers the data as one complete signal frame. IOS ensures there is no time delay when commanding servos used for critical functions, such as a CCPM swashplate on a helicopter, or when operating a wing control surface with multiple servos.




---
Get
15% OFF

Any

In Stock

TP Battery Packs,

Hitec Receivers

, Selected Electric Sailplanes & Hotliners!!!
Next 48 hours ONLY
Discount Code:
DEAL15OFF
(Expires April 16, 2014 at 24:00 EST US)

| | | |
| --- | --- | --- |
| Sprinter EVO | Elipsoid Evo 2.8E | Challenger Sport 2E |
| Siren Hotliner | Siesta 1.9E F5J | Thermik Dream 3E |
| Champion 2.8E | Pegasus 2E F5J | Butterfly Sport 2E |
Super Sport 3S/E