Hot New Additions!!!
---
Introducing Brand New Graupner Brushless Motors (From 35.00 to $65.00),
IN STOCK!!!
(Full Story)
---
Graupner HoTT Brushless ESCs with Telemetry,
IN STOCK!!!
---
Custom Servo Frames for your Next Project,
IN STOCK!!!


We are now offering specially designed servo frames for mounting servos to a hollow molded wing. Finally, a solid installation with the option of easy removal. No more struggle with fast emergency exchange at the flying field.

(Full Story)


---
Jeti AFC Anti-Spark Connectors 4, 5.5, 8mm Good up to 300A!!!
---
Discus 2a Deluxe 3.75m,
IN STOCK!!!
(Full Story)
Our Gift from Your Friends at Esprit Model!!!
Get
11% OFF

any In Stock Items!!!*

Next 48 hours ONLY

Coupon Code:

HTPF112014

(Expires: August 10, 2014 at 24:00 EST US)



* We Reserve right to exclude certain Items from this promotion due to Manufacturer/Distributor MAP Policy.


---
Graupner HoTT MZ-24 2.4GHz (12 Channel) Radio System with Telemetry and Receiver GR-24L & GR-12L
(Only $499.00)!!!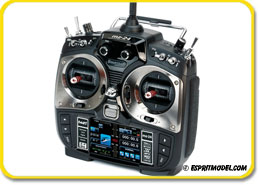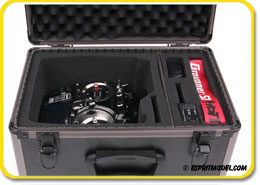 The Graupner MZ-24 HoTT (Hopping Telemetry Transmission) 2.4GHz 12 Channel transmitter is designed with Graupner's unique telemetry technology that supports Bi-directional data transmission to give you real-time information. The use of up to 75 frequency hopping channels ensures extreme operating reliability and security from external interference. By using optional sensors and sensor modules, you see and analyze real-time data such as RPM, voltage, current, temperature, and also set warnings in the transmitter based upon the telemetry data. The MZ-24 has 30 model memory and is suitable for any aircraft.

With up to 12 available channels, built-in telemetry with data logging capabilities and a large 3.5" LCD touchscreen, the MZ-24 is the obvious choice for anyone who needs a high quality 12 channel radio.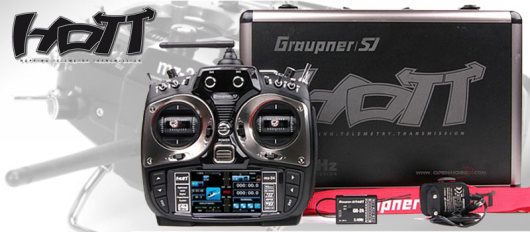 ---
Eagle Tree Vector Flight Controller with Video On-Screen Display (OSD),
IN STOCK!!!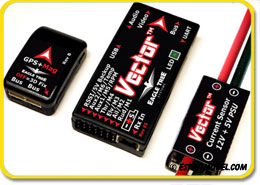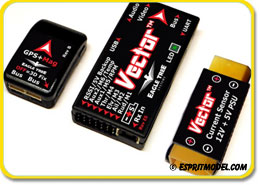 Years in the making, and built from the ground up with simplicity in mind, the Vector has everything we hobbyists have dreamed about for our recreational FPV models, in one small, lightweight easy to use product.

Full Color OSD
The Vector's built-in OSD provides smooth, razor sharp color graphics, and all the colors are fully adjustable. Nearly all of the Vector's parameters can be displayed in 3 ways; numeric, gauge, or swatch. Numeric offers programmable flashing color alarms. Gauge mode allows you to set up parameters to be displayed in gauge format, with programmable color thresholds. The swatch option allows you to set up a simple color square with programmable color changes, to easily see when a parameter needs your attention.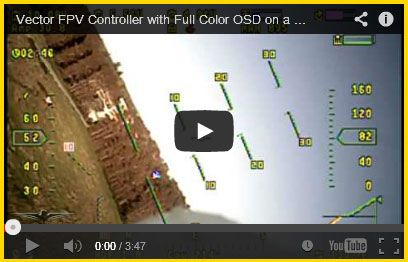 ---
Fuel Pump LS & HS Glow/Gas/Diesel,
IN STOCK!!!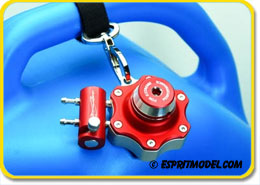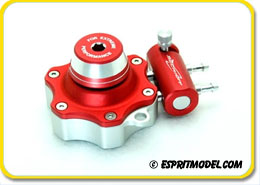 Fuel Pump features full metal body with direct drive for quick fuel transfer. The pump is ergonomically designed to be easy to hold on to while fueling. Use with glow, gasoline or diesel fuel.
Fuel pump LS (Low Speed) use with helicopter geared starters (1000 - 2500 rpm), HS (High Speed) with standard airplane direct drive starters (2500 - 5000 rpm). Pumping rate around 900 - 1300ml/min.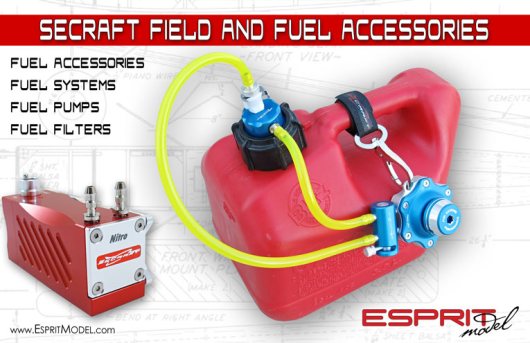 ---
CORTEX BavarianDEMON Stabilization System,
IN STOCK!!!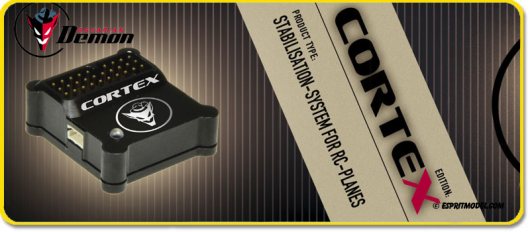 The bavarianDEMON CORTEX is a stabilization system for fix wing model aircraft. And hence an absolute world first in this form. The new brain and heart of your high-quality aircraft - immediately ready to run. The CORTEX does not require any PC or additional software settings - unless it is desired.

Cortex is new 3-axis stabilization system for fix wing model aircraft. Extremely smooth flight characteristics - even at strong, gusty wind with adjustable gyro assistance.

Joe Smith Flying the Bavarian Demon Cortex at SEFF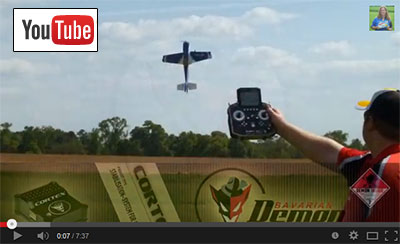 ---
Graupner HoTT MC-20/32 Pro 2.4GHz (12/16 Channel) Tray Radio Systems with Telemetry and Receivers GR-24L & GR-12L
($689.00/1295.00)!!!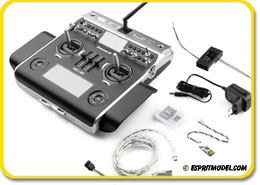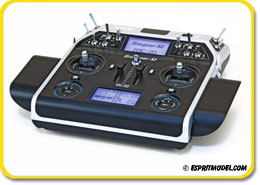 The Graupner's MC-20 HoTT with 12 control functions, and a new fully integrated internal patch antenna enables any advanced RC pilot to control nearly any model. The use of the Graupner HoTT 2.4 GHz transmission technology ensures high functional reliability through bidirectional communication between transmitter and receiver, with integrated telemetry, voice output via speaker or headphone output, and ultra-fast controller response times.

The use of up to 75 frequency hopping channels ensures extreme operating reliability and security from external interference.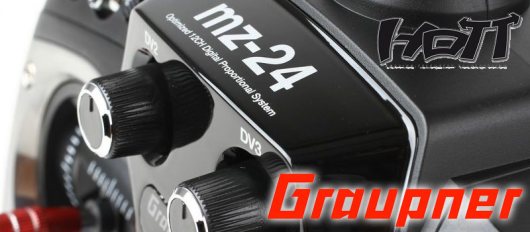 ---
---
Xnova brushless, high performance, outrunner motors are designed for 500-800 size helicopters running from 6S to 12S setups. If hard 3D flying is your style, then Xnova Motors are the choice for you.

Features:
- High Quality Neodymium Magnets with a heat resistance of up to 150 C.
- Specialized wires have a heat resistance of up to 250 C.
- Carefully balanced
- High performance stator metal sheet
- Optimized ventilation
- High quality NMB Bearings
- Superb quality and machining of CNC parts


---
StandBox Storage, Transport, Workstation,
IN STOCK!!!