Hot New Additions!!!
---
Futaba 14SGA or 14SGH Radio System,
IN STOCK!!!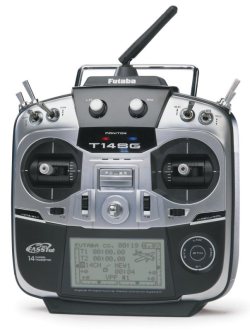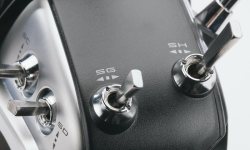 Futaba proudly introduces the 14SG, the only 14-channel system with revolutionary 2.4GHz FASSTest technology. It's also compatible with Futaba FASST and S-FHSS protocols, so you can fly with virtually any 2.4GHz air receiver Futaba produces.

The 14SG can transmit and receive telemetry data. Install Futaba telemetry sensors (sold separately) to monitor flight data, receive alerts while in flight and more. Heli pilots will prefer the 14SG's 3-axis gyro support - which makes the 14SG the perfect system for flybarless flight!

(Full Story)


---
(Full Story)
---
Custom Servo Frames for your Next Project,
IN STOCK!!!


We are now offering specially designed servo frames for mounting servos to a hollow molded wing. Finally, a solid installation with the option of easy removal. No more struggle with fast emergency exchange at the flying field.

(Full Story)


---
Jeti AFC Anti-Spark Connectors 4, 5.5, 8mm Good up to 300A!!!
---
Jeti Voltage Regulator SBEC 40 5-8V/40A w/Magnetic Switch !!!
The SBEC 40 from Jeti is a switching BEC designed to operate with included magnetic key. The advantage of an electronic switch is that it offers a virtually unlimited ON/OFF cycles, unlike mechanically operated switches.
(Full Story)
Our Gift from Your Friends at Esprit Model!!!
Get
11% OFF

any In Stock Items!!!*

Next 48 hours ONLY

Coupon Code:

DEAL11OFF

(Expires: November 9, 2014 at 24:00 EST US)



* We Reserve right to exclude certain Items from this promotion due to Manufacturer/Distributor MAP Policy.


---
Introducing "Limited Edition" Black Phoenix, Jeti Duplex 2.4GHz DS-16 Carbon Radio System!!!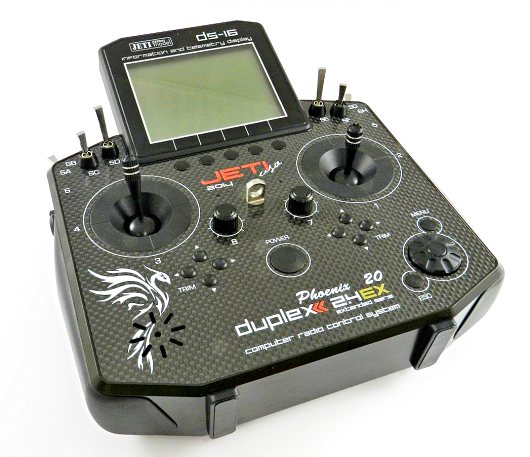 ---
Emcotec DPSI 2018 Power & Signal Distribution Unit, Fully Compatible with Jeti EX Bus & Futaba S.Bus
(Coming Soon)!!!

Emcotec DPSI 2018 Power & Signal Distribution Unit.

With the S. Bus system, several servo motors can be connected to the DPSI 2018 with just one single S. Bus cable. Consequently, there is only one cable that needs to be run through the fuselage to the tail and two additional cables to connect the wings.

The servos can be connected to the S. Bus cable at the very spot where they are needed using special S. Bus terminal blocks. Each servo motor can be addressed via its own unique identifier. For more details, click below!

(Full Story)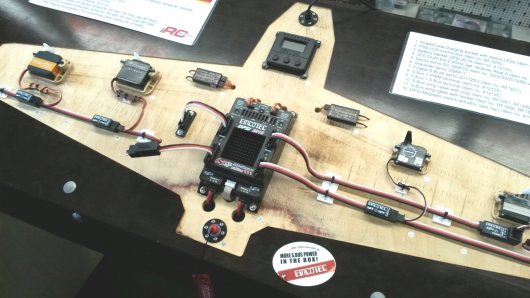 ---
Jeti USA & Esprit Model $200.00 Promotion!!!
Limited Time ONLY, Buy Jeti DS-14 (US Version) Radio System and Receive $200.00 Gift Certificate from Us for Your Future Purchases (Only 2x Pieces Left)!!!
(Expires November 9, 2014 at 24:00 EST US)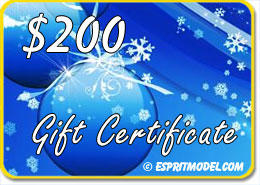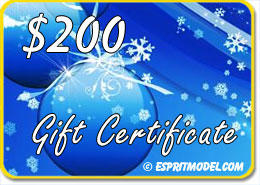 *This offer is not retroactive.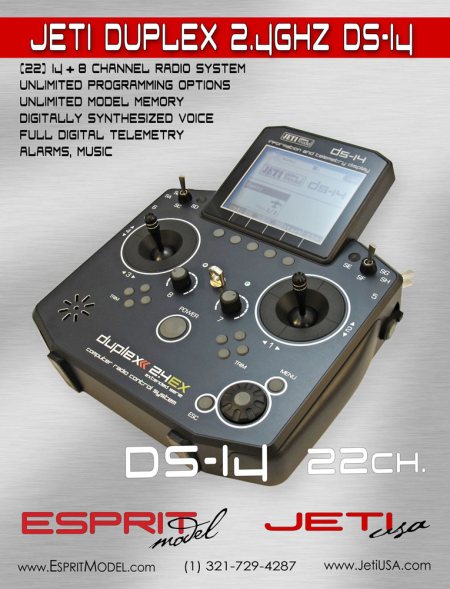 ---
Fuel Pump LS & HS Glow/Gas/Diesel,
IN STOCK!!!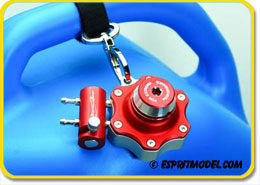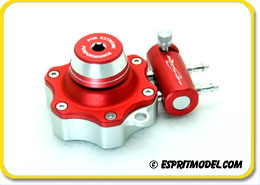 Fuel Pump features full metal body with direct drive for quick fuel transfer. The pump is ergonomically designed to be easy to hold on to while fueling. Use with glow, gasoline or diesel fuel.
Fuel pump LS (Low Speed) use with helicopter geared starters (1000 - 2500 rpm), HS (High Speed) with standard airplane direct drive starters (2500 - 5000 rpm). Pumping rate around 900 - 1300ml/min.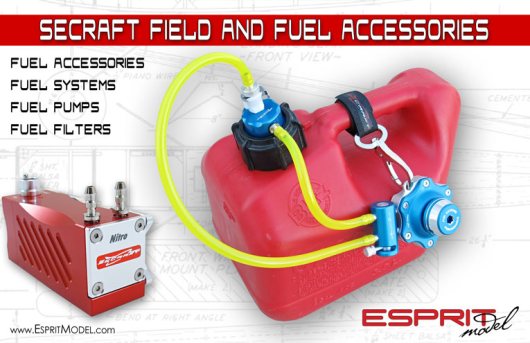 ---
CORTEX BavarianDEMON Stabilization System,
IN STOCK!!!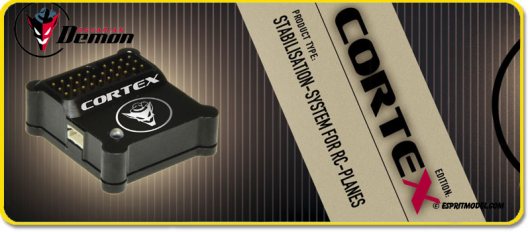 The bavarianDEMON CORTEX is a stabilization system for fix wing model aircraft. And hence an absolute world first in this form. The new brain and heart of your high-quality aircraft - immediately ready to run. The CORTEX does not require any PC or additional software settings - unless it is desired.

Cortex is new 3-axis stabilization system for fix wing model aircraft. Extremely smooth flight characteristics - even at strong, gusty wind with adjustable gyro assistance.

Joe Smith Flying the Bavarian Demon Cortex at SEFF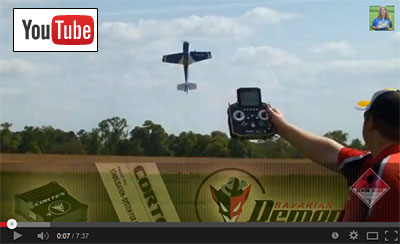 ---
Xnova brushless, high performance, outrunner motors are designed for 500-800 size helicopters running from 6S to 12S setups. If hard 3D flying is your style, then Xnova Motors are the choice for you.

Features:
- High Quality Neodymium Magnets with a heat resistance of up to 150 C.
- Specialized wires have a heat resistance of up to 250 C.
- Carefully balanced
- High performance stator metal sheet
- Optimized ventilation
- High quality NMB Bearings
- Superb quality and machining of CNC parts


---
---
StandBox Storage, Transport, Workstation,
IN STOCK!!!