Hot New Additions!!!
---
Jeti AFC Anti-Spark Connectors 4, 5.5, 8mm Good up to 300A!!!
---
Transmitter Upgrades, Stands, Sticks, Trays, Switches…
(Full Story)
---
Jeti Telemetry Sensors, Monitors & Programmers,
IN STOCK!!!
(Full Story)
---
Jeti Wireless Power RC Switch 5A & 10A,
IN STOCK!!!
---
New Jeti DC/DS Transmitter Accessories,
IN STOCK!!!
(Full Story)
---
Jeti Dual Redundant Switch DSM 10,
IN STOCK!!!


The DSM 10 from Jeti is dual input redundant electronic switch designed to operate with included magnetic key. The advantage of an electronic switch is that it offers a virtual unlimited ON/OFF cycles, unlike mechanically operated switches. The redundant DSM 10 switch automatically monitors and switches between two power supplies (Rx Batteries) keeping your system operational.

(Full Story)


Our Gift from Your Friends at Esprit Model!!!
Get
11% OFF

In Stock Items!!!*

Next 48 hours ONLY

Coupon Code:

DEAL11OFF

(Expires: December 7, 2014 at 24:00 EST US)



* We Reserve right to exclude certain Items from this promotion due to Manufacturer/Distributor MAP Policy.


---
Introducing Brand New Jeti Telemetry Sensor Air Pressure MBar EX & Expander,
IN STOCK!!!


Dimensions: 30mm x 23mm x 13mm
Weight: 7g
Pressure Accuracy/Resolution: +/-2%, 0.1kPa
Measurement Range: 0-1000kPa (150psi)
Operation Temp: -10C to +85C
Supply Voltage: 3.5V to 8.4V
Current Draw: 15mA


Jeti's MBar EX is a sensor that measures high pressures of non-corrosive and unionized gases and liquids. The sensor records the maximum and minimum measured values of pressure and temperature. Also, it is possible to set an alarm for a high pressure measurement or a pressure drop. The information from the sensor is transmitted to the user via Duplex EX system. The MBar EX can be used for measuring pressure in containers with compressed air (retractable landing gear systems) or for controlling the oil pressure in hydraulic systems. Use with 1/16" (1.6mm) inside diameter pressure tubing.

For proper MBar function the transmitter version at least 2.20 (or newer) and the receiver version 3.14 (or newer) is necessary.


MBar Transmitter Setting
On the main screen in the general menu you can see all the available options, actual pressure, temperature, and also maximum and minimum values. The minimum and maximum values can be reset manually in the menu or using your transmitter.
Expander Setting
Due to its flexibility, the MBar EX allows connection of up to two additional sensors. MBar2 then acts as an Expander and sends its own telemetry to the receiver together with the telemetry of connected sensors. You can connect for example speedometer MSPEED EX for the speed compensation (TEK) or any other sensor to any port (Ext1 or Ext2).
---
Introducing "Limited Edition" Black Phoenix, Jeti Duplex 2.4GHz DS-16 Carbon Radio System!!!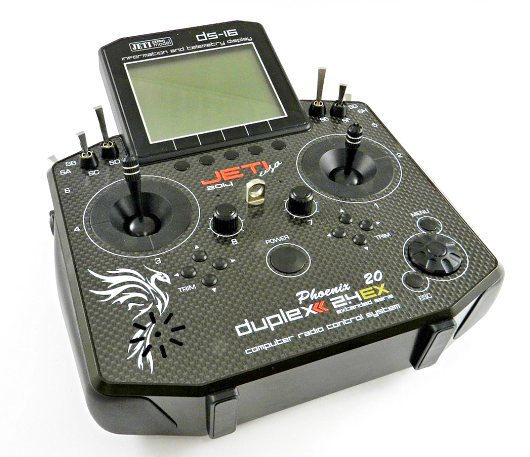 ---
---
---
Introducing Brand New Jeti Power Main Switch 100A & 200A with Magnetic Switch or R3/RSW Wireless Switch/Receiver!!!
Main Switch is an electronic primary switch designed for switching of the main power supply (Main Battery) for your RC model. It adds an element of safety when handling the model, without the need to physically disconnection of the main battery pack. The advantage of an electronic switch is that it offers a virtual unlimited On/Off cycles, unlike mechanically operated switches. The Main Switch prevents the connectors from sparking when connecting the batteries, in fact it also replaces Anti-Spark connectors.

The Main Switch 100 and 200 are shipped with a magnetic or R3/RSW receiver/wireless switch. The Main Switch is primarily designed for switching the main battery of the RC model, but can also be used in applications where switching a DC power supply is needed.



The Main Switch comes equipped with complete Jeti telemetry. It measure Voltage, Current, Battery Capacity, and Temperature. Alarms can be set to monitor maximum current, minimum voltage, battery used capacity, and maximum temperature.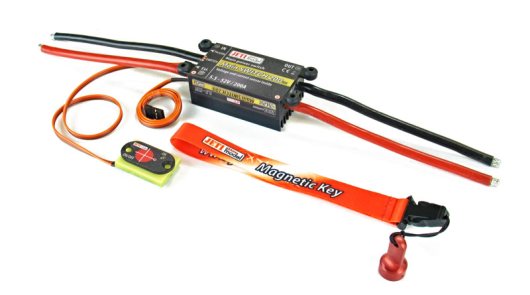 ---
Jeti Central Box 200 Power & Signal Distribution System!!!
The Central Box 200 is a switchboard designed for the complete management of servos in a model with an emphasis on safety. The Central Box has a unique design that provides overload protection at each servo output. The Central Box can manage up to two batteries and fully supports the Jeti EX telemetry system. Up to two receivers with serial (PPM, EX Bus) output as well as two power batteries can be connected at the same time to the Central Box for complete Power & RF signal redundancy.

With Jeti Duplex 2.4GHz DC/DS transmitters, the full potential of the Central Box can be used, such as an easy way to wirelessly configure the Servo Outputs, EX Telemetry, Fail-Safe Setting or Fast Servo Response.

Included:
(1) Jeti Central Box 200
(1) Magnetic Switch
(1) Magnetic Key


Fail-Safe Setting
Switches ON/OFF of the Fail-Safe function. If the Fail-Safe function is deactivated, there is no signal generated in any Central Box outputs at the signal loss. If you activate the Fail Safe function, you can also select how the Central Box responds at signal loss for each of the individual outputs.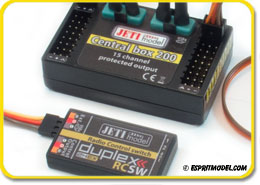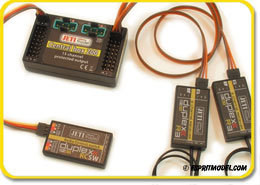 ---
Jeti Mezon Lite 90 & 120 ESCs with Telemetry,
IN STOCK!!!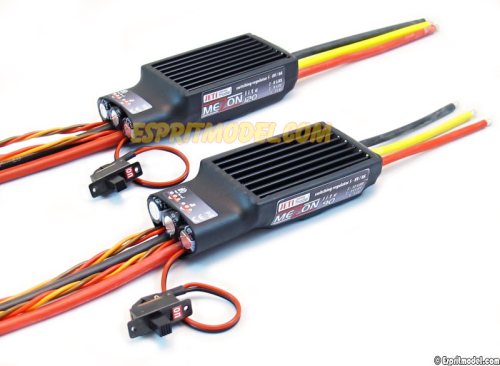 (Full Story)

The brand new line of Jeti MEZON ESCs target mainly professionals and pilots looking for uncompromised precision and quality. The MEZON ESCs combine new revolutionary design with Jeti's state of the art manufacturing capabilities.

Jeti MEZON ESC's advanced design and software are capable of unmatched precision and efficient motor management. With DUPLEX integration all data is measured in real time. Mezon ESCs were designed with a revolutionary BEC circuit capable measuring the exact battery capacity used and lets you set up a motor cut off point based not only on cell voltage but also on overall battery pack capacity. This function, combined with Jeti DUPLEX system, offers you full telemetry capabilities with the possibility of saving your data for further analysis.


---