Now, you will have the opportunity to reach out to these dedicated pilots to ask questions, see product, or place your Jeti radio, receiver, telemetry or any other part order. When you are speaking to a Jeti USA Team Pilot, you are speaking to a professional and a direct extension of Jeti USA.
Keep your eyes on the web site for more representative to be added as the program continues to grow.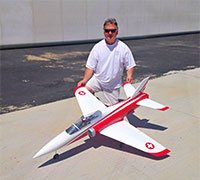 Bob Belluomini
Location: Cincinnati, OH
Sponsors: Synergy Helis, Rail Blades
Flying Style: Fixed Wing (EDF)

Bob Belluomini is a man of many skills. He started flying at the age of 11, beginning with control line and free flight models. In 1969, Bob flew his first RC aircraft. During his college years, he focused on pattern, and then moved into helicopters, where he flew competition and FAI Heli events. Bob's current discipline is EDF and high powered electric models.
Along with an extensive background on various different aircraft, has dove head first into his local flying community. He has belonged to the Greater Cincinnati Radio Control Club since 1975, and he recently joined the Ohio River View R/C Flyers Club. As a founding member of IRCHA, he has help manage the event during the years it took place in Columbus, OH. In addition to past events, he plans to manage Ohio River View R/C Flyers Club's first ever Electric Ducted Fan meet. 2015 will also be his third year hosting the EDF Jet Jam. Bob's current flying takes him to numerous jet events throughout the year, so keep an eye out for him on the field!

---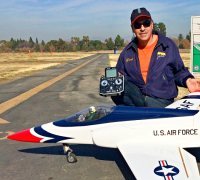 David Soufer
Location: Los Angeles, CA
Sponsors: None
Flying Style: Jets (EDF/Turbine)

It all began in 1991 for our new Team Jeti USA pilot David Soufer. He was hooked. Although familiar with many airplanes, David's fleet consists of mostly BVM jets. Currently David owns a BVM F100 F, BVM F4, BVM Ultra Bandit, BVM Bandit MKII, BVM Bobcat, and BVM eBandit (14S), however since 1996, when he started flying exclusively jets, he has had a BVM Maverick , Hot-Spot, Blade, Skymaster F18, Rafael B01, Seven Bandits (Composite and Super) and a BVM F100 D. Alongside his many airplanes, he has had a chance to tinker with many radios. "The radios I have used in the past have been JR10X, JR12X, Spektrum 18X, the 18XQQ and the best of them all is my beloved Jeti DS-16-Carbon."

---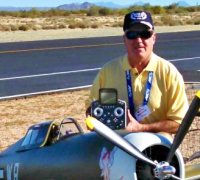 Michael Middleton
Location: Las Vegas, NV
Sponsors: MKS Servos
Flying Style: Fixed Wing

Not everybody learns about the RC Hobby through a friend. Michael Middleton did not. Instead, he was always captivated by flight and the craft itself. This wonder led him into the RC world, a place where he could follow his imagination and interest in the wonders of flight on a small scale level. He started off building small, two channel models, and attempting to fly them himself. Through a very hard "trial and error" process, Michael began to grasp the techniques required to keep his aircraft in flight.
Shortly thereafter, Michael's career took him to Las Vegas, where he became acquainted with a local hobby shop owner. From there he was introduced to pilots of a higher skill level, who coached him to multiple south west area event wins and placings, as well as AMA F3A district champion twice.
Michael currently is a member of IMAC, and Prop Nuts R/C Club, and enjoys flying full sale aircraft. "I enjoy mentoring and coaching aerobatic and scale fliers, and flying all types of fixed wing aircraft as well as setting up RC control and power systems." States Michael.
...
...