Jeti Duplex DC-24 2.4GHz Radio System with Color Display, Dual Haptic Feedback, Voice Commands & Microphone!!!

The new Duplex DC-24 is Jeti's new flagship, State-of-the-art, transmitter that sets a new standard for the RC Industry. The DC-24 with its brand new architecture features a Full Color Display, Dual Haptic (Vibration) Feedback for each of the gimbals and Full Resolution 24 Channel Logic.

This revolutionary, digital, 24 Channel (24 Channels & 8 Remote Commands), 2.4GHz & 900MHz, dual frequency, triple redundant (2x 2.4GHz, 1x 900MHz RF Modules) frequency hopping radio system is fully designed and manufactured by Jeti Model in the Czech republic. This is one of the most advanced radio systems on today's market. With their solid CNC aluminum case with a fully integrated five (5) antennas, a mini USB port, built-in speaker, headset jack. Metal transmitter gimbals with Hall sensors (4096 step resolution) and integrated vibration feedback (Stick Shaker), 9 ball bearings for precision movement, a large 320x240 color, backlight display and many other features the Jeti DC/DS-24s are sure to become the new standard in transmitter performance.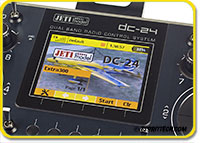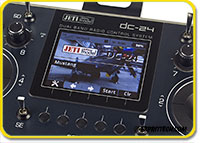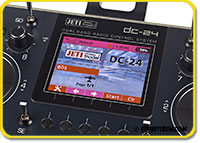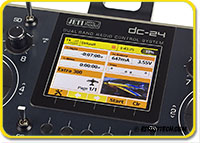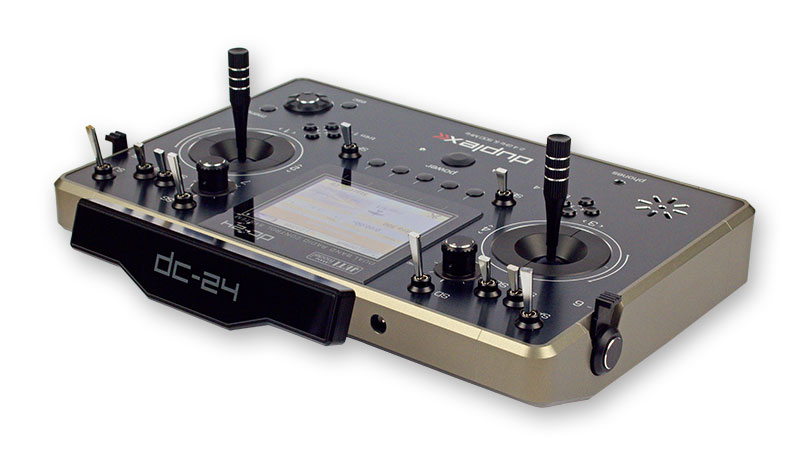 From the Toy Fair Nurnberg, Germany, 2016!!!
All That Glitters Is Gold!!!
Wedding tradition says that for every year of marriage there is a specific theme to which your gift should follow. At 15 years, the traditional anniversary gift is crystal…. But come on, how practical is a crystal transmitter? For Hacker's 15th Anniversary, Jeti Model presented them with a beautiful GOLDEN DC-24. Take a look!