Jeti USA Press Release!!!
Jeti Duplex DS-24 2.4GHz/900MHz Radio System with Color Display, Dual Haptic Feedback, Voice Commands & Microphone Is Open for Pre-Order!!!
Jeti Duplex DS-24 Standard Titanium $1895.00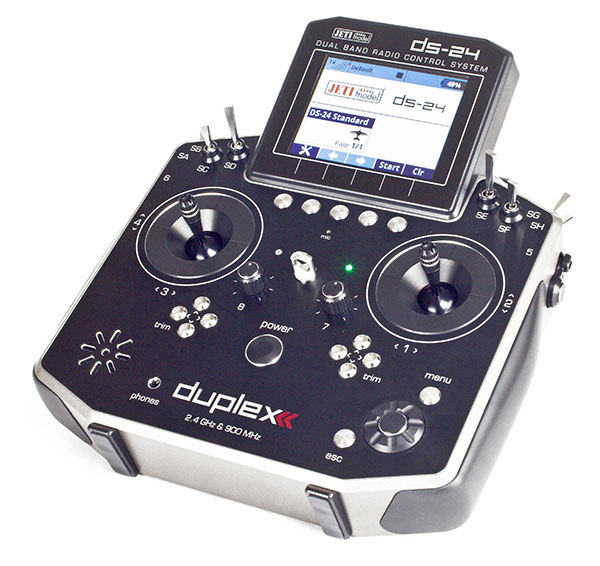 Specifications and Features
This revolutionary, digital, 24 Channel, 2.4GHz, frequency hopping radio system is fully designed and manufactured by Jeti Model in the Czech republic. This is one of the most advanced radio systems on today's market. With their solid CNC aluminum case with a fully integrated antenna, a mini USB port, built-in speaker, headset jack, metal transmitter gimbals with Hall sensors (4096 step resolution) and 9 ball bearings for precision movement, a large 320x240 backlight display and many other features the Jeti DC/DS-16s are sure to become the new standard in transmitter performance.




Jeti DS-14/16 Radio System Test Drive!!!
Are you on the fence about making the switch to Jeti? Don't know a Jeti pilot in your area? Now there is a way to get your hands on a Jeti DS radio to decide for yourself. With only a refundable deposit, you can test drive a Jeti DS-14 or DS-16 at your home field. After speaking to a Jeti representative and placing a deposit order, a radio and receiver will be sent to you for a two week trial period. This gives you the opportunity to install it in a plane and decide for yourself if Jeti is for you.

If you decide that the radio is everything that you expected, you return the test drive radio set and use the deposit towards a new DS-14 or DS-16 of your own. If not, simply return it for a full refund of your deposit. Return shipping is simply a matter of packing the items back in the original shipping box and using the included shipping label to ship the package back to us.