Always Moving Forward, Wireless Switch & Rx Battery Monitoring!!!


ON/OFF Jeti Wireless Switch & Receiver Battery Telemetry Sensor!!!
For the first time ever, your model receiver system can be turned ON/OFF with a simple flip of the switch, wirelessly from the Jeti DC/DS transmitters. Voltario combines wireless R3/RSW switch functionality together with telemetry sensor in a single Plug & Play solution. It uses advanced technology to reach minimum size and enhanced set of features.
Voltario Telemetry Sensor monitors your Rx Battery Voltage (V), Capacity (mAh), and Current (A)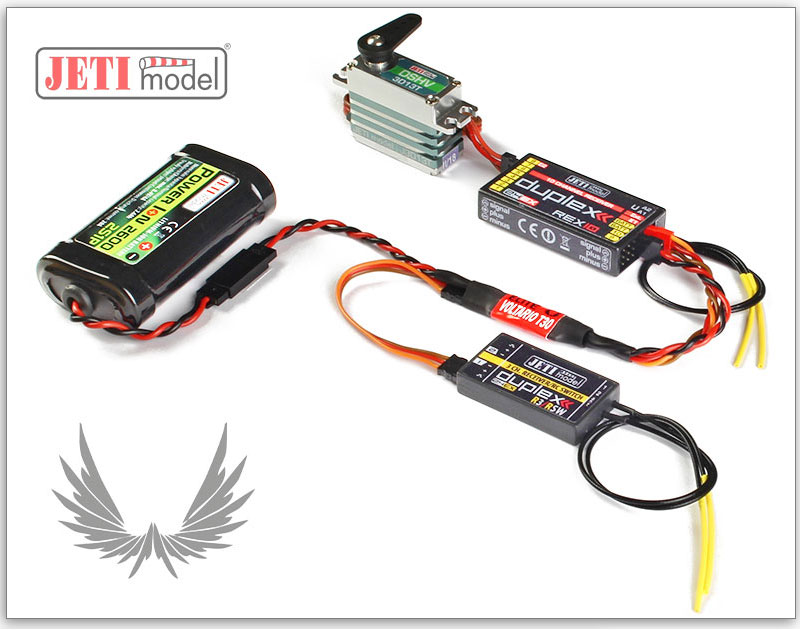 Voltario S30 12V/30A Programmable Servo Overload Protection & Power Monitoring Sensor (Just Arrived, $49.00)!!!
Voltario S30 is designed for monitoring power consumption of a single servo. It offers additional possibility to set the overcurrent protection shutdown with telemetry alarm if servo is disconnected. JetiBox Monitor/Programmer can be used for programming and live telemetry data display during bench setup and testing.

- Jeti Duplex & Graupner HoTT telemetry support (Current, Voltage, Used Capacity)
- Optional High Current Shutdown with Power Regeneration
- Programmable Overcurrent Protection (0.1A - 20A)

Voltario Telemetry Sensor monitors your Servo Voltage (V), Capacity (mAh), and Current (A)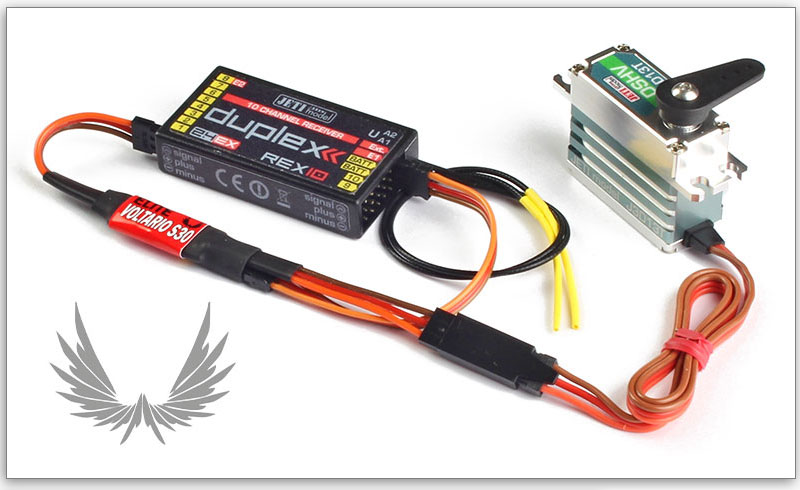 Brand New, Heavy Duty Jeti Central Box 220, Triple Rx Redundancy, Aluminum Housing w/Installation Brackets, Ditex Servo Integration, Servo Overload Protection, and Much More…
The Central Box 220 is a switchboard designed for the complete management of servos in a model with an emphasis on safety. The Central Box 220 has a unique design that provides overload protection for up to 11 Standard (up to 415 oz/in, 30 kg/cm) and 4 Ultra Torque (up to 830 oz/in, 60 kg/cm) servos. The Central Box 220 features true Battery Redundancy, Ditex Servo Telemetry, Jeti EX Telemetry, and up to three receiver inputs (2x 2.4GHz and 1x 900MHz) with serial (PPM, EX Bus) output for complete Power & RF Signal Redundancy.

With Jeti Duplex 2.4GHz DC/DS transmitters, the full potential of the Central Box can be used, such as easy way to wirelessly configure the Servo Outputs, Ditex Servo & EX Telemetry, Fail-Safe Setting or Function Assignment.