Introducing Intelligently Designed, Super Heavy Duty, Brushless Motor or Gas Engine Standoffs w/Adjustable Trust Angle & Vibration Dampeners!!!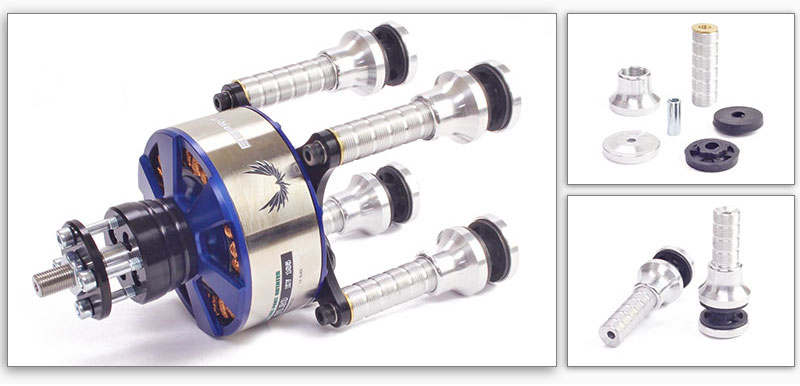 Made by Hacker, our new adjustable standoffs are machined from aluminum and are designed to mount an electric motor or engine into your model. The distance from the cowl to the back of the spinner as well as side and down thrust can be adjusted continuously by turning the thread and cutting off the excess portion of the standoff. The distance from the motor mount to the motor box or firewall can be adjusted between 20mm and 55mm (3/4" and 2 1/8").

Recommended for 2kW to 9.5kW electric motors or 30cc to 180cc engines. Installation holes (ID 5.3mm) are designed for M5, 80mm to 120mm long bolts or M5 threated rods.

A washer with a spherical surface is inserted on the spherical face of the spacer bolt. When adjusting side thrust and down thrust, the wedge-shaped openings on the contact surface allow compensation of up to 4 degrees on all sides.