Brand New, Elite High Speed GPS Sensors wih 3-Axis Compass/Azimuth & Data Logger (256MB). Plug & Play System

(Only 14g)!!!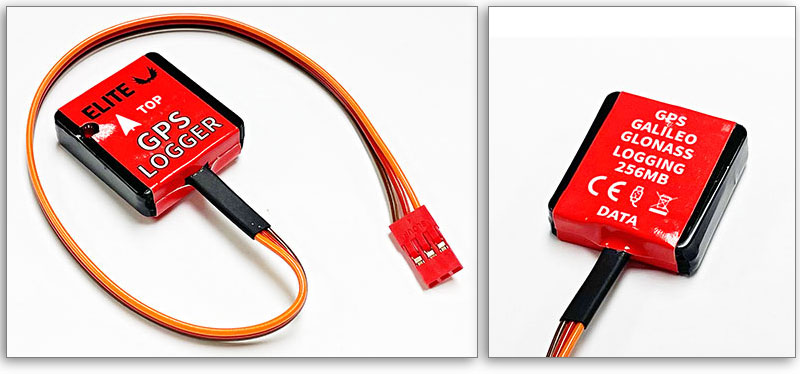 The GPS LOGGER is a telemetry device that offers fast and accurate real-time position detection, data logging and telemetry real-time downlink. It uses multiple satellite navigation systems to achieve maximum precision and resolution. Logging of all the data is possible due to its large integrated Flash memory.

The logged data can be downloaded and analyzed on a computer using the free MAV Manager software. Simply Plug & Play solution for your Jeti, Futaba or Graupner RC System. Due to file sizes and data transfer speed we recommend using Elite USB Programming Interface Adapter (MAV) for data uploads.

Installation
Connect the GPS LOGGER to the receiver telemetry port. Place the device on top of the plane, so that the internal patch antenna is not shielded in any direction. Shielding materials, such as metal, carbon or anything conducting, can reduce the performance of position detection. Additionally, make sure that the 2.4GHz antennas are located at least 8" (200mm) or more from the GPS LOGGER. Try to avoid any mechanical stress on the sensor and avoid any close contact with components producing heat (such as engines or speed controllers). Use a soft double-sided adhesive tape, or Velcro as an alternative.

Specifications and Features
- Large industrial memory for data logging (256MB).
- Latest generation GPS chipset supporting multiple satellite systems.
- 3-axis magnetometer/compass for external navigation purpose.
- Backup supercapacitor for fast position fix after powering off.
- Automatic telemetry detection: Duplex EX, Hott, MSB, S.Bus2.
- Automatic time zone detection.

Compatibility: Jeti EX, Multiplex M-LINK, Graupner HoTT, Futaba S.Bus/S.Bus2
Positioning Systems: GPS, GALILEO, GLONASS
Data Recording Time: Up to 66 Hours (5 samples/s)
Operational Voltage: 3.5V to 8.4V
Dimensions/Weight: 28mm x 30mm x 9mm/14g
Parameters: Latitude/Longitude, Distance, 2/3D Speed, Azimuth, Heading/Course, Altitude
Programmable: Using JetiBox, JetiBox Mini and JetiBox Profi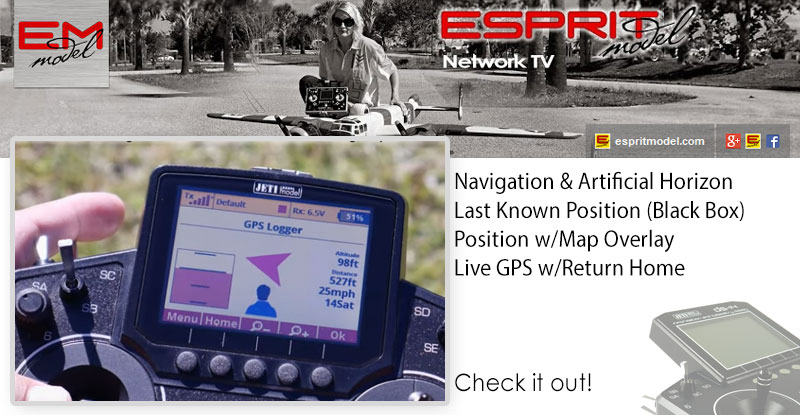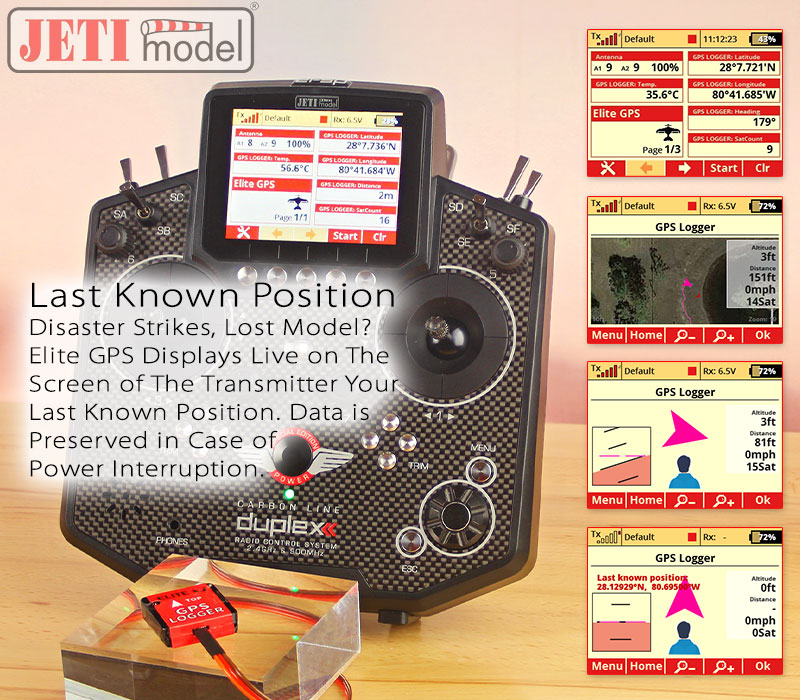 Brand New, 18 Channel Jeti Central Box 310 & 320 Power/Signal Distribution Systems with Built In Voltage Regulator w/Tx Adjustable Output (5V-8.4V) and Integrated Telemetry Expander.

The Jeti Central Box 320 is fully programmable switchboard with two (2) independent, stabilized power inputs with single voltage regulator (20A Continues/80A Peak) designed for complete power and signal management of servos with great emphasis on safety. The Jeti Central Box 320 has a unique design that provides overload protection for up to 10 Standard (up to 415 oz/in, 30 kg/cm) and 8 Ultra Torque (up to 830 oz/in, 60 kg/cm) servos. The Jeti Central Box 320 features true Battery Redundancy, Ditex Servo Telemetry, Jeti EX Telemetry, and up to three (3) receiver inputs (2x 2.4GHz and 1x 900MHz) with serial (PPM, EX Bus) output for complete Power & RF Signal Redundancy. In addition the Jeti Central Box 320 has up to four (4) independent E1/E4 telemetry inputs. The onboard BEC allows the output voltage for the servo to be adjusted from 5V to 8.4V in 0.1V steps using Jeti Transmitter Device Explorer interface.

With Jeti Duplex 2.4GHz DC/DS transmitters, the full potential of the Central Box can be used, such as easy way to wirelessly configure the Servo Outputs, Ditex Servo & EX Telemetry, Fail-Safe Setting or Function Assignment.