Brand New, Second Generation Jeti Duplex DS-14 G2 2.4GHz/900MHz Dual Band RC System with 900MHz Backup, Built-In Gyros/Accelerometers & Microphone Finally Arrived
($1295.00)

!!!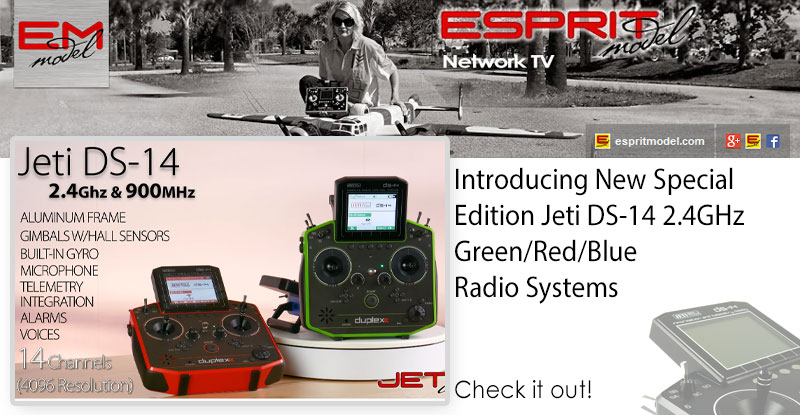 This revolutionary, digital, 14 Channel (Upgradable from 10), 2.4GHz & 900MHz (Optional), dual frequency, triple redundant (2x 2.4GHz, 1x 900MHz RF Modules) frequency hopping radio system is fully designed and manufactured by Jeti Model in the Czech republic. This is one of the most advanced radio systems on today's market. With their solid CNC aluminum case with a fully integrated five (5) antennas, a mini USB port, built-in speaker, and headset jack. Plastic transmitter gimbals with Hall sensors (4096 step resolution), 4 ball bearings for crisp precision movement, a large 320x240 color, backlight display and many other features are sure to make the Jeti DS-14 the new standard in transmitter performance.

Specifications and Features
Dual-Band 2.4GHz & 900MHz, triple redundant with five (5) integrated antennas.
Integrated Microphone - Create custom voice announcements.
Voice Commands - Setup voice activated telemetry announcements.
Brand new, high contrast, full color 320x240 backlight LCD display.
Built-In Accelerometers & Gyros - Trigger any voice announcement or assign any function.
Future Proof Hardware – Ready for optional WiFi or Bluetooth plug-in modules.
State-of-the-art, upgradable firmware which gives you full freedom and complete control.
Solid aluminum, CNC cut transmitter case with fully integrated antenna and oversized LCD display.
Mini USB port for firmware upgrades and PC download of telemetry data.
Integrated speaker and 3.5mm headset jack. You can play back music and create custom voice alarms.
Built-in, logical switches that lets you program a complex string of control events with the simple flip of a switch.
9-point, programmable curve mixes for all 14 digital proportional channels.
....