Elite EX5 Serial Bus Dual Input Servo Channel & Telemetry Expander w/Built-In Temp/G-Force Sensors & Stabilization Finally Arrived, Plug & Play System Only

17g/$95.00!!!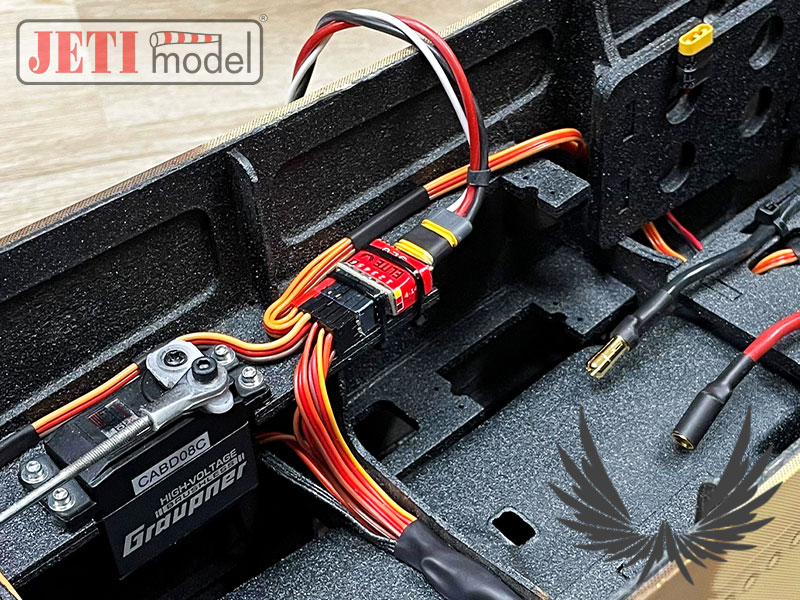 The Dual Input Servo Channel Expander EX5 is an intelligent bus manager compatible with several radio control systems. The device converts serial bus signal from up to two receivers to either standard PWM servo outputs, or configurable bus outputs. It offers up to five configurable and high-power servo ports with optional period and fail-safe setting.

The EX5 is a perfect choice for models with complex wing or tail mechanics where multiple servos may be connected to a primary receiver/receivers using just a single cable. In addition, if you are running out of receiver channels simply connect additional SE2/SE4/SE6 to the EX5 serial line/s and freely assign any channels.

The EX5 offers flight stabilization (Optional) using the integrated MEMS gyroscope/accelerometer. Up to three configurable flight modes can be used, each with different stabilization gains and settings. In connection with other devices from our production, such as SE4 or SE6, you can create a complex installation with just a few signal/power cables.

Specifications and Features
- Supported Protocols: Jeti EX, Multiplex M-LINK, Graupner HoTT, Futaba S.Bus/S.Bus2
- Small dimensions and high current throughput via the integrated MR30 power connectors.
- Telemetry (RC system dependent): Temperature, Voltage, G-Force (+/-30G), Attitude (Roll/Pitch/Yaw).
- Gyro-stabilized servo outputs, EX Bus, SRXL16ch. or S.Bus.
- Flight stabilization offering 3 configurable flight modes (Manual/Acro/Horizon).
- Automatic detection of serial data/telemetry after startup.
- Configuration through the transmitter or external terminal (JETIBOX/SMART-BOX).
- Firmware updates via USB interface.





Advance Model Installation
Attach the required servos or additional bus devices (SE2/SE4/SE6) to the EX5 (ports 1-5). Connect up to two receivers through their bus outputs. In case of a single receiver, always connect primary RX to the RX1 port of the EX5. Turn on the transmitter and apply the appropriate power source to the EX5. The status LED starts blinking as soon as the EX5 detects signal on the serial line. Please note that both receivers have to use the same data protocol (S.Bus, EX Bus...).