Esprit Tech Press Release February/2023!!!
Introducing Brand New, Heavy Duty Version of Our Well Known T60 Electronic Dual Power Redundant Switch. The T75 Terminator Dual Switch (20A/40A) Features New Input Battery Management, Built-In Telemetry Expander, Telemetry Data Stream for Jeti/Futaba/Graupner/PowerBox RC Systems and Pre-Installed XT60 Heavy-Duty Connectors & Installation Tray!!!

(Due March 2023/$125.00)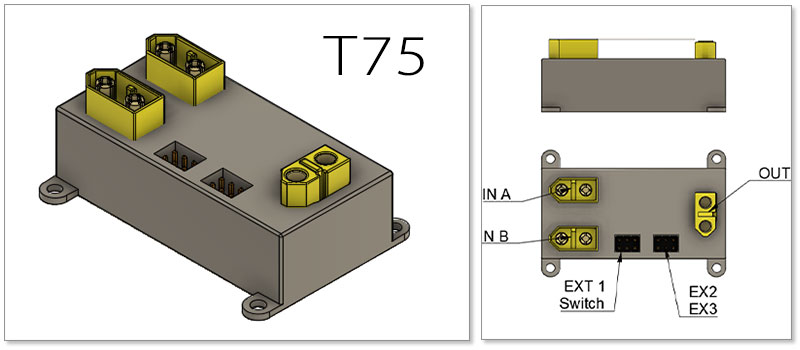 The T75 Terminator is a high performance digital dual redundant battery switch with advanced telemetry features and touch switch functionality. It combines a backup battery charging circuit and telemetry with Touch w/LED (Included), optional Sliding, Wireless (R3/RSW) or mechanical switch functionality in a single device.
The T75 is ideal for mid/large-size models where high-voltage servos are used without voltage stabilization. It provides telemetry and monitors Voltage/V, Capacity/mAh, and Current/A for Dual Rx Battery inputs.
Specifications and Features
Intelligent dual battery backer/multiplexer with configurable voltage switchover threshold.
Touch switch function (Included), Optional Mechanical, Sliding or Wireless (R3/RSW).
Duplex EX, Futaba S.Bus2, Multiplex MSB, Graupner Hott, PowerBox telemetry support.
Optional charging of the secondary/backup battery with capacity protection limits.
Remembers the last operating state if the battery is accidentally disconnected.



Equal Dual Battery Discharging:

Set the Voltage threshold value above the maximum battery voltage. Both batteries will be discharged equally keeping equal voltage. The batteries have to be of the same chemistry, number of cells and similar capacity.



Backup Battery Charging:

The Voltario T60 contains a simple battery charging circuit designed for 2S Li-xx without balancing. The charging may be optionally enabled to keep the backup battery (B2) always ready without the need to remove it from the model (however, we recommend to charge the battery with a balancer at least once in a month). Several safety conditions are used during the charging (See .pdf manual for details).





Tons of New Firmware Updates for Full Range of Esprit Elite Devices Have Just Been Released!!!

MAV Manager Release Notes
V1.6.0 - February 2023

- PC configuration of the attached devices: AMS, EX5, GPS Logger, MicroVario, SE4, SE6, T125(ID).
- Better handling the HighDPI displays with partial scale setting (e.g. 150%)
- Improved compatibility with JETI EX Bus 24-channel mode.

AMS V1.07: PowerBox telemetry, adjustable Futaba and MPX telemetry slots, PC configuration support. RC-E7: adjustable shutdown altitude.
EX5 V1.04: PowerBox P2Bus data & telemetry support, PC configuration support. Online gain tuning using bus channels.
GPS Logger V1.03: Adjustable Futaba and MPX telemetry slots, PC configuration support.
MicroVario V1.07: PowerBox telemetry, adjustable Futaba and MPX telemetry slots, PC configuration support.
SE4 V1.03, SE6 V1.03: PowerBox P2Bus data support, PC configuration support.
FALCON ESC V1.10: Improved on-the-fly startups.