Elite High Speed GPS Sensors with 3-Axis Compass/Azimuth & Data Logger (256MB). Plug & Play System

(Only 14g)!!!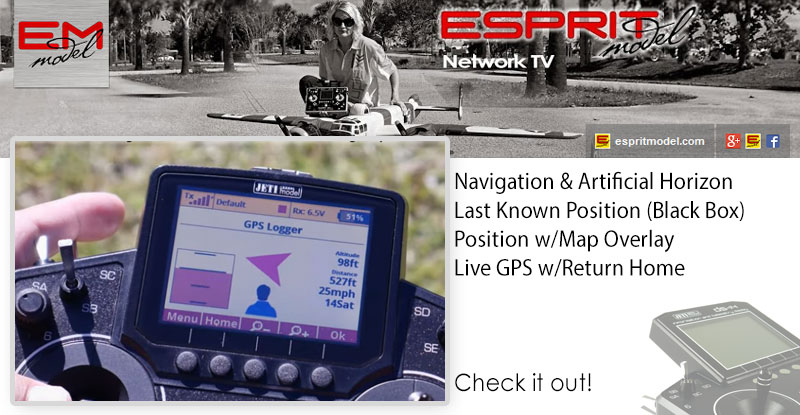 The GPS LOGGER is a telemetry device that offers fast and accurate real-time position detection, data logging and telemetry real-time downlink. It uses multiple satellite navigation systems to achieve maximum precision and resolution. Logging of all the data is possible due to its large integrated Flash memory.

The logged data can be downloaded and analyzed on a computer using the free MAV Manager software. Simply Plug & Play solution for your Jeti, Futaba or Graupner RC System. Due to file sizes and data transfer speed we recommend using Elite USB Programming Interface Adapter (MAV) for data uploads.

Specifications and Features
- Large industrial memory for data logging (256MB).
- Latest generation GPS chipset supporting multiple satellite systems.
- 3-axis magnetometer/compass for external navigation purpose.
- Backup supercapacitor for fast position fix after powering off.
- Automatic telemetry detection: Duplex EX, Hott, MSB, S.Bus2.
- Automatic time zone detection.

Compatibility: Jeti EX, Multiplex M-LINK, Graupner HoTT, Futaba S.Bus/S.Bus2
Positioning Systems: GPS, GALILEO, GLONASS
Data Recording Time: Up to 66 Hours (5 samples/s)
Operational Voltage: 3.5V to 8.4V
Dimensions/Weight: 28mm x 30mm x 9mm/14g
Parameters: Latitude/Longitude, Distance, 2/3D Speed, Azimuth, Heading/Course, Altitude
Programmable: Using JetiBox, JetiBox Mini and JetiBox Profi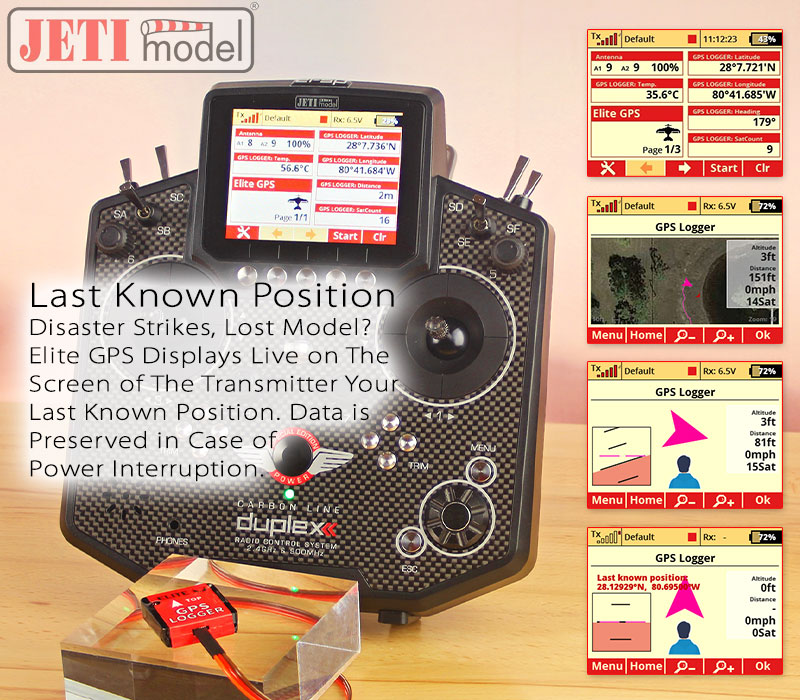 Always Moving Forward, Wireless Switch & Rx Battery Monitoring!!!


ON/OFF Jeti Wireless Switch & Receiver Battery Telemetry Sensor!!!
For the first time ever, your model receiver system can be turned ON/OFF with a simple flip of the switch, wirelessly from the Jeti DC/DS transmitters. Voltario combines wireless R3/RSW switch functionality together with telemetry sensor in a single Plug & Play solution. It uses advanced technology to reach minimum size and enhanced set of features.
Voltario Telemetry Sensor monitors your Rx Battery Voltage (V), Capacity (mAh), and Current (A)