Hot New Additions!!!
---
New Jeti Competition Phasor Race 2026/2035 Geared Motors, IN STOCK!!!

The Phasor Race design represents the best combination of high performance and durability. The whole line of Jeti Phasor motors targets mainly professionals and competition FAI F5B, F5F, F5J pilots looking for uncompromised precision and quality. The Jeti motors are made using 20mm, 4-pole rotors wrapped in Kevlar and designed to withstand up to 70,000 RPM.

(Full Story)


---
New Jeti DC/DS Transmitter Accessories, IN STOCK!!!

The Jeti Transmitter Stick with Rotary Control Knob and the Jeti Transmitter Safety Locking Switch are the perfect addition to any Jeti Transmitter.

(Full Story)


---
Grumania G-Trim Trim Sticks

Genius Grumania G-Trim single stick four-button trim configuration has been such a great idea. The handling is very simple and absolutely straightforward. From now on you are able to trim models in both directions simultaneously.

Made of black anodized aluminum, sold in Pairs.

(Full Story)


---
Castle Creation Specials, 10%- 25% OFF Selected ESCs!!!
(Full Story)
Jeti Duplex Power Management "Wireless Switch & Central Box"
Check out our newest video of the Jeti Duplex Power Management Unit. You will see the fully programmable Jeti Duplex Central Box power distribution unit and revolutionary Wireless Power Switch fully integrated into the 2.4GHz radio system. For first time your receiver can be turned ON/OFF with simple flipping of the switch wirelessly from the Jeti DC/DS-16 transmitter.


#### Revolutionary Wireless Receiver Switch ####
The Central Box features (15) Programmable Servo Output Channels. (3) Sensor Inputs, (2) Protected Power Input Connectors, and (1) Wireless or Magnetic Switch Connector.
(Full Story)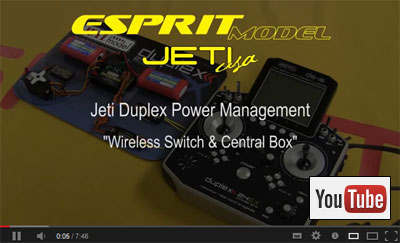 ---
Creating Custom Audio Files & Custom Voice Announcements!!!
Voices and audio samples are generated using online Text-To-Speech engines. All files are free for general use; distribution and modifications are allowed. If you are going to use these samples in your own application or want to create other additional sound files, please refer to the websites and terms of use of these generators.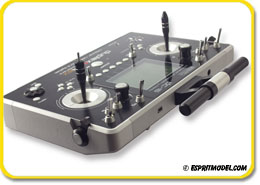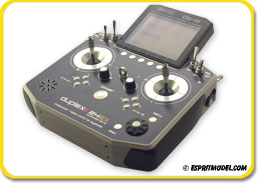 With Jeti Duplex DS-16 "You Are the Master"!!!
Check out our newest introductory video of the Jeti Duplex DS-16 Radio. You are going to see few samples of Telemetry, Voice Announcements and Software Updates. We even set up the system that it will literally worship you, check out the 1:50 of the video. The DS-16 is ready to serve: "Good morning master, I am Jeti DS-16 and I am ready to serve You"

We made it possible using www.Ivona.com "Text-To-Speech" engine.


Look Who is Talking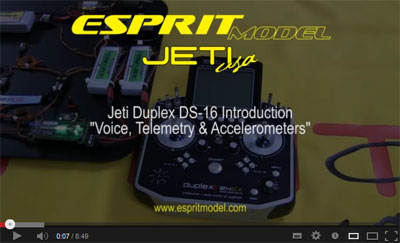 ---
Jeti Duplex 2.4GHz DC-16 Radio System, IN STOCK!!!
- Full Telemetry
- Computer Synthetized Voice
- Dual RF Module
- Unlimited Model Memory
- Voice, Alarm, Play Back Music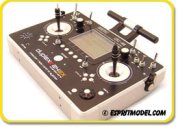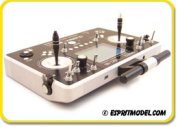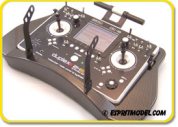 Probably the most important feature of Jeti's transmitter is the gimble stick and switch function assignment flexibility. For the first time you are free to fully customize your radio. You can swap switches or sticks (Mode 1-4) and the on-board computer will recognize your changes and assign functions any where you like. Other important functions are: programmable Sounds/Alarms and Voice Commands. This feature was specifically designed to keep you informed while also keeping distractions to a minimum.
Special Features:
- Integrated Li-polymer battery pack
- Metal construction using CNC cut aluminum frame parts
- Fully customizable switch and stick assignments
- Built-in speaker, headset jack, mini USB port
- Large 320x240 display with backlight
- Fully digital 16-channels with digital trims
- Full Duplex telemetry sensor support for real-time data
- Sound, voice and alarm capabilities
- 2GB internal memory


---
Jeti Duplex 2.4GHz Telemetry Overview!!!!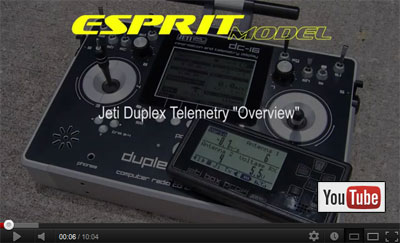 One of the attractive features of the Duplex 2.4GHz line of products is it's full integration with all Duplex telemetry sensors. You can easily observe up to 40 different parameters in real-time directly on the transmitter. Or, by using the JetiBox Profi you can see your data in parallel mode giving you and your copilot valuable real-time information (see video).

(Full Story)


---
Jeti Duplex Telemetry Vario & Mezon Application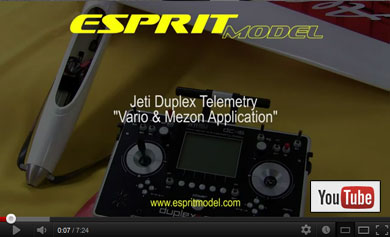 Using a sensitive barometric sensor the MVario EX allows you to measure your model's rate of climb, rate of decent and relative altitude.

Jeti MEZON ESC's advanced design and software are capable of unmatched precision and efficient

(Full Story)


---
Jeti Duplex 2.4Ghz Telemetry Interactive Page!!!